Moz Office Tour 2013

Multiple Dates
Event Details
Well, hello friends! Will you be in Seattle for SMX Advanced, or live in the area? We'd love for you to come check out our office and say hello! We'll have several tours going on, so pick a time and we'll see you there. 
Plus, we have all kinds of fun new Moz swag!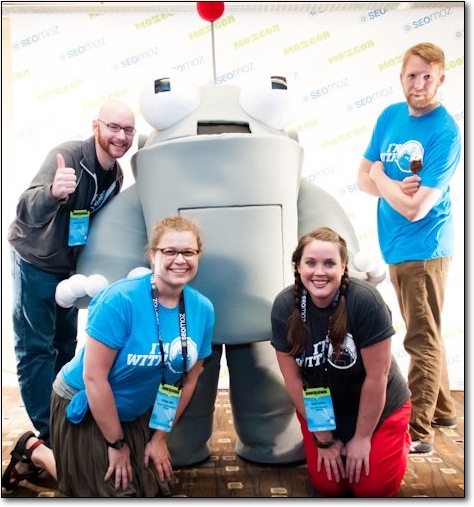 Make sure you get your photo taken with Roger so we can add it to the album.
Directions From The Bell Harbor Conference Center:
Walk south on Alaskan Way in the direction of Anthony's Pier 66 Restaurant, with the water to your right.

Walk along the waterfront marina then carefully cross the street at the second crosswalk. 

The Marriott Waterfront Hotel will be on your left, but walk forward and you will see an elevator/stairway that will bring you up to the Pike Place Market.

Walk up the ramp to arrive at Virgina Avenue.

Turn right and head either into the market for a scenic stroll or directly to 1st Avenue.

Turn left at Pine St. (2 blocks away)

The A.E. Doyle Building is on the SW corner of 2nd and Pine (across the street from Cupcake Royale... just sayin).

Go inside the building and head up the elevator to Suite 400 - just press "4" in the elevator. You're here!
Please call us if you need assistance with directions! 206.632.3171
Organizer
Backed by industry-standard metrics and the largest community of online marketers on the planet, Moz builds software to help you get data-driven, actionable insights to grow your visibility online. Our products for SEO and local marketing help you rank higher, improve outreach, and increase your brand's reach across the internet. True to our TAGFEE values, we help you do better marketing by providing online marketing tools, webinars, and educational resources. We support  over 40,000 customers and 600,000 Community  members worldwide from our Seattle office.