Event Information
Refund policy
Contact the organizer to request a refund.
Eventbrite's fee is nonrefundable.
Read on for important registration and book order details!
About this event
Moya Bailey and Chanda Prescod-Weinstein delve into the concept of misogynoir & explore the ways in which Black women creatively and courageously use social media to combat it.
Books purchased at registration will include a signed bookplate!
How to Register
Register on this page to receive a Zoom link
Register free, pay what you like, or buy the book to enter the event
If you don't receive a confirmation email after registering, contact us right away
Get Your Books
Books are held for pickup or shipped after ticket sales have closed.
STORE PICKUP- Pick up your book in person at Brookline Booksmith (Click here for directions). You will receive an email alert when your book is ready.
SHIPPING - Have your book shipped via USPS priority mail. Shipping is only available in the United States.
If you have trouble checking out, check the Eventbrite FAQ located here.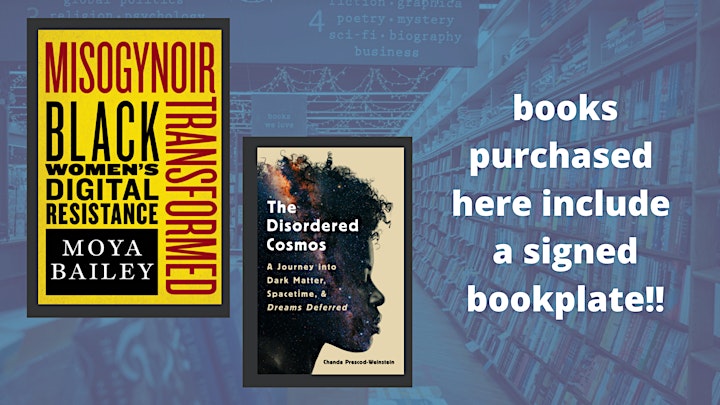 Misogynoir Transformed
Where racism and sexism meet-an understanding of anti-Black misogyny.
When Moya Bailey first coined the term misogynoir, she defined it as the ways anti-Black and misogynistic representation shape broader ideas about Black women, particularly in visual culture and digital spaces. She had no idea that the term would go viral, touching a cultural nerve and quickly entering into the lexicon. Misogynoir now has its own Wikipedia page and hashtag, and has been featured on Comedy Central's The Daily Show and CNN's Cuomo Prime Time. In Misogynoir Transformed, Bailey delves into her groundbreaking concept, highlighting Black women's digital resistance to anti-Black misogyny on YouTube, Facebook, Tumblr, and other platforms.
At a time when Black women are depicted as more ugly, deficient, hypersexual, and unhealthy than their non-Black counterparts, Bailey explores how Black women have bravely used social-media platforms to confront misogynoir in a number of courageous-and, most importantly, effective-ways. Focusing on queer and trans Black women, she shows us the importance of carving out digital spaces, where communities are built around queer Black webshows and hashtags like #GirlsLikeUs.
Bailey shows how Black women actively reimagine the world by engaging in powerful forms of digital resistance at a time when anti-Black misogyny is thriving on social media. A groundbreaking work, Misogynoir Transformed highlights Black women's remarkable efforts to disrupt mainstream narratives, subvert negative stereotypes, and reclaim their lives.
Moya Bailey is Assistant Professor of Africana Studies and the program in Women's, Gender, and Sexuality Studies at Northeastern University. Bailey currently curates the #transformDH Tumblr initiative in Digital Humanities and is also the digital alchemist for the Octavia E. Butler Legacy Network. She is an MLK Visiting Scholar at MIT for the 2020–2021 academic year.
Moderator Dr. Chanda Prescod-Weinstein (she/they) is an assistant professor of physics and core faculty in women's and gender studies at the University of New Hampshire. Her first book, The Disordered Cosmos: A Journey into Dark Matter, Spacetime, and Dreams Deferred, is out now from Bold Type Books.
About Brookline Booksmith
We are one of New England's premier independent bookstores, family-owned and locally run since 1961. We offer an extensive selection of new, used, and bargain books; unique, beautiful gifts; award-winning events series; and specialty foods. Every day, we strive to foster community through the written word, represent a diverse range of voices and histories, and inspire conversations that enrich our lives. Find more at brooklinebooksmith.com!
Date and time
Location
Refund policy
Contact the organizer to request a refund.
Eventbrite's fee is nonrefundable.