Moving Your Blog Beyond The Basics

Saturday, May 17, 2014 from 12:00 PM to 1:30 PM (EDT)
Event Details
YOU WANT A BLOG READERS WON'T STOP READING; SPONSORS WON'T STOP SPONSORING; AND  SHOWCASES YOUR TALENT, SKILL, AND AWESOMENESS.
THIS CLASS WILL TEACH YOU HOW TO DEVELOP THAT TYPE OF BLOG.
I GOT YOU.

What's the formula for a great post?  How do you get people talking about your articles, seeing you as the expert in your subject matter, sharing your content, and coming back day after day? 
It's scary putting your posts out there - your feelings, your emotions, your family, your drama out there - for the world to see.  And then you feel kind of violated when you realize you put in all that work and no one in the world saw your posts.
YOU ARE STILL IN THE RIGHT PLACE.
Fellow blogger, I've been there.
I've written some really great stuff, but if you don't follow a few simple rules, you will never be seen as the rockstar you are.  That hurts, but I've got a bomb of a balm for your blog.
We are going to get your audience to stay on your site longer, engage with your content more, and share with the world all the wonderful things your blog has to say!  Isn't THAT exciting?!
BUT, ELLA, HOW, OH HOW, DO YOU KNOW ALL OF THIS?
Because I've worked with the greatest!
You want to hack into the brilliance of the best bloggers?  I've worked with them and now I'm letting YOU in on their secrets!
I didn't start out with a blog.  I didn't struggle figuring out plugins and platforms, "finding my niche," crafting a brand message, or even worrying about if I was or should become a "mommy blogger."

Nope.  I started out working as an assistant for Good Enough Mother and within months had my own column, Tandem Tantrums, about life and lessons learned with a toddler.  I also took possession of other regular features on the site and, by the time I left my position there, I was the editor and producer.

My expertise doesn't come from creating my own blog; it comes from sitting at the table and watching the thought processes of some of the best blogs and being a part of teams that made them better.
And it doesn't stop there.  I'm currently the producer for PaulCBrunson.com's #MentorMonday which means I also create posts on the site.  Yeah.  Paul's worked with Oprah and he tapped me to make his blog work easier.  I don't know how to put my level of expertise any plainer.

There's only so much time for you to hack into my hack and learn how to take your blog beyond the basics.
ACT FAST!
I wrote an eguide about content curation for @BeBlogalicious.  It's yours FREE if you are one of the first 25 people to register for this class!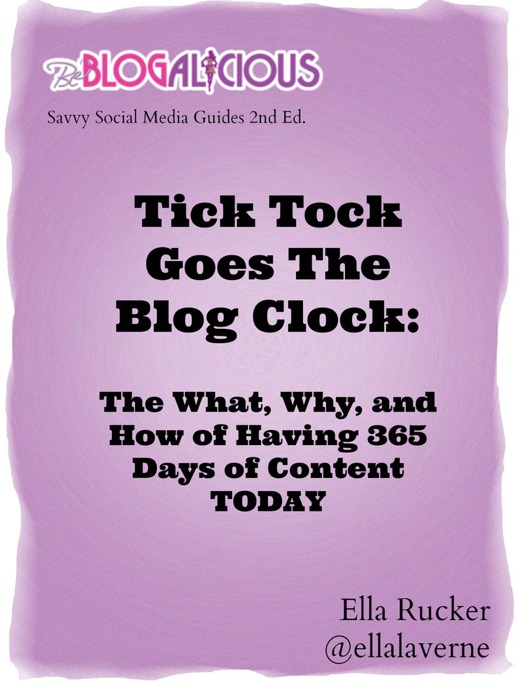 In a nutshell, if you are looking to move your blog beyond the basics you need someone who has been in the trenches.  I've been there and now it is time for us to get you there, too.
Try the class because I guarantee you will have at least three actionable items and/or "aha" moments for your blog when we are done.  That's right.  Guarantee it.
There are absolutely refunds on this class IF you attend the class and find it unsatisfactory.  If you just roll over on a Saturday morning and decide not to attend, well, I can't help you on that one.  Try me though.  I'm pretty reasonable.
Organizer
Ella Rucker creates blueprints for success for early stage entrepreneurs and bloggers who are transitioning to businesses.
Currently Ella is the co-owner of #MentorMonday – a live, interactive web series – and co-founder of Weekend Startup School.  Through both ventures she is building a blueprint for entrepreneurs to grow and enrich their businesses and their lives through mentoring, masterminding and coaching.
A writer for the Black Enterprise contributor's network, she also wrote a best selling eguide for BeBlogalicious entitled Tick Tock Goes The Blog Clock: The What, Why and How Of Creating 365 Days Of Content TODAY, and has spoken at #BloggerWeek, Niche Parent Conference and Blogalicious as a content creation expert.
After attending Wright State University in her hometown of Dayton, Ohio, Ella moved to New York City to pursue her passion for writing. She currently lives there with her 4-year-old daughter and entrepreneurial apprentice, Joelle.