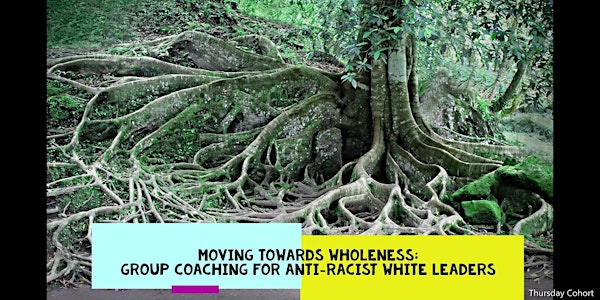 Moving Towards Wholeness: Group Coaching for Anti-Racist White Leaders
Six Thursday sessions for white leaders committed to racial equity and justice; uncovering obstacles to anti-racist leadership.
Refund Policy
Contact the organizer to request a refund.
Eventbrite's fee is nonrefundable.
About this event
This virtual series is intended for white people committed to racial equity and justice, who want to deepen their anti-racist leadership through self reflection on personal racial bias and other obstacles to anti-racist leadership. We will share, listen, and feel into experiences of whiteness. What this means is we will work on specifically paying attention to what we're telling ourselves and what we're feeling in our bodies around race, racism, and white supremacy. Individuals set their own goals and our framework is one of healing and mutual support. This process will engage and connect us back to our humanity, bodies, and intuition so we can work for racial justice from a place of wholeness.
Dates
Six Bi-Weekly Thursdays from 11:30am-1pm ET/8:30-10am PT: 9/9, 9/23, 10/7, 10/21, 11/4, 11/18 (Looking for Wednesdays?)
Participants are REQUIRED to attend ALL six sessions and one-on-one to form and build the group. Additionally, participants will schedule a 30 minute one-on-one with the coach prior to the start of the group coaching to review goals and coaching.
Cost
This group coaching is offered on a sliding scale from $350-$585. Please consider your financial situation to determine what you're able to pay. Also, please choose an amount that honors your commitment to this work and the expertise of the coach.
Please note payment is final, no refunds given.
Accountability
At the end of each session you will decide what your next steps are to get you closer to your goals. Between sessions there will be check-ins with others in the group to see how your respective homework is going.
The Coach
Hillary Blecker is a longtime leader of both dialogues and trainings helping groups accomplish their goals by building authentic relationships across barriers of race, class, gender, and other social identities. She is also a certified professional coach, working with individuals and groups. Hillary's decade of experience in occupational health and safety training taught her that relationships and trust were the biggest internal obstacles to groups getting what they want. As a white leadership coach, Hillary is focused on supporting white leaders to uncover obstacles to being whole in the fight for racial justice. Hillary holds a BA in Public Health Social Sciences from Johns Hopkins University, a Master of Public Health in Community Practice from the University of Washington, a graduate certificate in Diversity Leadership from Temple University, coaching certification from Leadership that Works and accreditation from the International Coaching Federation.
Questions
Please contact Hillary at hillary@hillaryblecker.com