Moving Toward Liberation is a virtual event in celebration of Emancipation Day and the role that movement plays as a form of freedom.
About this event
This Juneteenth 2021, Rae Studios presents: "Moving Toward Liberation," with keynote speaker Tessa Kaneene. Moving Toward Liberation is a virtual event in celebration of Emancipation Day and the role that movement plays as a form of freedom. As athletes, as artists, as teachers, as community leaders, on June 19th we take the time to remember the history and importance of this day, the contributions of the Black community, as well as come together to take action and make change so that the Black community can continue to move and move others in the arts and wellness space. Tessa is known for her work as a Nike ambassador, Harvard advisor, and member of the Biden leadership council for arts and international diplomacy.
This special virtual event will take place on Sat. Jun. 19 from 1:00 - 3:00 pm PT and will feature other artists and provide more resources to learn about Juneteenth and how you can contribute to the Black Lives Matter movement. We look forward to having you with us, our instructors, and fellow arts and wellness organizations together in community.
Event Details:
Spotlight Artists: Tessa Kaneene
IG: @tessakaneene
Date / Time: Saturday, June 19th 2021 | Moving Toward Liberation - Juneteenth Keynote
Location: Livestream via ZOOM
Ticket Options:
FREE! Register via Eventbrite or Mindbody
Donations welcome through Eventbrite
Registration is required for this event.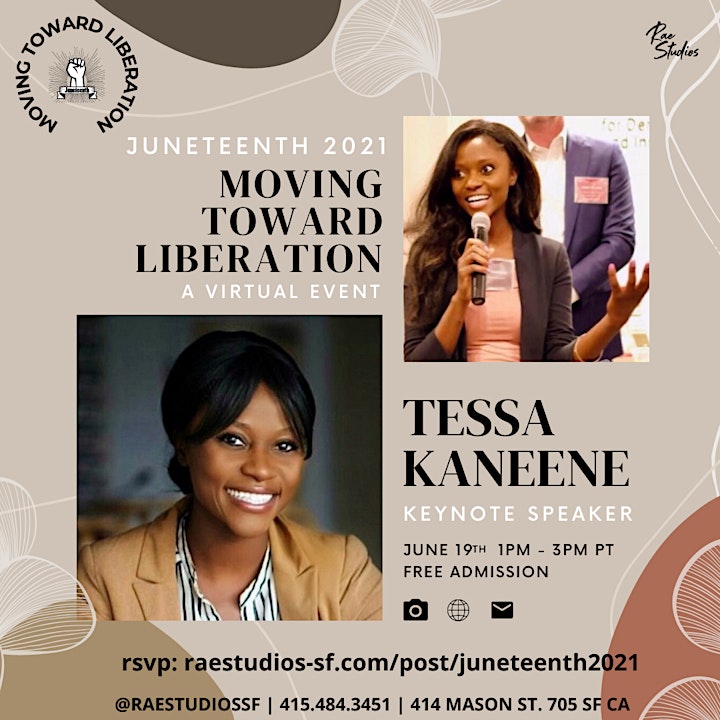 About our Keynote Speaker: Tessa Kaneene
Tessa's mission is to empower and inspire the next generation of leaders. She comes from a long line of artists and activists, who have consistently used their stages and their voices for change— from her grandfather who was a draftsman of the Ugandan constitution and served within the country's first cabinet to her mother who shared her love for dance, expression and art of all forms and was a voice in the Civil Rights Movement. Throughout her career, Tessa's work has focused on the design of programs, projects and policies rooted in social justice. She has worked in policy for the Cities of Barcelona, Detroit, Rio de Janeiro and San Francisco, served on Barack Obama's Senate and Presidential campaigns, as a Deputy Director of Elizabeth Warren's Campaign and as a strategist for Stacey Abrams' team.
She currently serves as a Senior Advisor at Harvard University's John F. Kennedy School of Government. And recently was selected to be on a leadership council for the Biden Administration, focused on the role of the arts in working towards international diplomacy.
Tessa holds a Bachelor of Architecture from Princeton University and a Master in Urban Planning and Policy from Harvard University. Most of all, she is deeply grounded in the liberating power of movement; the liberation we give to our bodies to create movement —- and the movements we, as a people, build towards collective liberation. So, her work is often around creating and curating soul-shifting, perspective-altering conversations to… move us all a little closer to liberation.