Register for the "Moving Together" workshop, and purchase your ticket to performances by the Cheza Nami Ensemble, Guest artists and students
About this event
With Support from the California Arts Council, Cheza Nami to produce the first of 3 "Moving Together" community engagement dance and drumming workshops. The first series will be in Santa Cruz. The goal of this program is to enable cross-cultural engagement between the community and local African and diaspora cultural artists. The workshops will be followed by a post-workshop performance by the Cheza Nami Ensemble and other Guest artists and their students
Registration for the workshops is required.
A ticket to watch the pre-workshop performance is required. You can purchase your show ticket with your registration at the advance price of $20 or $25 at the door on 12/1
☝🏿 
Featuring Master Artists from Santa Cruz and The Bay Area:
Susana Arena
Ibou Ngom - Master Senegalese Drumer | @ibou71
Rocssy Mahania - Master Congolese Drummer | @niochimbanza
Abel Damasceno - Master Brazilian Drummer | @abel_damascenodj
Arnaud Loubayi - Master Congolese Dancer | @gatabantu
Mohamed Kouyate - Master Guinean Drummer
Dandha Da Hora - Master Brazilian Dancer | @dandhadahora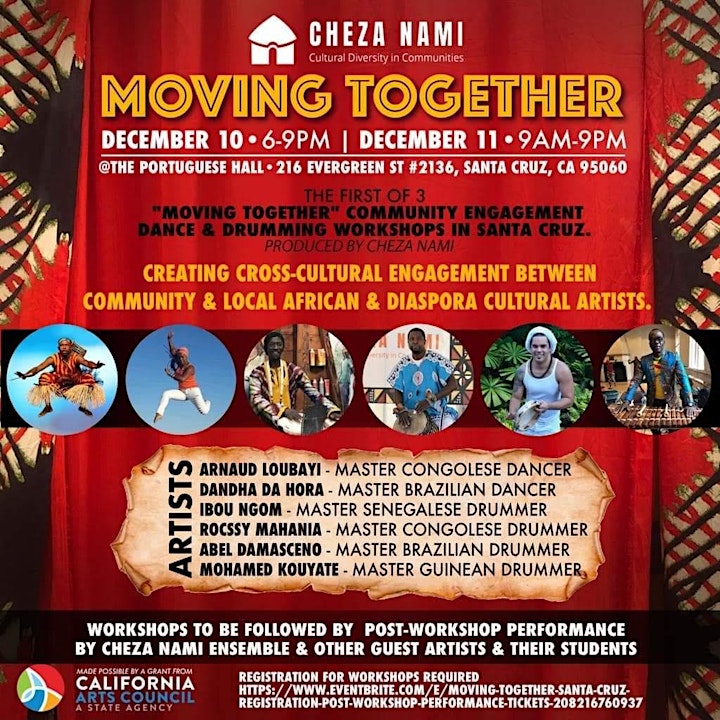 Organizer of Moving Together - Santa Cruz | Registration & Post-Workshop Performance
Founded in 2011, "Cheza Nami" is Swahili for "Come play with me". Cheza Nami is a California based 501(c)3 non-profit organization, with headquarters in Pleasanton, California. Cheza Nami teaches African culture through dance, play and movement, using a play based model to teach cultural awareness to children in Northern California and worldwide. Our mission is to preserve and encourage the appreciation of African culture by inspiring and educating the American public about Africa's extensive and unique attributes, regardless of their heritage of origin. Cheza Nami believes in a play-based, experiential approach to education and teaches African culture, through dance, play, and movement. We use cultural activities such as dance, drumming, imaginative play, and song to provide interactive and educational experiences to youth and adults.