MOVING TARGETS

Tuesday, October 15, 2013 at 1:00 PM

-

Wednesday, October 16, 2013 at 6:00 PM
Event Details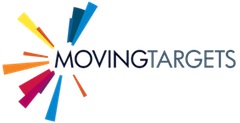 New models for new media audiences in the creative industries
Moving Targets (15th-16th October 2013, DCA) will showcase cross-disciplinary knowledge exchange research that aims to create innovative and business centred models for engaging new audiences in the creative industries. Demand-led by industry, Moving Targets facilitates the flow of knowledge between researchers, producers, policy makers and consumers of creative media. Bringing together universities, the creative industries, agencies and audiences the project seeks to promote understanding of new business models and new relationships, driven by direct publishing platforms, by devising and developing new models to engage new audiences.
The conference programme will consist of paper presentations and displays from industry leaders as well as panels and workshops drawn from case studies and examples arising from the Moving Targets project. Attendees will have an opportunity to meet industry professionals and engage in cutting edge research debate covering three themes:
Understanding Audiences
Audience research for online markets

Community management for online products

Audience development with cultural organizations
Co-Creation
Designing and developing media with audiences

Developing and engaging audiences through co-creation

User Generated Content, Social networks and online communities
Direct Publishing
Social Marketing and audience demand

Business models for new digital markets

Data gathering and analysis
About Moving Targets
The Moving Targets project is brought together by the University of Abertay, University of Edinburgh and Edinburgh College of Art; Creative Scotland, Scottish Enterprise and Creative Skillset; BBC Scotland and a range of creative media SMEs. Collectively it is structured through three complementary Knowledge Exchange Centers located at the University of Abertay Dundee, the University of Edinburgh and Edinburgh College of Art. Abertay is the lead institution for these Knowledge Exchange Centers. At each center, key academics work with Knowledge Exchange Associates (KEAs). Functioning in a novel hybrid role between Research Assistants, Knowledge Transfer Associates and audience development experts, KEAs work across the range of parallel activities including secondments, workshops, new model development, co-creation of working prototypes, virtual community of engagement, business vouchers, evaluation and reporting.
Moving Targets has run quarterly workshops to disseminate information and encourage knowledge exchange between academia, industry, agencies and audiences. These workshops aided the development of new models of digital media. As a complement to these workshops, a virtual community will be established to create a mechanism for wider contribution with particular emphasis on the public. In 2012, we launched a Business Engagement Voucher scheme which will provide focused support for SMEs.


When & Where

Dundee Contemporary Arts
152 Nethergate
DD1 4DY Dundee
United Kingdom


Tuesday, October 15, 2013 at 1:00 PM

-

Wednesday, October 16, 2013 at 6:00 PM
Add to my calendar