Description
Unveiled Beauty: Cultivating YOU! is an empowerment series created in support of the presenting sponsor Fashion Meets Poetry's mission, "To create an empowering space for women to embrace the journey of life and the beauty of oneself through storytelling, knowledge and sisterhood."
Is there anything more inspiring than hearing women share their stories of courage and strength? The speakers throughout this series provide attendees with messages of hope, life lessons, knowledge and tools to help embrace both our inner and outer beauty. Attendees leave feeling empowered and confident and begin to build a deeper connection with their own individual stories. We invite you to learn about all the events by visiting www.fashionmeetspoetry.com; or this specific event via the description below: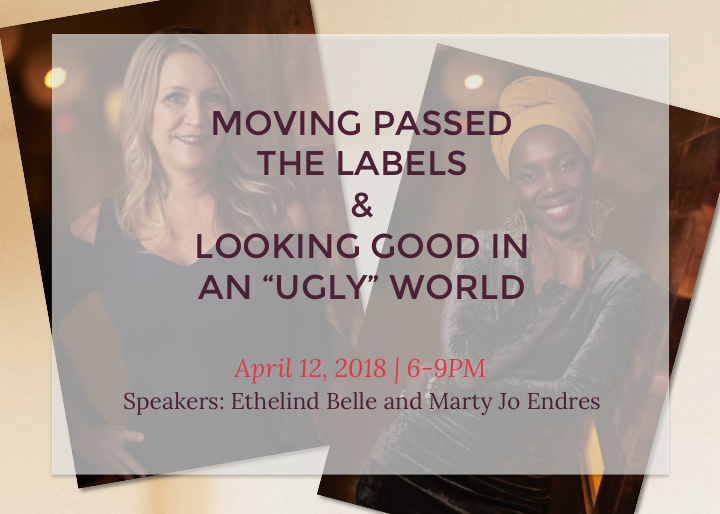 MOVING PAST THE LABELS w/ MARTY JO ENDRES
Life consists of its fair share of mistakes, failures and unfortunate events. These experiences can leave us with false labels that carry feelings of shame or guilt. However, we cannot allow these labels to define us. Marty Jo once believed she was a failure, a divorced, college dropout who allowed herself to be physically and emotionally abused. Or so she thought - until her strength and perspective proved her wrong. In this riveting and inspiring session, Marty Jo shows us that no matter how difficult our life circumstances, we get to choose who we are, who we will become and move past the labels that hold us back. Together, we can live through adversity with strength and grace.
Marty Jo is an experienced hair stylist with over 16 years in the cosmetology industry and an owner of several Sports Clips salons. Over the past seven years, she built a career with Sport Clips that went from manager to market-wide trainer to now locally investing in 12 Sports Clips salons. Marty Jo's primary focus is on recruiting, training and developing the best stylists in the industry. Overcoming her own adversity, Marty Jo is passionate about providing stylists professional as well as personal growth opportunities. Her generous spirit and positivity inspires women everywhere to reinvent their future.
LOOKING GOOD IN AN "UGLY" WORLD w/ Ethelind Belle
In a world full of so much pain and strive, why does style matter? Can fashion and style really make a difference in the world? These are profound questions Ethelind asks herself. Personal style can reflect our values, our personalities; our sense of the world, our differences and in many ways can bring us together. From the ever-warm, colorful streets of Ghana to the sometimes snow-capped evergreens of Minnesota, Ehtleind finds herself at the intersection of fashion and deep-rooted social consciousness. In this thought-provoking and colorful session, Ethelind with try to answer some of these questions through personal anecdotes, lessons from her grandmother, and working with women from all walks of life.
Ethelind is a legal marketer and a personal style curator. She loves dressing up, finding new ways to wear old things and telling stories with what she wears. As a stylist, Ethelind enjoys helping women understand their bodies, choose flattering pieces, and become the most confident version of themselves. She has a wealth of style knowledge, but in the end, she takes great pleasure in encouraging women to break the rules with unexpected pairings. Ethelind's signature style has been featured in online and print publications including the Star Tribune, MSP-St Paul Magazine, and the City Pages.
Every event has something unique to offer and you don't want to miss any of them!
Each event includes:
2 Inspirational Speakers
Interactive Discussions
FREE Beverages and Hors d'oevres
Fashion & Style Segment
Poetry Reading
Networking
VIP ticket holders receive a FREE empowerment gift with their purchase.
Live Action Beauty experiences provided by Intelligent Nutrients (first come, first serve).
Women ONLY Advanced ticket purchase required to attend.
Onsite and street parking available.