Moving Past Fear: Imagining What's Possible With Your Giving

Thursday, August 28, 2014 from 12:00 PM to 1:00 PM (EDT)
Event Details
Moving Past Fear: Imagining What's Possible With Your Giving
Bold Conversation with Roxanne Meshar and Nancy Thurston
August 28, 2014 | 12pm ET/9am PT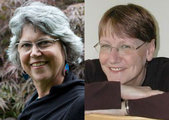 What motivates you to give? What stops you? What fears hold you back?
These are some of the questions that each of us reflect upon along our giving journey, and they've been central questions faced by two of our extraordinary bold Givers, Roxanne Meshar and Nancy Thurston. We hope you'll join us for a candid conversation as we talk about the emotions and fears that drive our giving behavior.
We'll explore ways to navigate the sometimes contradictory inner voice that troubles us with questions like: Am I giving too much? Is this the right way? How do I navigate issues of power and access? What assumptions am I making across big topics like race, class and gender? We'll talk about the sense of guilt that can be associated with having money in an unjust world and hear about Nancy's & Roxanne's journeys toward realizing their full potential as catalysts for social change and conquering their giving fears. 
In addition to sharing their own stories of personal transformation, Nancy & Roxanne will also discuss some of the effective strategies and tactics they've seen and used for embracing the fears of giving and confronting the guilt often associated with wealth. Join us and get inspired to push the limits of what you think is possible with you giving.
Organizer
Bolder Giving
In these extraordinary times of crisis and opportunity, many givers want to step forward more boldly. Bolder Giving helps them to do so, by providing role models and practical support.
Moving Past Fear: Imagining What's Possible With Your Giving