What to consider when setting up your business.
About this event
If you're seriously considering moving into consultancy this two hour virtual training session with Tom Spence and Tony Lavender will enable you to take a deeper dive into what you need to consider when setting up your business and your approach to delivering your services.
Places are limited to 30 so book today!
Our Workshop Hosts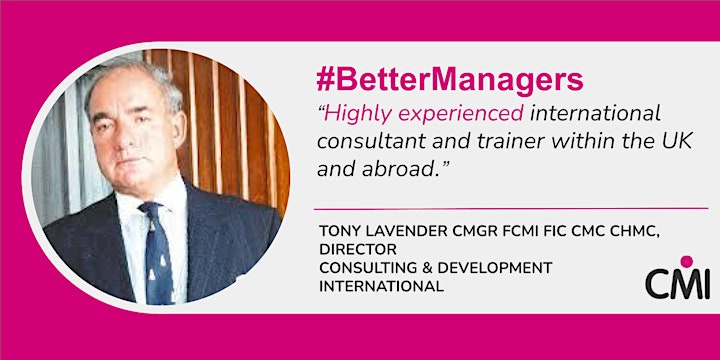 Tony Lavender CMgr FCMI FIC CMC ChMC
Director, Consulting & Development International
Tony undertakes consultancy and training in the UK and internationally. He is a qualified consultant [CMC] and an Approved Centre of the Chartered Management Institute[ providing courses leading to CMI Certificate in Professional Consulting]. He also is qualified in ISO 20700 by International Council of Management Consultancy Institutes
Over the years he has worked in over 20 countries as consultant and trainers: clients include Governments of Thailand, Brunei, Uganda, Tanzania, Cambodia,Barbados and Dominica; Universities - Liverpool, Kings College London, Asian Institute of Technology; The Asian Productivity Institute; Public Administration International, Adam Smith international and PwC Tanzania.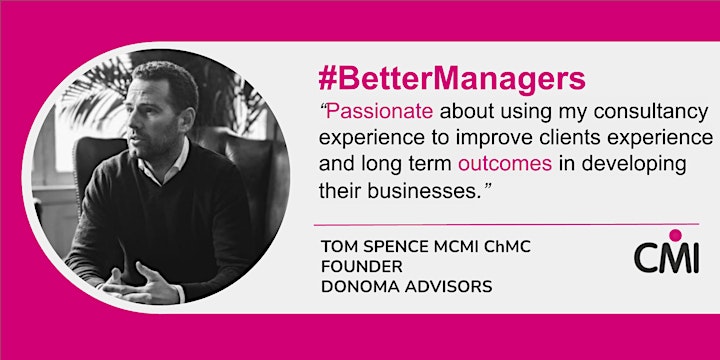 Tom Spence MCMI ChMC
Founder, Donoma Advisors
I am a Chartered Management Consultant and have led international consultancy projects for clients within the legal sector for over a decade and have now co-founded two businesses in the talent advisory sector. With a background in recruitment I gained insight into how organisations run and execute their growth strategies and use my consultancy experience to improve clients experience and long term outcomes in developing their businesses.
He is also the founder of Donoma Advisors.
In the meantime...
If you're an IC member, or subscribe to our content, don't forget you can find thousands of exclusive, practical development resources in ManagementDirect. Log in here and search for a topic to get started.
Not yet subscribed?
From free newsletters packed with the latest trends, insights and tips for managers and leaders, to the full suite of invaluable tools and benefits that come with being a CMI member, we've got something for everyone. Visit our website to find out more about IC membership and see how to join the community.