What to consider when setting up your business.
About this event
If you're seriously considering moving into consultancy this free two hour virtual training session with Tom Spence and Tony Lavender will enable you to take a deeper dive into what you need to consider when setting up your business and your approach to delivering your services. Places are limited to 15 so book today!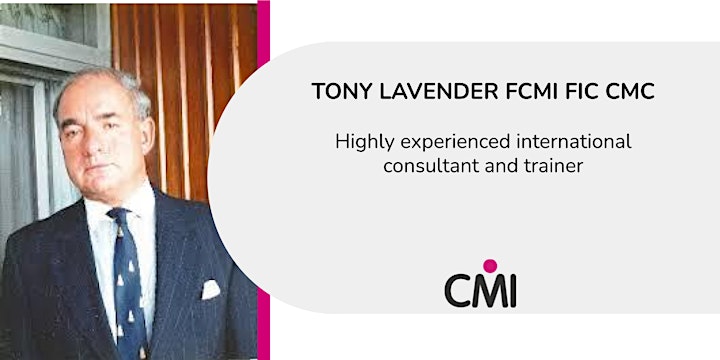 Tony Lavender - highly experienced international consultant and trainer. Tony will introduce you to the developmental opportunities offered through the Institute of Consulting and share his insights into what it takes to build a successful management consultancy business.
Tom Spence - founder of Donoma Advisors - will speak about his journey in starting up a consultancy from scratch and the practical requirements to make a success of it.
In the meantime…
If you're a member of the CMI IC Community, or subscribe to our content, don't forget you can find thousands of exclusive, practical development resources in ManagementDirect. Log in here and search for a topic to get started.
Not yet subscribed?
From free newsletters packed with the latest trends, insights and tips for managers and leaders, to the full suite of invaluable tools and benefits that come with being a CMI IC member, we've got something for everyone. Visit our website to find out more.