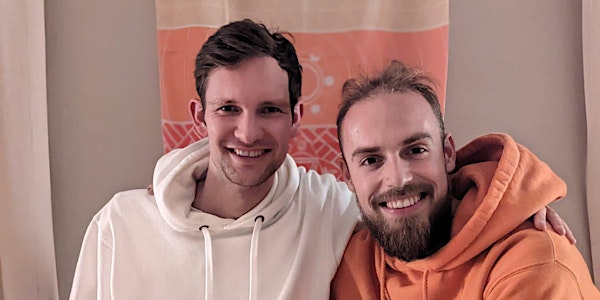 Moving into Connection w Life - Coaching, Breathwork & Movement
-Wholeheartedly inviting you to a rich half-day retreat experience "Moving into Connection" - incl. Coaching, Breathwork & Movement-
When and where
Location
Embodiment Center Gustav-Adolf-Straße 15 13086 Berlin Germany
Refund Policy
Contact the organiser to request a refund.
About this event
Connecting with Life Within and Without- Coaching, Breathwork and Movement

Welcome dearest Beings,

Gunnar and Henrik Devabodhi are wholeheartedly inviting you to a rich half-day retreat experience under the theme of "Connecting with Life - Inner and Outer Presence".
Creating a safe and deeply held space for connecting with ourselves and others, we are going to journey through a diverse combination of soul-nourishing activities.
Beginning with a Life Coaching Workshop we transition into an Embodiment Movement Flow, followed by a Breathwork Experience and finally celebrating with an Ecstatic Dance.
In this 6 hour co-created experience, we are turning our attention to reconnecting with ourselves and with others, and make room for our needs, desires, vulnerabilities and boundaries. All feelings and and parts of You are welcome to be expressed and witnessed here in loving presence.


In between these deep dives and explorations, we will take time to rest, integrate, connect amongst each other and nourish ourselves with snacks and tea.

It would be a true joy to have YOU in this space, where we celebrate authenticity, self-connection and expression.
If this resonates with you, get your Ticket here:
* 5 Early Bird Tickets available until 10.12:
Practicalities:

Price:
40€ Early Bird (until 12.12)
44,40 (each, if you bring a friend)
55,50€ Regular

Please note: As we can only put one price here, please do contact Gunnar if you want to come with two people and we will arrange that. Gunnar : +4915236180747
Location: Embodiment Center Gustav-Adolf Straße 16
Time: 14-20:00
Bring: Cozy clothes, bottle of Water, snacks if you have specific desires + open mind

Additionally: 
*We will provide some vegan replenishments
* For special financial circumstances or very low income, please reach out to us privately and we will find a solution, we have some spots available for this. 
*For questions, reach out to Henrik: +49 1735740439 or Gunnar +4915236180747
Bio + Socials:
Henrik Devabodhi
Henrik (he/himthey/them) is an inspiring Self-Love and Empowerment Facilitator with a certified background in Psychology, Life Coaching, Hatha|Chakra Yoga and Energy Healing. Their facilitations are dedicated to deepen the connection between body, mind and soul. Combining elements from their experiences within diverese fields, such as Yoga, Meditation, Shamanism, Embodiment Work, Psychology, Coaching, Authentic Relating and Martial Arts, they co-create truly unique experiences, where individuals and groups can flourish. The core values, which they aim to embody and promote in sessions, workshops, retreats, as well as in daily life, are Truth, Love and Connection.
IG: henrik_devabodhi_g
Video Blog IG: warriors_of_light_555
Linked In: https://www.linkedin.com/in/karl-henrik-sahl%C3%A9n-9b7b49222/
Gunnar:
Gunnar (he/him) supports others on their path through practices, methods and teachings that have helped himself to find and embrace more self-love, truth, purposeful living, and enjoyment. He is a certified meditation teacher, ashtanga I vinyasa yoga teacher, reiki practitioner and has facilitated and guided others through various states of non-ordinary consciousness (e.g. breathwork). Gunnar embraces grounded spirituality and duality, connecting with both "higher realms" or "the sacred" while maintaining a connection to the self, the body, the earth and others. He cares deeply about integrating those learnings, feelings and states of being which can arise in workshops or experiences into everyday live. In his workshops Gunnar brings an open heart and mind and is there for you to hold a loving and open space for all that wants to arise in you.
IG: gunnar.leo.lightwork