Description
Moving From Issues to Action: Training On Community Organizing
Join us for an evening workshop that will provide best practices for organizers to effectively advocate and advance issues that impact the Latino community.
You will learn how to organize at the grassroots and grass tops levels, build alliances with other organizations and advance policy issues at the highest levels. You will learn strategies for addressing social issues such as civil rights, voting rights, education, hate crimes legislation, health care legislation, immigration, and 2020 census.
Our Presenters will discuss why these issues matter to the Latino community, and will map out a process of civic engagement, as well as short and long-term tactics to be most effective. You will learn how to define your cause and vision, create specific goals and metrics, find your allies and targets, build a base, find media coverage, and funding.
The workshop will be followed by a networking reception featuring Cuban and Puerto Rican treats from Dona Habana and Vejigantes Restaurant. Yumm!
SPEAKERS INCLUDE: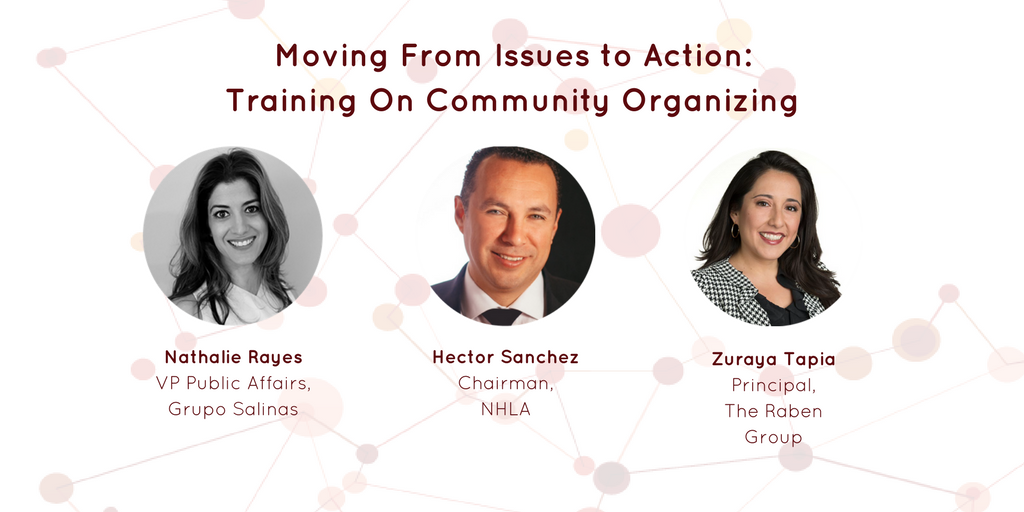 Nathalie Rayes, Vice President of Public Affairs, Grupo Salinas. Nathalie Rayes is the VP of Public Affairs for Grupo Salinas (http://www.gruposalinas.com/es) in the U.S., a Mexican conglomerate with US$6 billion in annual sales and 90,000 employees in Mexico, the United States, and Central and South America, and with operations in the broadcasting, retail, banking and financial services, telecommunications and internet. Nathalie is also the Executive Director of Grupo Salinas' philanthropic arm in the United States, Fundación Azteca America that seeks to improve the quality of life of Latinos by partnering with existing nonprofits to empower, create awareness and motivate change on social and civic issues.
Previously, Nathalie served as Los Angeles Mayor James K. Hahn Deputy Chief of Staff, directing the Mayor's Office of Intergovernmental Relations, serving as chief liaison to federal, state and regional governments and to the Los Angeles City Council, International Trade, Protocol, Immigrant Affairs, as well as Mayor's appointments to City commissions and boards. Prior to that, she was Senior Policy Advisor to Los Angeles Councilmember Mike Feuer, heading all aspects of Councilmember's activities with respect to citywide legislation and ordinances impacting the Fifth Council District. Nathalie also served as a Department of State Fellow in the Economic/Political Section of the United States Embassy in Cairo, Egypt.
Hector E. Sanchez, Chairman, National Hispanic Leadership Agenda. Hector Sanchez is the Executive Director of Labor Council for Latin American Advancement (http://lclaa.org) and the Chair of the National Hispanic Leadership Agenda (https://nationalhispanicleadership.org). In 2012, the U.S. Office of Personnel Management Director John Berry appointed Sanchez as co-chair of the Hispanic Council on Federal Employment to help advice the agency on leading employment practices in the effort to remove barriers to recruiting, hiring, retaining, and advancing Hispanics in the Federal workforce. He is a member of the Kennedy Center's new Latino Advisory Council, the Vice-Chair of the National Latino Coalition on Climate Change (NLCCC) and a member of the board of directors of the U.S. Labor Education in the Americas Project (USLEAP).
Prior to joining LCLAA, Sanchez was the DC-Mexico Policy Education Director at Global Exchange, the Policy and Community Liaison for the Education Trust, and a professor of US-Mexico Relations at the Autonomous University of the City of Juarez, Mexico. Sanchez holds a Bachelor's and Master's degree in Political Science from the University of Texas at El Paso.
Zuraya Tapia, Principal, The Raben Group. As a Principal at The Raben Group (https://rabengroup.com), Zuraya brings over ten years of experience in government affairs from both the public and private sector. Zuraya combines substantial experience in public policy and advocacy work in Washington, DC with deep ties to both the Hispanic and Latin American community in DC and in Latin America.
Her time in the House of Representatives and Capitol Hill relationships complement her unique knowledge from off the Hill, stemming from having headed non-profit organizations, coalitions, and time in a Fortune 50 company. Zuraya has built creative alliances to advance a variety of issues, including diversity in the federal government, diversity in corporate America, immigration reform, and international trade.
Before joining Raben, Zuraya was Vice President for Public Affairs at UPS, a unique role that combined a federal government affairs portfolio with an international affairs portfolio of issues. At UPS she took the company's Public Affairs department in new directions, entering into new partnerships with key Hispanic associations and groups that UPS had not previously explored in order to amplify support for the company's positions on globalization and border facilitation. She is a regular commentator on CNN en Español, Telemundo, NTN24, and Univision.
Stay tuned for the detailed agenda.