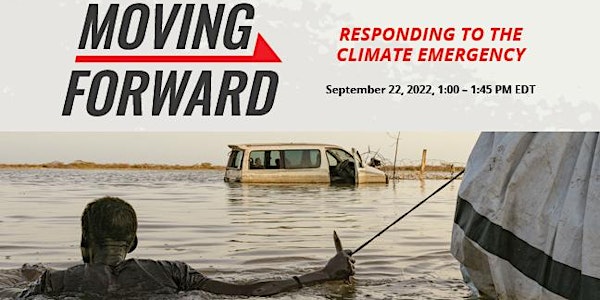 Moving Forward discussion series
An interactive four-part series about Doctors Without Borders' work in 2022 and beyond.
About this event
Doctors Without Borders presents Moving Forward: a virtual event series
A live online discussion series with Doctors Without Borders staff from around the world.
Join Doctors Without Borders/Médecins Sans Frontières (MSF) for this dynamic four-part series exploring how aid workers and humanitarians are tackling some of the world's biggest challenges today—while preparing for future emergencies. We'll hear from frontline health workers and medical experts about how we can adapt to meet the evolving needs. Speakers will share unique perspectives on topics like learning to live with the COVID-19 pandemic, responding to the impacts of forced migration, understanding the links between climate change and public health, and how bearing witness can help communities caught in crisis.
We'll answer your questions about these big issues, with a focus on the lives and health of the people we treat. MSF was founded more than 50 years ago to provide medical aid to the people who need it most. As we move forward into our next chapter, we want to hear from you.
Join the next event in this series:
Thursday, November 3, 2022 - 1:00 PM EDT (10:00 AM PDT)
Moving forward: Bearing witness with communities caught in crisis - Doctors Without Borders invites you to a special online conversation about our work with people living in emergency conditions–from the war in Ukraine to the devastating floods in Pakistan. For more than 50 years, our teams have been providing direct medical aid while also bearing witness and speaking out about the problems driving emergency needs. Today, we are increasingly working with communities to help amplify local voices and calls to action. We'll bring together aid workers and experts from our international medical programs to talk about how we're adapting to meet the evolving challenges.
*Events will run approximately 45 minutes.
Past events in this series:
Thursday, September 22, 2022
Moving forward: Responding to the climate emergency - Doctors Without Borders invites you to join a special conversation about how the climate emergency is affecting the communities we serve. From the Sahel and Horn of Africa to South Asia to Central America, we are providing medical care for people who are already suffering from the effects of climate change and environmental degradation. Our teams are responding to medical needs caused by cycles of drought, flooding, and extreme weather events. We are treating climate sensitive diseases such as malaria, dengue fever, and cholera. This year we are responding to a surge in malnutrition across multiple countries, with various political and economic issues compounded by environmental factors. To reduce our own carbon and waste footprint, MSF has adopted an Environmental Pact and pledged to cut carbon emissions by half by 2030. Join us for this online event to learn more about MSF's evolving approach to planetary health, which recognizes that human health depends on the health of the planet. We'll be in conversation with Dr. Ana Gabriela Gutierrez Zamudio, MSF deputy medical coordinator in Mozambique; Dr. Simba Tirima, MSF country representative in Nigeria; and Avril Benoît, MSF-USA's executive director, who will moderate the discussion.
Thursday, June 16, 2022
Moving forward: A humane response to migration - Doctors Without Borders invites you to join us for a special conversation to mark World Refugee Day. We are now seeing record numbers of people forced from home—including a massive exodus of people fleeing the war in Ukraine. Governments from Europe to the United States are largely welcoming refugees from Ukraine, showing that it is possible to provide a humane response to people seeking safety. We are calling for all refugees and asylum seekers to be treated with dignity and humanity—regardless of their race, ethnicity, or nationality. We'll be in conversation with Christianna Mourouzi, humanitarian affairs officer for MSF's Health Protection Unit based in Greece; Dr. Miriam Hernández, medical doctor for MSF in Mexico, Guatemala, and Honduras; and Reem Mussa, coordinator of MSF's forced migration team based in Brussels. Together with moderator Avril Benoît, MSF-USA's executive director, this panel of MSF experts will answer your questions about the medical care we provide for people on the move, and the physical and mental health issues we witness firsthand.
Thursday, March 3, 2022
Moving forward: The future of COVID - As the world prepares to enter a third year of the COVID-19 pandemic, many of us have questions about what our future will look like. What does it mean to learn to live with COVID? How much does that answer depend on where we live, and what kind of access we have to vaccines, tests, and treatments. We are in conversation with Mihir Mankad, MSF-USA's senior advisor for global health advocacy and policy; Dr. Northan Hurtado, the Head of MSF-USA's Medical Unit; and Dr. Elena Nicco, an infectious disease doctor and medical coordinator of MSF's COVID-19 task force. The event will be moderated by Avril Benoît, MSF-USA's executive director. This expert panel will discuss what MSF has learned from our COVID response over the past two years, and why we're calling for pandemic protection for everyone everywhere
INSTRUCTIONS:
Your registration gives you access to all events in this free discussion series. Once you register, you'll receive an email confirmation with a Zoom link to attend online, and email reminders before each event. (You'll also have the option to dial in by phone.)
At the time of each event, click the Zoom link or call the phone number in your confirmation or reminder emails. The link and phone number will be the same for all events.
FREQUENTLY ASKED QUESTIONS
1. Will each event be different?
Yes, each event in this series will feature different MSF speakers in conversation about various challenges that MSF will tackle in the coming years.
2. Do I need to register more than once?
No, you'll register just once and can attend as many of the events in this series as you'd like. The link to join online and the phone number if you choose to dial in (included in confirmation and reminder emails) will be the same for all events.