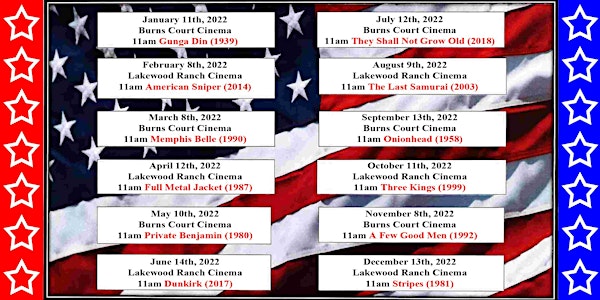 Movies For Heroes (BCC)
Sarasota Film Society is proud to present "Movies For Heroes", a year long Salute to our Military.
When and where
Location
Burns Court Cinemas 506 Burns Court Sarasota, FL 34236
About this event
Sarasota Film Society is proud to present "Movies For Heroes", a year long Salute to our Military. Active, Non-Active, Retired Personnel & their family are welcomed to join us once a month at 11am at Burns Court & Lakewood Ranch Cinemas starting in January of 2022 for a year of free movie screenings. 10% of the concession sales from these screenings will go to Wounded Warrior Project. Space is limited, reserve your tickets today.
Schedule of Films for Burns Court:
January 11th - Gunga Din (1939)
In 19th century India, three British soldiers and a native waterbearer must stop a secret mass revival of the murderous Thuggee cult before it can rampage across the land.
March 8th - Memphis Belle (1990)
In 1943, the crew of a B-17 based in UK prepares for its 25th and last bombing mission over Germany before returning home to the USA.
May 10th - Private Benjamin (1980)
A sheltered young high-society woman joins the United States Army on a whim and finds herself in a trickier situation than she ever expected.
July 12th - They Shall Not Grow Old (2018)
A documentary about World War I with never-before-seen footage to commemorate the centennial of the end of the war.
September 13th - Onionhead (1958)
In 1941, an Oklahoma college graduate joins the US Coast Guard and serves as a cook on a ship based in Boston.
November 8th - A Few Good Men (1992)
Military lawyer Lieutenant Daniel Kaffee defends Marines accused of murder. They contend they were acting under orders.
Schedule of Films for Lakewood Ranch:
February 8th - American Sniper (2014)
Navy S.E.A.L. sniper Chris Kyle's pinpoint accuracy saves countless lives on the battlefield and turns him into a legend. Back home with his family after four tours of duty, however, Chris finds that it is the war he can't leave behind.
April 12th - Full Metal Jacket (1987)
A pragmatic U.S. Marine observes the dehumanizing effects the Vietnam War has on his fellow recruits from their brutal boot camp training to the bloody street fighting in Hue.
June 14th - Dunkirk (2017)
Allied soldiers from Belgium, the British Commonwealth and Empire, and France are surrounded by the German Army and evacuated during a fierce battle in World War II.
August 9th - The Last Samurai
An American military advisor embraces the Samurai culture he was hired to destroy after he is captured in battle.
October 11th - Three Kings (1999)
In the aftermath of the Persian Gulf War, four soldiers set out to steal gold that was stolen from Kuwait, but they discover people who desperately need their help.
December 13th - Stripes (1981)
Two friends who are dissatisfied with their jobs decide to join the army for a bit of fun.