Movie: Sons of Sinbad Ep-Monsoon Empire

Wednesday, December 6, 2017 from 6:30 PM to 9:00 PM (Gulf Standard Time Oman Time)
Event Details
Sons of Sinbad - A History of Oman
The documentary series employs scientific research, experts, and reenactments to
recount events within the history of Oman that are of global relevance.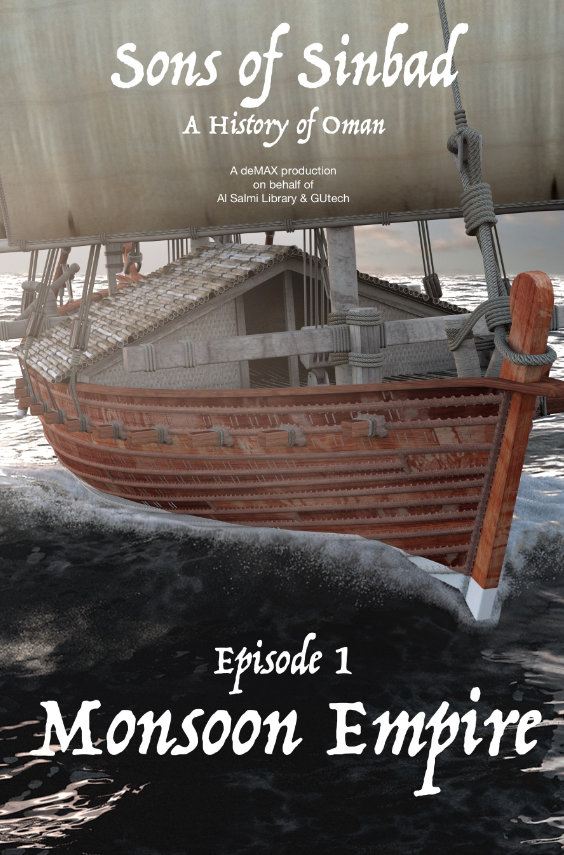 ---
1.Part one: Monsoon Empire, 6th December
The first episode is set in the first centuries of the Islamic era and ends with the downfall
of the Tang dynasty, which also marks the end of the direct trade with China along the
Maritime Silk Road in early Islam.
At this time the Omanis are well-established sea traders and merchants with a network of
partners for the acquisition and distribution of natural resources and manufactured
products. With their level of sophistication and cosmopolitanism, Omanis welcome Islam
as compatible with and beneficial to their society and culture. Their sense of morality
establishes their reputation as esteemed trading partners.
The story is told from the perspective of the Omani merchant Abu Ubayda Al Qassim,
who is mentioned in an Arabic chronicle written in the 3rd C. AH / 9th C. AD, citing his
birthplace as a village near Bahla.
Omani seafarers develop commercial and diplomatic relations with China. Through their fair
and equitable trading, the Arabic merchants are trusted and welcomed there. They
develop long-term relationships, including inter-marrying, and they introduce elements of
their own society, including religion.
The sensational finds of the Belitung shipwreck, which prove the existence of direct trade
between Arabia and China in the early Islamic era, are also featured in this episode.


When & Where

GUtech Main Building
Amphitheater
Muscat Governorate
Oman

Wednesday, December 6, 2017 from 6:30 PM to 9:00 PM (Gulf Standard Time Oman Time)
Add to my calendar