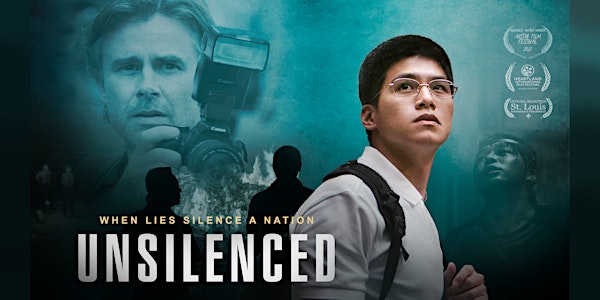 Movie Screening: Unsilenced
Join us for screening of the award-winning "Unsilenced."
When and where
Location
871 Commonwealth Avenue Room 505 Boston, MA 02215
About this event
SYNOPSIS
It all starts with a secret ban from the Chinese government. Although it is difficult to imagine Yoga being banned in the U.S., that's what happened to the millions of people practicing Falun Dafa in China.
Based on true events, "Unsilenced" follows Wang, a university student in Beijing, and his friends as their carefree days are shattered by the 1999 order that banned the spiritual practice Falun Gong in China. Suddenly, they are forced to choose whether they want to conform or risk their promise of a future. As the state churns out lies and starts brutally suppressing voices of dissent, they cross paths with Daniel, a cynical American reporter struggling to find meaning in his profession in the country he loves. With the risk of prison, torture, and even death looming over them, they must all make a choice: to go with their conscience and speak the truth, or to remain silent as atrocious crimes go on behind closed doors.
一名置身事外的美國記者;一群涉世未深的清華學子;一場史無前例的殘酷迫害。當整個國家在謊言中沉默,你敢說句真話嗎?
根據真實事件改編,1999年夏天,兩對清華大學的學生情侶無憂無慮的生活在一夜之間被中共的一道禁令打破。隨著國家媒體不斷製造謊言,打壓異見,他們與美國記者丹尼爾產生了交集。抓捕、酷刑、甚至死亡的威脅時刻籠罩著他們,UNSILENCED!
REVIEW
"A powerful and affecting film" - The Boston Globe
"A moving portrait of conscious resistance." - Los Angeles Times
"Gripping… truth-be-told eye-opener." - San Diego Reader
Official Trailer: here.
"Everyone is a victim in a society with no truth or justice."
「在一個沒有真相,没有正義的社會裡,每一個人都是受害者,包括你自己。」
When I first saw the movie, it gave me such a heavy blow that, crunching my guts altogether, I almost couldn't move myself out of the chair. Going through the journey with these characters and understanding that the events happened in history urges me to take action. I hope more people can be aware of the issue depicted in the film, and this is why I proposed to screen the movie.
I hope you can bring home as much as I do, and hope to see you at the event.
Please share the information with people around you if possible.
Thank you.
Dates: Dec. 8th (Thu.)
Time: 6:00 pm to 8:00 pm
Location: 685 Commonwealth Ave, Boston, MA. (College of Arts & Sciences)
Room: 522