About this Event
Tuesday June 18, 2019
Milford Graves Full Mantis documentary screening
8pm doors
8:30pm showtime
$5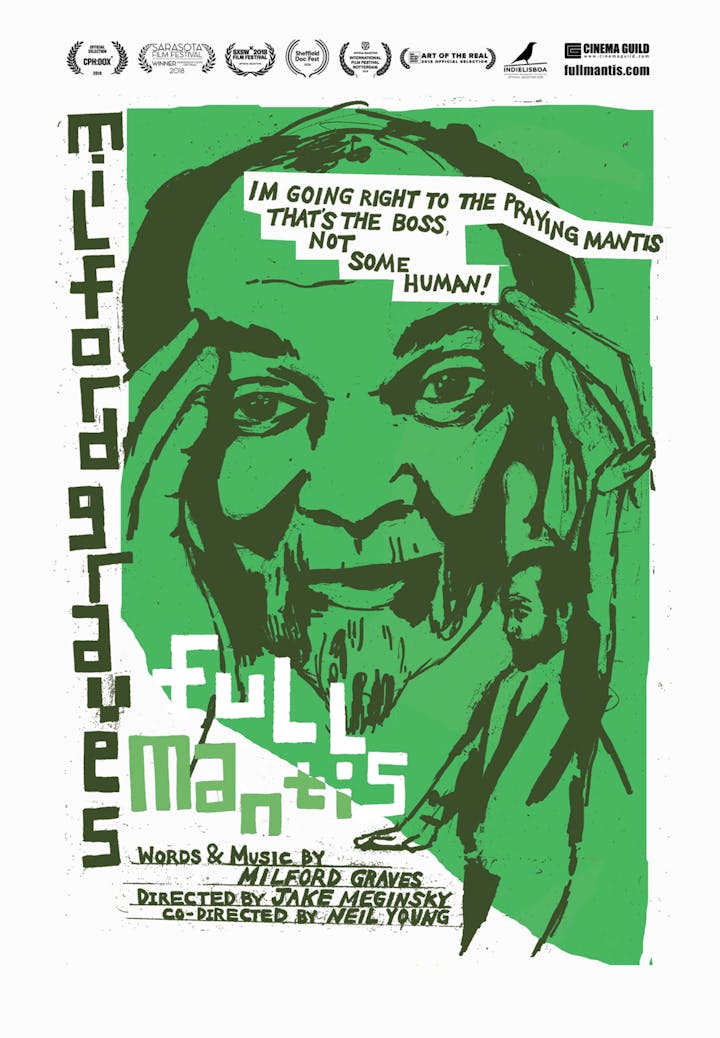 Trailer is here: https://vimeo.com/247747347
SYNOPSIS
MILFORD GRAVES FULL MANTIS is a portrait of renowned percussionist Milford Graves, exploring his kaleidoscopic creativity and relentless curiosity.
Graves has performed internationally since 1964, both as a soloist and in ensembles with such legends as Albert Ayler, Giuseppi Logan and Sonny Sharrock. He is widely considered to be a founding pioneer of avant-garde jazz, and he remains one of the most influential living figures in the evolution of the form.
The film draws the viewer through the artist's lush garden and ornate home, into the martial arts dojo in his backyard and the laboratory in his basement - all of this just blocks from where he grew up in the housing projects for South Jamaica, Queens.
Graves tells stories of discovery, struggle and survival, ruminates on the essence of 'swing,' activates electronic stethoscopes in his basement lab to process the sound of his heart, and travels to Japan where he performs at a school for children with autism, igniting the student body into an ecstatic display of spontaneous collective energy.
Oscillating from present to past and weaving intimate glimpses of the artist's complex cosmology with blistering performances from around the globe, MILFORD GRAVES FULL MANTIS is cinema full of fluidity, polyrhythm and intensity, embodying the essence of Graves' music itself.
OFFICIAL FILM FESTIVAL SELECTION
Sarasota Film Festival, Winner - Independent Vision Jury Prize
SXSW Film Festival
International Film Festival Rotterdam
Art of the Real, Film Society Of Lincoln Center
Sheffield Doc Fest
CPH:DOX
INDIELISBOA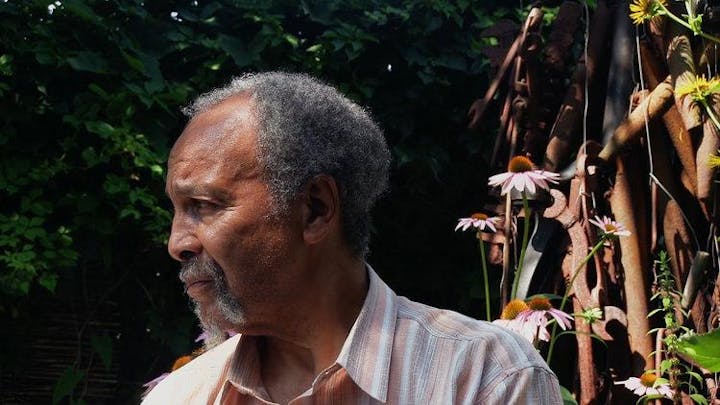 MILFORD GRAVES:
Milford Graves is a percussionist, acupuncturist, herbalist, martial artist, programmer, and professor. In 1945 Graves started playing on some odd drums left at his parents' house by a tenant (he still rarely plays with a kit). In 1964 he met the New York Art Quartet at Michael Snow's loft for an impromptu rehearsal and they asked him to join. He famously held court five nights straight, three sets a night, with Albert Ayler at Slugs in 1967. On July 21st of that same year, he played at John Coltrane's funeral, and Dizzy Gillespie, who couldn't see the balcony where the band was, asked loudly, "Who's on drums?" Mention his name to anyone who follows free jazz, and they know him from recordings like Albert Ayler's Love Cry and Sonny
Sharrock's Black Woman, as well as his concerts with Paul Bley and Don Pullen. In 1972 he invented a martial art called Yara based on the movements of the Praying Mantis, African ritual dance, and Lindy Hop. In 2000 he won a Guggenheim Fellowship and began to study human heart vibrations to better understand music's healing potential. He received the 2015 Doris Duke Foundation Impact Award. Graves is Professor Emeritus at Bennington College, where he taught for forty years. Many of his former students still visit him in his basement office and studio in Jamaica, Queens, a space where his grandparents once had a community social club.