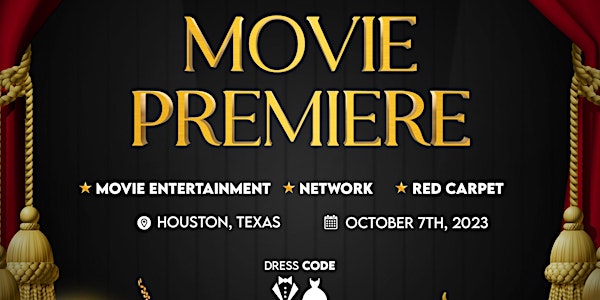 Movie Premiere and Networking | Glam and Classy event
Lumîérè Films' number #1 purpose is to transform the minds - one story at a time through compelling story telling.
Date and time
Saturday, October 7 · 6 - 9pm CDT
Location
MATCH - Midtown Arts and Theater Center Houston 3400 Main street Houston, TX 77002
About this event
Imole Ladipo, the Director and Founder of Lumiere Films
She grew up in Nigeria with a large family. From a young age she has been involved in one form of the arts or another. She has a bubbly personality and a contagious smile that lights up a room. It is no coincidence that the name Imole is interpreted as "Light" in her native Language.
Imole moved from Nigeria to Canada to continue her studies and had quite the culture shock changing from a tropical climate to the cold weather of Alberta Canada. She also had to overcome a lot of the cultural differences between both continents. This experience played a crucial role in developing her character and perseverance.
Imole had always been interested in modernizing the way her church operated so when her husband bought her a camera for christmas she jumped at the opportunity to develop short videos for announcements. Little did she know that the announcements were just the beginning of her finding her lifelong passion. She fell in love with the process of video production and created Lumiere Films. Her vision was to use videos as a means for spreading positivity based on the fundamentals of Christian values. Since the purchase of the camera Imole has created multiple short movies that have been viewed by hundreds of thousands of people online.
Imole currently works as an Engineer and uses her technical background to plan and organize her movie development. She loves ice cream but has been trying to abstain from it in the quest to lose weight. She isn't always successful in avoiding it but is hopeful that next year she will do better. She enjoys going to live shows with her husband, eating seafood and travelling.
Agenda
6:00 PM - 6:55 PM
RED CARPET - GLAM PICTURE TAKING & NETWORKING
7:00 PM - 9:00 PM
MOVIES SCREENING
9:00 PM - 10:00 PM
RED CARPET AFTER SHOW GLAM PICTURES
Frequently asked questions
What if i pay now and the show gets cancelled. How do i get my money back?
Will there be food served at the event?
Will there be a Q & A after the movies with the director?
What movies will be seen?