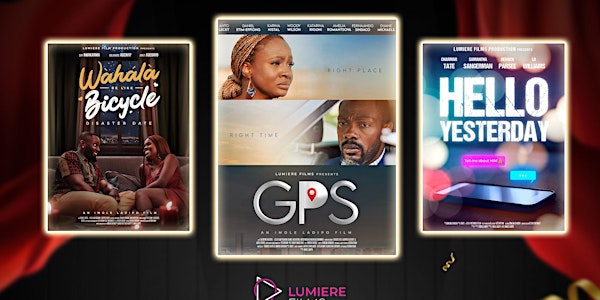 Movie Premiere and Networking | Glam and Classy event
Lumîérè Films' number #1 purpose is to transform the minds - one story at a time through compelling story telling.
Date and time
Saturday, August 19 · 6 - 9pm MDT
Location
Cardel Theatre 180 Quarry Park Boulevard Calgary, AB T2C 3G3 Canada
Agenda
6:00 PM - 6:55 PM
RED CARPET - GLAM PICTURE TAKING & NETWORKING
7:00 PM - 9:00 PM
MOVIES SCREENING
9:00 PM - 10:00 PM
RED CARPET PICTURES
About this event
Imole O. Ladipo
Imole O. Ladipo is a Filmmaker, Writer, Producer, Content Creator, and founder of Lumiere Films. She grew up in Nigeria with a single mother, and later spent many years with her large extended family while her mother moved to Canada to pursue new opportunities. Years later, Imole immigrated to Calgary, Alberta to join her mother and younger brother.
During the time she attended school in Nigeria, one of her professors commented on her analytical and creative skills and encouraged her to consider engineering as a profession, so when she moved to Canada, she attended the University of Calgary, and majored in Chemical Engineering and Petroleum. She soon realized that engineering was quite challenging. However, growing up in the tropical climate in Nigeria and moving to the bitter cold in Canada drove her to work hard and power through to succeed.
Never one to shy away from challenges, Imole jumped at the opportunity to develop short videos that listed announcements from the church she attended, while she was still attending school. Little did she know that the experience would spark a passion for storytelling and film. She excitedly pursed her new-found love and learned the process of video production and writing compelling scripts, leading to the birth of Lumiere Films. Her vision was to use videos as a means for spreading positivity based on the fundamentals of Christian values. She discovered that her diverse experiences could ignite audiences through her work.
Imole works as an Engineer and uses her technical background to plan and organize her movie development. She has written, produced and directed three shorts, including the award-winning films: 'Hello Yesterday,' 'Wahala Be Like Bicycle – Disaster Date,' and 'GPS.' All three films will premiere in Houston, Texas, and Calgary, Alberta in 2023.
Currently, Imole lives with her husband, Anthony Ladipo, and her three children – the first two are twins. The family now lives in Houston, Texas.
Frequently asked questions
What if i pay now and the show gets cancelled. How do i get my money back?
Will there be food served at the event?
Will there be a Q & A after the movies with the director?
What movies will be seen?
How does the Donate (VIP) section work and comes with that?