'Movie Palaces: A History of Cinema and the Theatrical Experience' Webinar
Sales Have Ended
Registrations are closed
Looking to register for the replay? Visit AdventureClub.com > Virtual Events > Active Replays to browse our active replays, which expire one week after the program's original air date.
Sales Have Ended
Registrations are closed
Looking to register for the replay? Visit AdventureClub.com > Virtual Events > Active Replays to browse our active replays, which expire one week after the program's original air date.
Can't make it live? Register and get access to the full replay for one week! New York Adventure Club | www.AdventureClub.com
About this event
With the rise in popularity surrounding streaming film and television services, it's hard to imagine how the movie theater experience can buck the modern Netflix trend. Though while watching a movie on your couch is definitely convenient, nothing can replace the experience of being transported to another world through the magic of cinema and grand movie theaters. From penny arcades, to the magnificent movie palaces, to the multiplex era and present day, it's time to uncover the evolution of the movie going experience — and importance of preserving it for generations to come.
Join New York Adventure Club as we explore the full history of cinema through the lens of movie theaters, where we've experienced films over the past hundred years.
Led by award-winning documentarian April Wright — Director of Going Attractions: The Definitive Story of the Movie Palace — our fun, nostalgic, and captivating virtual trip through America's gorgeous theatres will include:
A look at early cinema and how theatrical experiences like nickelodeons led to people around the world falling in love with the movies
The era of the movie palace and studio system in the teens and twenties, and how their architecture and features were designed to entertain and awe the public
A look at some of America's greatest movie palaces built before the Great Depression, and how people of all classes were treated like kings and queens
How New York City became the epicenter of the film business, and a virtual peek inside some of the most beautiful theatres such as the Capitol and Roxy
The dark days of movie palaces during the mid-late 20th century, which saw these large theatres shift to everything from art houses, to grind houses, to multiplexes
Preservation and the future of movie theatres, with a look at efforts to save and restore the remaining movie palaces
Personal stories and exclusive photos surrounding the making of April's documentary, Going Attractions: The Definitive Story of the Movie Palace
Afterward, we'll have a Q&A with April — any and all questions about movie palaces are welcomed and encouraged!
Can't make it live? Don't worry, you'll have access to the full replay for one week!
See you there, virtually!
*Immediately upon registering, you will receive a separate, automated email containing the link to join this webinar
**For the best possible viewing experience, please ensure you're using the latest version of your internet browser — Google Chrome is the most compatible. Exact technical requirements and a webinar user guide will be shared in the automated confirmation email upon registration.
***A full replay of the experience will be available to all registered guests for up to a week
About April
April Wright is an award winning filmmaker who brings a fresh and creative approach to her documentaries and narrative projects. She's drawn to material based on real events, especially stories with an unexpected hero or point of view. Working as a narrative programmer for the Sundance Film Festival for the past 15 years, Sundance has been her film school.
April is a member of the Alliance of Women Directors, Film Independent, the International Documentary Association, Women in Film, Film Fatales, and she is an alumni of the Sundance Institute. Before working in film and television, April received an MBA from Northwestern and had a successful business career working for companies like AT&T, Delta Air Lines, Mattel, and Caesars Palace. While making her documentary on drive-in movies, she visited every state except Alaska.
Testimonials
"Beautiful images of movie palace across America!" -Sarah
"April is very knowledgeable about her subject. I loved the pictures of the movie palaces. The presentation was the perfect length. This generation Xer did not get distracted." -Carla
"I'm glad I was able to participate from Japan! Unfortunately, I am in working time so I could only joined for 1 hour. But I felt for love to cinema very much." -文枝
"April's program was great! She was so enthusiastic and so knowledgeable. I really enjoyed her presentation on movie palaces." -Wendy
"I loved the presenter's zoom on the drive in theater's was just as excellent as this one - very very good! The old movie theaters are great!" -Melissa
"The history, her knowledge, the film clips, the still -- pretty much everything." -Dave
"It's obvious the presenter knew her topic well and was quite enthusiastic about it." -Dennis
"The superb photos and video clips presented." -Harold
Disclaimer
By attending a New York Adventure Club experience, you accept our terms of service.
Categories: Virtual, Landmarks
Organizer of 'Movie Palaces: A History of Cinema and the Theatrical Experience' Webinar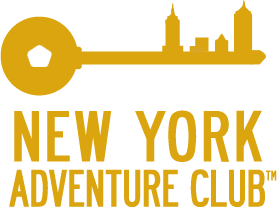 NEW YORK ADVENTURE CLUB
Unlock Your City
We give you insider access to the city's best-kept secrets. But we're so much more than a tour company.
WHO WE ARE

We are a community-driven club that curates the most unique experiences in town, with a focus on history and storytelling. We show you a city you never knew existed, and offer a community you can't live without.
You won't find our special-access tours and exclusive events anywhere else. Think after-hours tours of New York City's most celebrated spaces, themed parties in unexpected locations, and weekend excursions to incredible destinations. All of our events end with social hangouts so you can meet people who love exploring as much as you do.
THE 'CLUB' IN NEW YORK ADVENTURE CLUB

Our current community is more than 23,000 members strong and includes everyone from recent NYC transplants to lifelong residents. Whatever borough you're from (or city or country, for that matter), we'll make it easy for you to take full advantage of the unique places and great people this city has to offer.  
WHERE WE GO
To ensure a one-of-a-kind experience each and every time, we handpick events and outings specifically for the New York Adventure Club community. Recent events include:
* An after-hours tour of New York City Hall
* Special access into some of New York's most coveted private social clubs, including the Explorers Club and National Arts Club
* Petting baby kangaroos, holding sloths, and feeding leopards at Staten Island Zoo

* An NYPD Precinct tour, including a meet-and-greet with detectives and Emergency Service Unit crew members
* A tour of the Polish Consulate led by the Consul General and Vice Consul General of Poland

* A special-access tour of Brookhaven National Laboratory and its Relativistic Heavy Ion Collider (RHIC)
* A Halloween party in a historic gothic crypt, complete with a five-piece brass band
Subscribe with our newsletter to get the inside scoop on the city's most interesting events: http://eepurl.com/1cnVH
Unlock Your City with New York Adventure Club