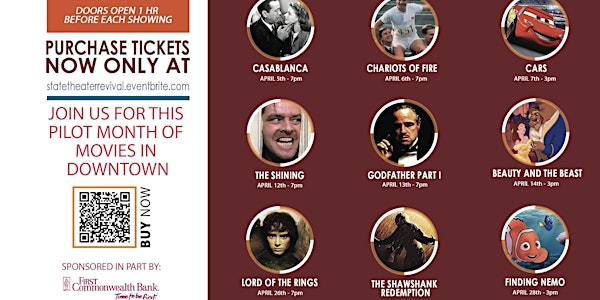 Movie Night at the State Theater
When and where
Location
State Theater 336 Main Street Johnstown, PA 15901
Description
Join us for this Pilot Month of Movies in Downtown!


Relive History


To the people of Johnstown and to their children, and to their children's children, forever; to the strangers within the city gates on business or pleasure bent, and to all the millions who will make history and create new standards of achievements in this community through all the years to come, is this artistic and beautiful temple of entertainment and play dedicated by the management, in the undying hope that this New Million Dollar State Theater will lighten life's burdens with wholesome laughter, and with the voluptuous harmonies of sweet music, the refined delights of true art and the vivifying influences of decent recreation will give new courage and new purpose to all who tarry here for divertisement.


- Original State Theater Dedication, 1926


Concessions will be available for purchase.
Featured Films:
April 5th at 7:00pm: Casablanca PG
April 6th at 7:00pm: Chariots of Fire PG
April 7th at 3:00pm: Cars G
April 12th at 7:00pm: The Shining R
April 13th at 7:00pm: The Godfather Part I R
April 14th at 3:00pm: Beauty and the Beast G
April 26th at 7:00pm: Lord of the Rings PG-13
April 27th at 7:00pm: The Shawshank Redemption R
April 28th at 3:00pm: Finding Nemo G
Doors open 1 hour prior to showtime.