Actions and Detail Panel
Movie & Munch: The Shack
Sun, April 9, 2017, 12:30 PM – 4:00 PM EDT
Description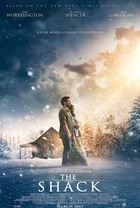 Attend fun, fine and fascinating films followed by (optional) dining and conversation.
RSVP for free below. Updates about theater, show time and ticket sales will be shared as they become available. Movie tickets and dining are individual and separate purchases.
The Shack takes us on a journey to father's understanding of a family tragedy. After falling into a deep depression, Mack Phillips is facing a crisis of faith when he receives a mysterious letter urging him to an abandoned shack deep in the Oregon wilderness. Despite his doubts, Mack journeys to the shack and encounters an enigmatic trio of strangers led by a woman named Papa. Through them, Mack finds important truths that change his life.
I will arrive 15 minutes before show and stand near the popcorn concession. Look for my big, pink Movie & Munch badge.