MoveCamp Free Workouts at Canoe Landing Park!
About this event
Join us every Thursday at 12pm for a free movement session with MoveCamp Toronto coaches at Canoe Landing Park!
Toronto, let's MOVE together. We're all about helping you achieve a healthier and active lifestyle - join us outside at Canoe Landing Park.
Join our community to participate in our FREE movement sessions every week geared for all fitness levels and age groups.
MoveCamp is on a mission to get one million Canadians moving this summer!! We create an inclusive environment where no matter your age or fitness level, you have a place to move your body free from judgement. You can choose to attend our in-person sessions to move your body while connecting with others in a welcoming space, or you can simply join us online in the comfort of your own home. Get trained with some of Toronto's best fitness trainers!
REGISTER NOW AND SEE YOU AT 12pm EST.
Learn more at https://movecamp.ca/
EVENT DETAILS
We have your safety top of mind, so we'll be following all provincial physical distance guidelines. When you show up event staff will direct you to your spot.
Open to the public and will adhere to provincial rules of safe social distancing
You should consult your physician or other health care professional before starting this or any other fitness program to determine if it is right for your needs. Pre-registration required.
Get in shape with Canada's top fitness coaches as they lead you through a fun, high energy workout.
Complimentary event open to everyone. Families are welcome. Children must be accompanied by an adult.
Participants should wear comfortable gym clothes and running shoes.
WHAT TO BRING
A fitness mat
Water bottle
A great attitude
Invite your co-workers, family and best friends to move with you.
ABOUT MOVECAMP
We are in Season 7!
At MoveCamp we are dedicated to helping people lead healthier, more active lives.
Since 2015 MoveCamp has been offering free fitness activities at Canadian landmarks such as Parliament Hill, Ottawa City Hall, Toronto City Hall and Canoe Landing Park, and Montreal's Rutherford Field at McGill University.
MoveCamp is always growing and passionate about sharing health and wellness across Canada. If you would like to join MoveCamp organizing team, the largest free fitness movement in Canada please get in touch! We would love to hear from you.
www.movecamp.ca
#movecamp, #movetogether, #mycanada, #standforsomething, #movecollective
For enquiries please contact admin@movecollective.co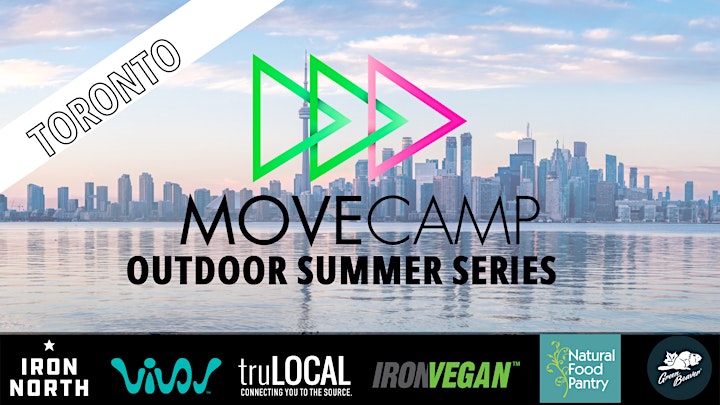 Organizer of MOVECAMP TORONTO CANOE LANDING PARK
We are a community organization based in Ottawa, Canada which host regular free fitness activities in landmark locations across Canada.
We have been hosting Movecamps – our weekly lunchtime fitness sessions at Parliament Hill and City Hall in Ottawa for the last four years and are expanding this year to Montreal and Toronto.