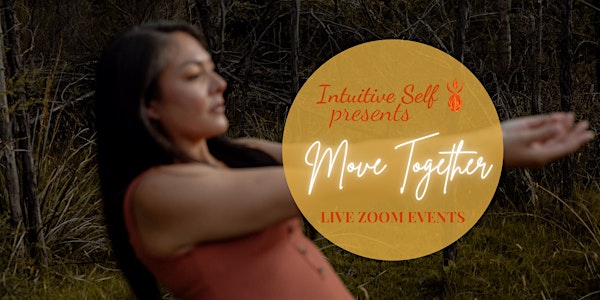 MOVE TOGETHER
I am currently gifting these MOVE TOGETHER one-hour online sessions as a FREE community offering. Enjoy a taste of my Intuitive Self offers!
About this event
This is an opportunity to enjoy and get a taste of my Intuitive Self offerings.
Come move, play and share amongst a generous community vibe!
Each session will have a different THEME.
AUGUST & SEPTEMBER DATES: Offered Wednesday mornings 9.30AM - 10.30AM, Friday mornings 10AM - 11AM and Monday evenings 7.30PM - 8.30PM.
In the comfort of your own home, on a casual drop in basis, you can enjoy my juicy facilitation of:
Body-connection
Intuitive movement
Creative capturing with colours/lines/shapes/words
PLUS community reflections and sharing at the end
The one hour format runs: Arrival process; followed by somatic body-connection & intuitive movement process (with my guided facilitation), then we move into a reflective creative process with invitation to capture experience with drawing materials and writing prompts.
There is space at the end to share (optional) and witness others sharing of their experience.
Real magic is cultivated here as the group taps into a collective frequency, a powerful witnessing of our humanity.
Once you're signed up, you'll be sent the Zoom link prior to beginning.
You will need:
A good internet connection to attend via Zoom
Space to move in
Wear loose comfortable clothing which allows for movement
Bring your journal/pen or paper/pencils to use
Water bottle
~
"Cathy is generous with self - heart and soul. Cathy creates a welcoming, inclusive,  safe supportive environment for individual participant's and collective journey through the processes." - Tina Grimes
~
"Cathy holds these group spaces with such skill, acknowledging us as individuals and building group safety and engagement. Her facilitation of the space is gentle, calm, generous and joyful. Whether you are an experienced mover, or a newbie to dance-movement, you are in safe hands and will get in touch with parts of yourself and your life that will support you to be more whole." - Rachel Clark
~
"Cathy was a brilliant facilitator of many different kinds of creative practices, especially when it came to the live online events. They were highly engaging, very fun and playful, with such beautiful energy to be a part of." - Dale Polglase
~
"Cathy's LIVE community events enhance her programs, allowing us to meet and share the love with other beautiful Beings. If you want to connect more fully with yourself and discover your inner artist, I highly recommend her beautiful courses!" - Anne O'Keeffe, Alchemy Dance Founder