Description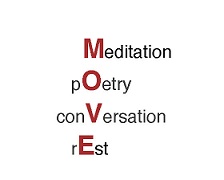 This class offers a path of self exploration through movement, poetry, meditation, and conversation. Join the opportunity to explore who you are and how we may meet our life as it is. Come with an open heart and a willingness to explore. Ages 18 and up.
When: Saturday, July 21 from 1:00-2:30pm
Where: JUMP Move Studio on the fifth floor, take a right out of the elevators.
Cost: $20. If space is available, you may also pay at the door.

*When you participate in a program or activity at JUMP, you agree to our Personal Release Statement.
What to Expect: Wear clothes you can move in and bring a water bottle. We have limited changing room space and do not have lockers for personal items at the moment so please plan accordingly. Check our FAQs below for any further questions.


Jisen moved to Boise, Idaho in late August 2016; she was born and raised in a small town in western Pennsylvania, just north of Pittsburgh. From there, she traveled, studying dance, music, physical therapy, and the Alexander Technique. Her only time spent way from the eastern part of the country was attending graduate school in southern California. Eventually she found her way back to Pittsburgh and years later began teaching meditation, movement, and serving on the Council for Spiritual Advisors at Carnegie Mellon University. Also, she led City Dharma, a Soto Zen Buddhist community, in Pittsburgh. And, she helped establish the Zen Center of Pittsburgh, a residential center, in the outskirts of the city. In October, 2017, she opened the Boise Zen Center; its intent is to offer a practice place steeped in Zazen, seated meditation.

These classes at Jump are informed by Jisen's training and certification in the Alexander Technique, physical therapy, music, dance, and Zen. The Alexander Technique is an active exploration that changes the way one responds in relationship to activity. In the spirit of her teaching, she says we can be explorers. "Experimenting with movement can bring about an expanding awareness. Making discoveries, our lives deepen, widen, lengthen, and we may begin sensing a spaciousness that has always been there only forgotten".

What inspires you?
"This very ordinary life."
https://www.boisezencenter.org
email: boisezencenter@gmail.com

FAQs
What is JUMP?
JUMP – or Jack's Urban Meeting Place – is a not-for-profit, interactive creative center and community gathering place in the heart of downtown Boise. Please go to jumpboise.org to learn more and join our newsletter so you are in the know on fun, spontaneous happenings at JUMP.
JUMP is a dynamic and innovative space and safety is our first priority. Please monitor your children and keep them safe at all times.
What are my transport/parking options getting to the event?
You may bus, bike, drive, walk, skip, etc. Check Boise's bus schedule at www.valleyride.org. We love bikers and have bike racks to secure your ride. If you plan to drive, paid parking is available on the 3rd and 4th levels of the JUMP parking garage or in Simplot's below ground parking garage, both accessible from the Myrtle Street entrance located between 11th and 9th Streets. Please note, the below ground parking garage is only available after 4PM until 6AM on weekdays and all day on weekends. Credit/debit cards accepted only.
Do you have accommodations for people with disabilities?
Absolutely. We support the Americans with Disabilities Act (ADA) and encourage participation by everyone. If you require special accommodations to participate in our programs or to use our facilities, please view the JUMP Building Map to locate accessible parking spaces or call 208.639.6610 for additional information.
What is the refund policy?
We depend on your enrollment for a successful class so please plan your schedule carefully. Classes which do not meet minimum enrollment are subject to cancellation. Refunds are issued in full if the class or program is cancelled, if you cancel at least seven days before the starting date of the class, or for documented medical reasons. Please email programs@jumpboise.org to request a refund.
What about cancelled classes?
Please check our website http://jumpboise.org/ and the hours of operation for any cancellations, you may also call the front desk at 208-639-6610. We will email registered participants and also post on our social media.
Where can I contact the organizer with any questions?
Please email miranda.palacio@jumpboise.org with any questions/concerns/compliments/puns.
Notice of Photographic and Media Recording
When entering the JUMP premises, you are entering an area where photography, audio, and video recording will occur. By entering these premises, you consent to all recording media and its release, publication, exhibition or reproduction to be used for any JUMP purpose. You further waive your rights to all claims in connection with any JUMP publication, regardless of its purpose. If you have any questions please call (208) 639-6610.