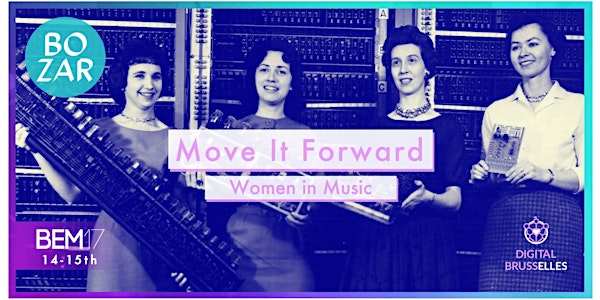 Move It Forward Brussels for Women in Music - female digital starters weekend
When and where
Location
BOZAR - La Rotonde Rue Baron Horta 9 1000 Brussels Belgium
Description
---
Digital Brusselles Musical Showcase at BOZAR

with
Brussels Electronic Marathon
As a special feature of this
Move It Forward
weekend,
Digital Brusselles
is collaborating with the
Brussels Electronic Marathon
to showcase an all-women/non-binary music stage on Sunday, 15 October, 19:00-00:00 at
BOZAR
in Brussels. This event is free for participants of the 2-day MIF weekend, and is open to the public with pre-registration and a suggested donation. The showcase will feature artists noted below as well as projects from the MIF weekend
.
---
Move It Forward Weekend Programme:
Day One - 14 October (Saturday):
08:00-08:30 - Registration & Coffee

08:30-10:30 - Opening Plenary:
10:30-12:30 - Workshop 1: Build Your Online Presence with Wordpress with Ms. Nicola Walsh & Ms. Madalina Lazar Amazon Web Services


12:30-13:30 - Lunch Break

13:30-15:30 - Workshop 2: Launch Your Project in the Cloud with Ms. Nicola Walsh & Ms. Madalina Lazar Amazon Web Services
15:30-18:00 - Brainstorming, Proposals, Idea Selection, Team Grouping & Project Work

18:00-19:00 - Dinner

19:00-22:00 -

Project Work with Coaches

Day Two - 15 October (Sunday):
08:00-08:30 - Coffee & Danishes

08:30-10:30 - Workshop 3 Smartphone App Development for Android with Cheryl Miller / DLI
10:30-12:30 - Workshop 4: Digital Music Composition with Martine-Nicole Rojina


12:30-13:30 - Lunch Break

13:30-16:00 - Project Work with Coaches

16:00-17:00 - Presentation Preparation

17:00-19:00 - Closing Plenary: Project Presentations & Judging
18:30 - Keynote Presentations & Awards
19:00-00:00 - Awards Dinner, Networking & Musical Showcase
---
Awards:
Prizes will be handed out for the top three projects presented on Sunday afternoon:
Overall Best: 6-month inQubation at Digital Brusselles; 10 Hours one-to-one Startup Coaching; Other TBC
Most Impact: 4-month inQubation at Digital Brusselles; 8 Hours one-to-one Startup Coaching; Other TBC
Most Innovative: 4-month inQubation at Digital Brusselles; 8 Hours one-to-one Startup Coaching; Other TBC
Jury Members:

Coaches: Move It Forward female digital starter weekends are supported by a worldclass team of coaches who generously give their time and expertise to help participants deliver awesome projects and enterprises.
Speakers, Jury-members & Coaches:
Eline Van Audenaerde
manages
The Unicorn Mothership
, her own one-woman business and heads shesaidso Belgium, a network of women who work in music. She offers digital marketing to the music and tech industry, is a creative coach for DJs and producers and a full-time unicorn.
Frisia Donders is responsible for the territorial development of SMart. She manages several cross-cutting projects and is a spokesperson for SMart. Over the past eight years, Frisia has initiated numerous partnerships with actors from various sectors (academic, socioeconomic, cultural/creative, public and institutional). Active in many of these networks, Frisia appreciates linking strategic discourses to the realities of project leaders within SMart.
Lieza Dessein acquired expertise in professional development, the management of atypical workspaces and the impact of digitalization on the work environment. On behalf of SMart, she is in charge of the development of the creative hub Brussel Art Factory (BAF), a 800m² workplace for creative entrepreneurs. Lieza Dessein is also advocating for a fairer digital economy and represent Smart in the platformcoop movement. It is a movement that is promoting democratic and inclusive business models applied to digital companies.
Martine-Nicole Rojina is a professional music- and immersive multimedia content producer and consultant for immersive AV innovation, VR, AR & future technology.
Her curiosity and empathy for technology, science, engineering, economy, art and education are the core drivers of her transdisciplinary projects and collaborations in the MPATHY STUDIO, where she functions as a "bridge" to create common ground for multiple fields of expertise.

Georgina Becker after studying Film and Media Studies, Art History and Literature in Frankfurt and Paris, Georgina Becker worked for film festivals in Frankfurt and Brussels. Since she joined BOZAR in 2012 for a first collaboration she has been working transversally as a producer of mainly festivals in the fields of music, exhibitions and conferences. She now is responsible for production of BOZAR Lab, a new space for art, technology and research. As a mother of twins she meets and enjoys new challenges every day.
Clementine Delisse is a communication manager at LeanSquare, a Belgian-based incubator aiming to invest in the new economy startup. With LeanSquare, she also organized Wallifornia MusicTech acceleration program in July 2017. She specialises in digital marketing and communication project management. She is also crazy about images and has worked as freelance photograph and audiovisual journalist. She believes in the power of images and role model to empower women entrepreneur and gender equality.
Radu Chiriac is a Web consultant specialized in the JavaScript development. Having worked for a few good years in Paris with startups to help them to reach MVPs, he has since moved to Bruxelles working in the public sector. With music as his main passion, he co-founded basedonfacts.club - an electronic music collective and label for which he also produces.
Anna Boroshok is a digital marketing expert with 7 years of experience in digital marketing, and four years experience at Google. She is the founder of Success.Studio - Digital Marketing for Small to Medium Entrepreneurs - which aims to enable European-based entrepreneurs to success in building and promoting their businesses online.
Christophe de Jaeger is an art historian specialising in media art and collaborative practices between art & research. He has realised projects in Belgium, the USA, China and Italy. As Coordinator of the Bozar Art & Research Dept. (Centre for Fine Arts Brussels) and Founder of GLUON (a platform for art, science & technology in Brussels), Christophe has a strong interest in STEAM education.
Joanna Pszczola (JoBee Project) is a singer, radio presenter, writer, composer, political activist and feminist, in addition to being a Communications Expert. She founded Supafly Collective in 2009, and has been promoting ladies in music for over a decade.
Cheryl Loh is a design thinking retail coach from Singapore. She has over a decade experience working with global brands, organisations and tech startups, developing products and services from concept to market implementation in Singapore, China, Cambodia and Vietnam. She is currently in Brussels delivering a workshop to EU communicators
---

Move It Forward FAQ
Participants: If you are a teen or adult woman* interested in building your tech and entrepreneurship skills while making an impact on challenges facing girls, women and their communities, please join us!
*anyone who identifies as a woman
Childcare:
We proudly work with
Bsit
to provide childcare for participants with children up to ten years of age, on an as-needed basis. If you wish to take advantage of this service, please kindly indicate that when you register.
Languages:
Workshops and inspirational talks will be given in the language of choice of the speaker with interpretation in other languages, as needed. If you would like to support this event as an interpretor, kindly join the event as
"Volunteer/Event Partner"
or
contact us.
Laptops: Participants will need a laptop to fully benefit from this event. If you do not have access to a laptop please let us know and we will reserve one for you.
Supporters:
Move It Forward would not be possible without the support of our awesome partners and sponsors. Kindly
contact us
if you would to support this event. Opportunities exist for Move It Forward volunteers, interpreters, coaches, jury members, content and media partners, prize contributors and sponsors.
If there is any other way we can facilitate your participation in this event, please do not hesitate to let us know!
---
Share Your Super Power with the Digital Brusselles Community!
Digital Brusselles is about knowledge-sharing among women -- some new to the career marketplace, and some more experienced but looking to try new things, e.g. starting their own digitally-driven commercial or social enterprise. Do you have a secret super power (big or small!) -- building resumes, time management, bookkeeping tips & tricks, online marketing, etc. -- that you would like to share with a group of kind and curious women who could really benefit from what you know, and that you can share in an open, relaxed and non-judgmental setting? Then please get in touch with us! Your contribution to the Digital Brusselles community can pay you back in free attendance at workshops and events run by Digital Brusselles and other community members. So anything you contribute -- in English, Dutch, French or whatever language with which you're most comfortable -- will definitely come back to you.

Volunteering, Donations & Sponsorship:
If you or your organisation is interested in partnering, volunteering, sponsoring girls and women to participate in Digital Brusselles activities, or would like to support Digital Brusselles and its mission in other ways, please contact us.