Description
On Sep 21 at the #RobotX Meetup we will be talking about "Move Into AI Careers ", what will be the future of AI job market and AI investor featuring. We will be joined by a fireside chat of speakers who will share their thoughts and insights.
Who Should Attend:
AI engineers/scientists who want to know more about AI career, startups and investments

Business executives

Start-ups that need to grow their teams

Recruiting professionals/HR in fast growing companies

Upcoming grads that are looking for AI jobs

Anyone who is moving into AI for new career opportunities in the best companies

Anyone who want to know more about how the world of recruiting is evolving!
What Matters Most to You?

Sharing about how to transition into an AI-related career

Sharing about AI startups and AI commercialization trends

Thinking from a different perspective: How do investors think of startups and AI?

Interested in joining TalentSeer as an AI career counselor? Learn everything here!
Agenda:
6:30PM - 7:00PM Check-in and Networking·

7:00PM - 7:10PM Brief Introduction

7:10PM - 7:50PM Three-Year Transition from Enterprise Sales/Marketing Professional -> AI Recruiting Entrepreneur -> AI Investor featuring, Alex Ren

7:50PM - 8:20PM Fireside chat on AI Careers, Entrepreneurship, and Investment featuring, Lu and Alex

8:20PM - 9:00PM Ask us Anything
About the Speakers
Alex Ren, Managing Partner at BoomingStar Ventures, Founder at AI recruiting startup TalentSeer
Alex is unique in the startup world. He's an entrepreneur and a proactive investor in the AI space. In 2015, an interest in data science led him to start an AI-powered talent search firm, TalentSeer, which now represents one of the pioneering AI recruiting firms in the Bay Area. It helps more than 40 companies a year to build scientist teams in both AI enterprises and AI startups, Alex later launched a venture capital fund called BoomingStar Ventures (US fund of Bojiang Capital, a $1.5B fund focusing on AI, Robotics and Enterprise software) in 2016.
Prior to his current role, Alex worked at Agilent Technologies and he has over 15 years of experience in marketing across enterprise software, telecommunication, and semiconductor sectors. In Alex's words, talent is the biggest driver of success, so TalentSeer and BoomingStar aim to capture both the best talent and investment opportunities to boost the market share.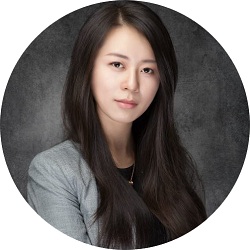 Lu Zhang, Founding and Managing Partner at Fusion Fund(A.K.A. NewGen Capital)
Prior to starting Fusion Fund, Lu was a Venture Partner at Fenox Venture Capital. She participated in over 20 investments and assist M&A of the portfolios. Lu was also the Founder and CEO of Acetone Inc. (acquired 2012), a start-up focused on non-invasive technology for the early diagnosis of Type II diabetes. She has also worked as a consultant at the United Nations Industrial Development Agency. Lu received her M.S. in Materials Science and Engineering from Stanford University and holds several patents. She is an advisor and mentor to several innovative programs and incubators in Silicon Valley. Lu has won numerous awards and is frequently invited to speak at events. She was recently awarded the Forbes US 30 under 30 & Featured as the Honoree of VC category. She was also awarded the Forbes Asia 30 under 30 of Finance category in the same year.
We'll be organizing upcoming 3 series meetups soon - stay tuned!

Oct 19th: Move Into AI Career Series No.2 - Talent Acquisition in Autonomous Driving,

Talk to Waymo, Uber, Baidu, AutoX, Drive.ai etc.

Guests from talent acquisition leaders from Waymo, Uber, Baidu, AutoX,Drive.ai etc.
Nov 28th: Move Into AI Career Series No.3 - Life in Conversational AI,

Talk to Amazon, Microsoft, Facebook. Guests from AI leads from Amazon, Microsoft, Facebook etc.
Co-organizer

More information about TalentSeer: www.talentseer.com or be directed to email at team@talentseer.com