Move Forward Music x Red Bull Sound Select x Plug Research
Location
Free Candy
905 Atlantic Avenue
Brooklyn, NY 11238
Description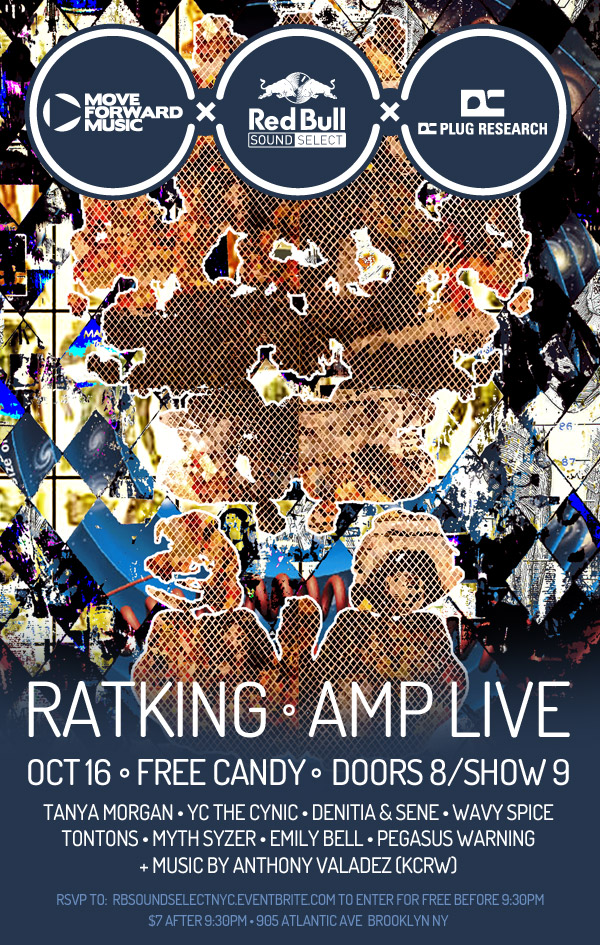 In a celebration of up-and-coming musical talent, five Red Bull Sound Select artists will get the unique opportunity to perform with headliners Rat King and Amp Live during the week of the legendary CMJ Music Marathon in New York City. In collaboration with Plug Research and Move Forward Music, Red Bull Sound Select artists from around the nation – YC the Cynic, Emily Bell, Denitia and Sene, The Tontons and Wavy Spice – will bring their fans together for an exceptional concert as part of a week debuting the next generation of our greatest musicians. Also performing will be artists Tanya Morgan, Myth Syzer, and Pegasus Warning with music by Anthony Valadez of KCRW 89.9 FM.
**Doors @ 8:00PM - Due to high numbers of RSVPs, please arrive early to guarantee entry
**Please bring cash as there is no ATM on site @ Free Candy
**21+ for entry, bring a valid ID.
ABOUT THE ARTISTS:
Rat King - New York natives and hip hop crew Rat King's beats and rhymes pay tribute to the city they call home.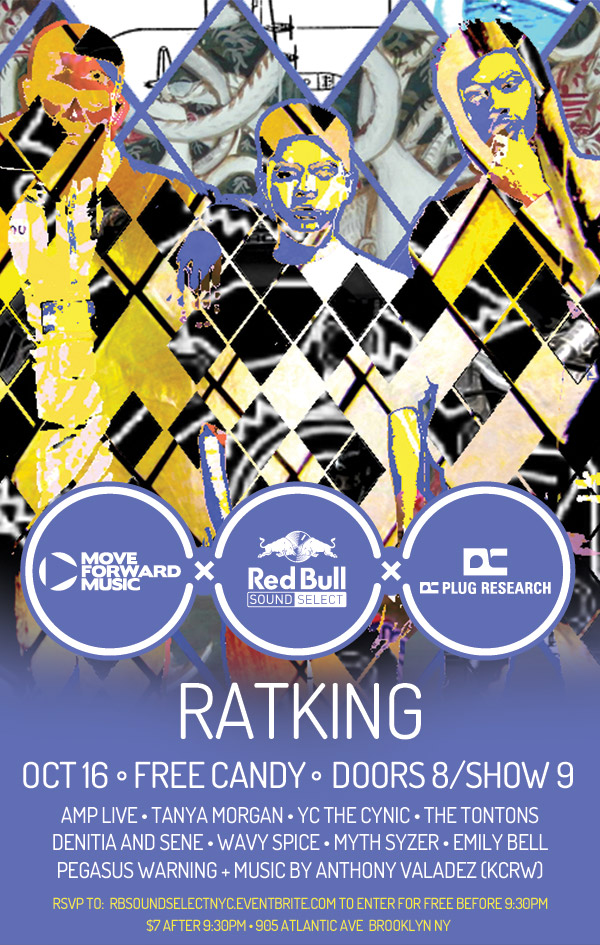 Amp Live - Alternative hip hop producer and DJ Amp Live has been producing music since 2005 on his own and as one half of the duo Zion I.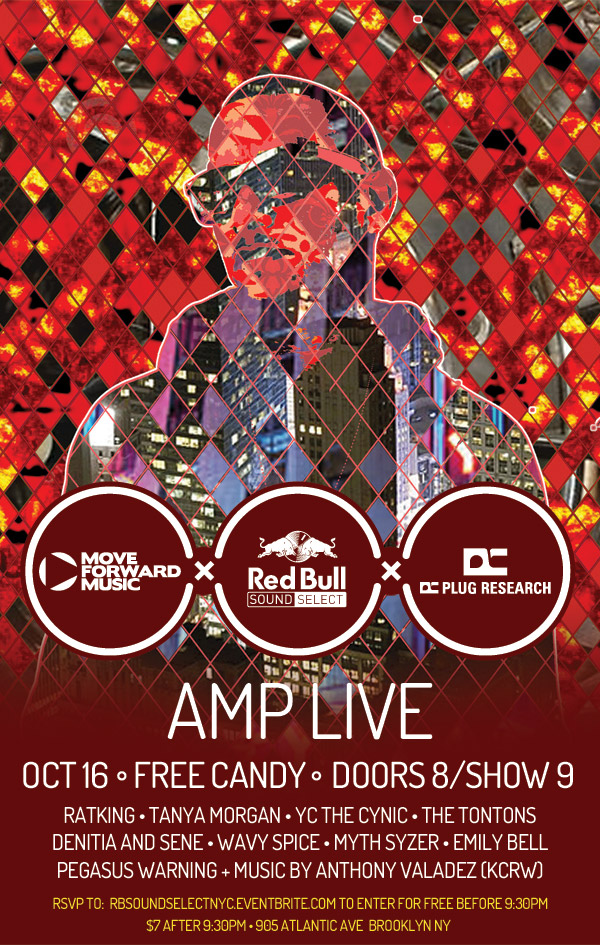 Emily Bell - Austin,TX - Somewhere in the world between technicolored soul, southern blues and 60's rock-n-roll, Austin, TX singer/songwriter, Emily Bell has a debut disc that sonically fits on it's own planet.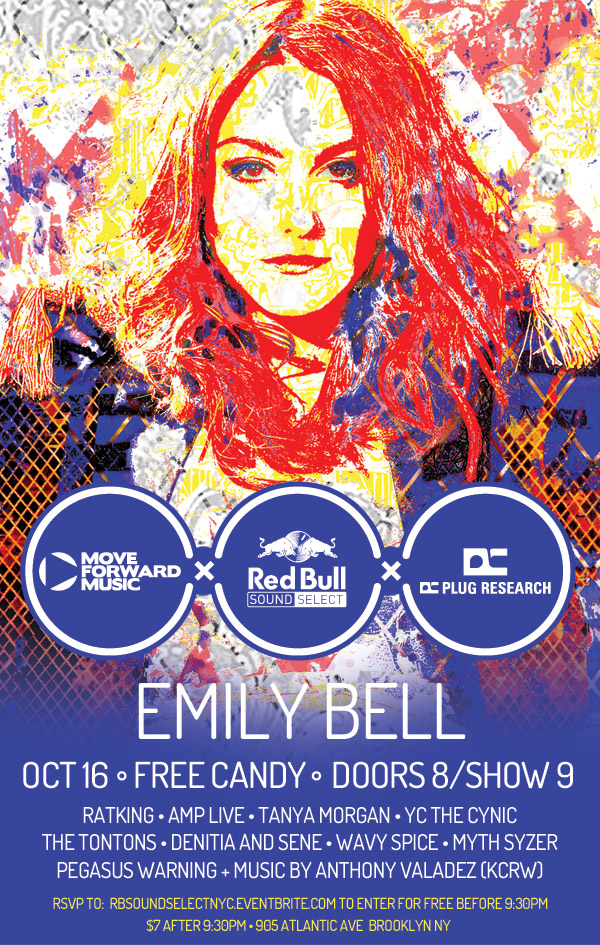 YC the Cynic - Bronx, NY - New York hip hop artist YC the Cynic's wise words flow perfectly from beat to beat as he weaves melodies with rhymes from well beyond his years.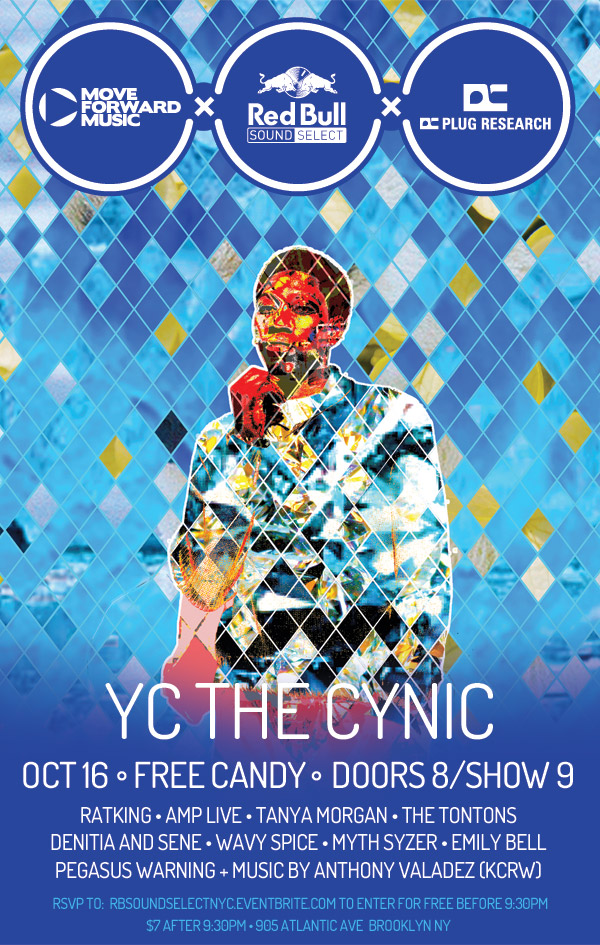 Denitia and Sene - Brooklyn, NY - Smooth like smoke from the tip of a Cuban cigar and as sensous as morning love, Electric Soul duo Denita & Sene not only exude sexy through their music, they invent it.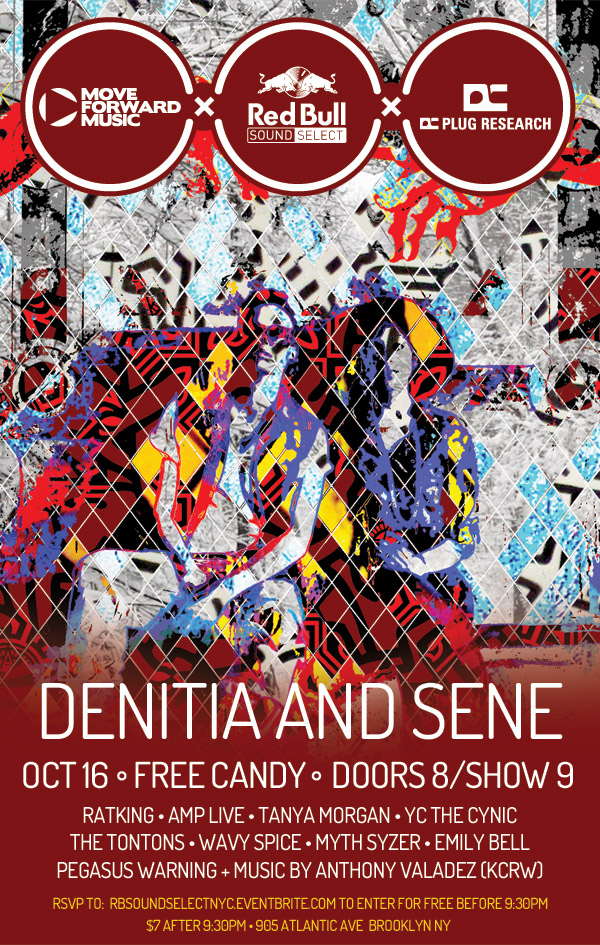 The TonTons - Houston, TX - Jazz influenced indie rock straight of Houston, TX, with a sound all their own.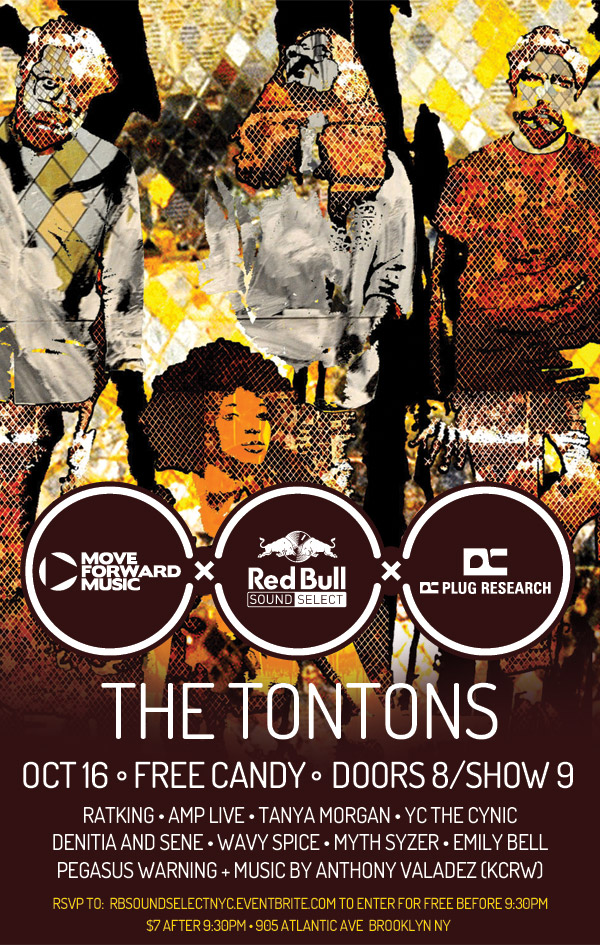 Wavy Spice - New York, NY - New York City artist contributing to the full spectrum of music and art.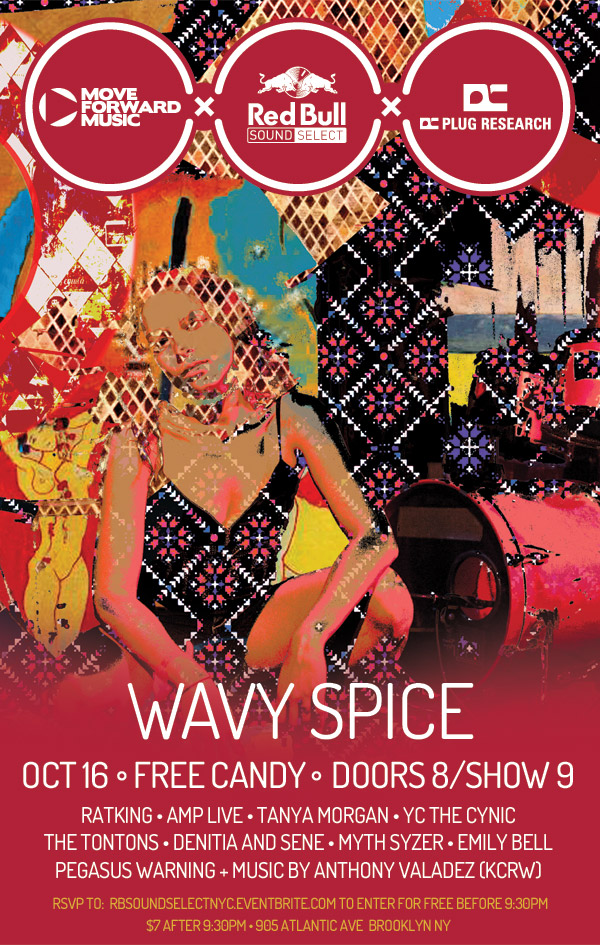 Tanya Morgan: Though the name Tanya Morgan sounds as if it belongs to a solo female performer, it is in fact an all-male hip-hop group.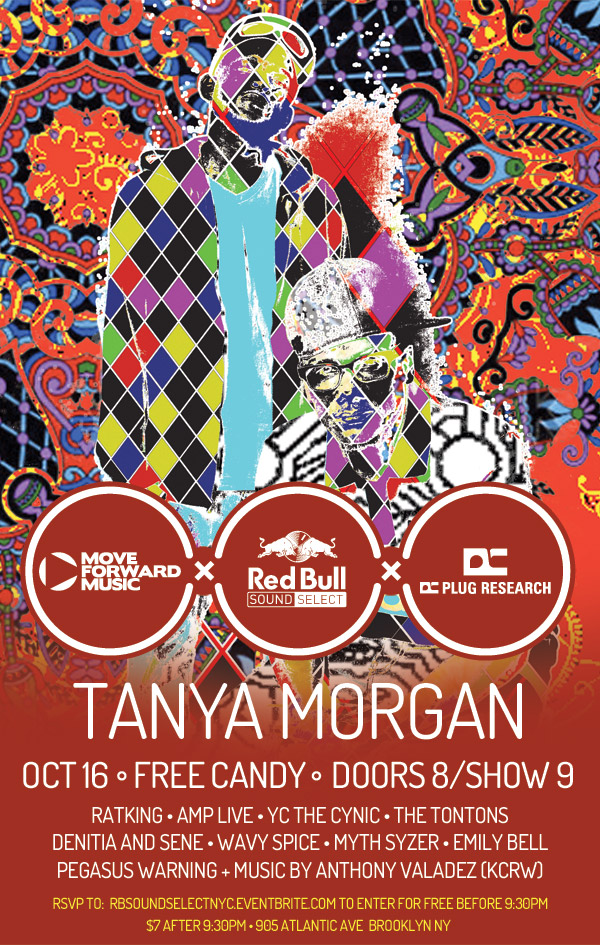 Myth Syzer: based out of Paris, France is a producer influenced by the meaning of life. As time passes, he gets deeply involved in his music one drop at a time. Touched by different musical genre's, he always tries to get the diamond in the rough. Like a mad scientists, Myth compiles different layers of sounds with beautiful melodies and tones. He will drop in vocal samples that refine the entire element to his sound.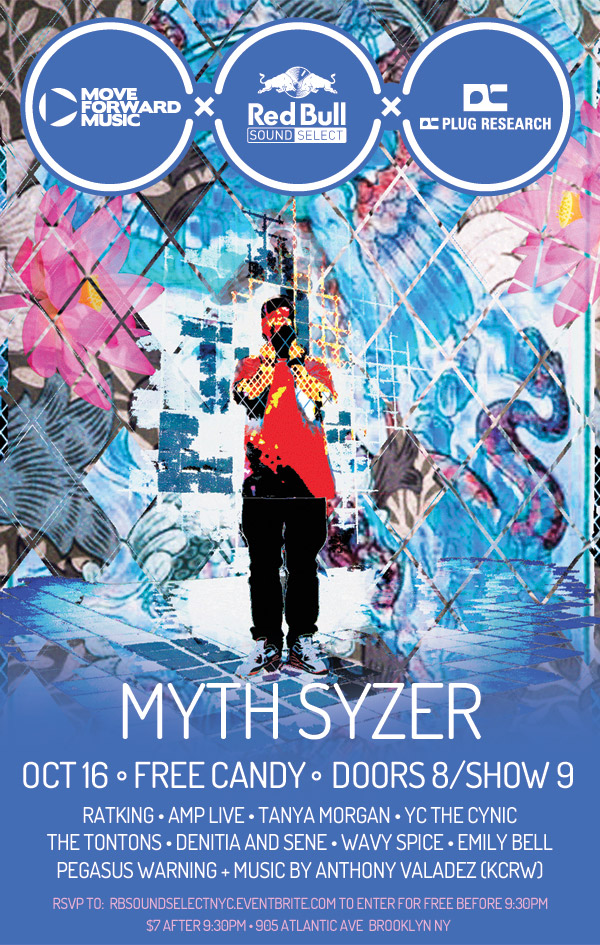 Pegasus Warning: Pegasus Warning's brand of freakout Noise&B leaves no stone unturned in its quest to continually slash&burn the musical worlds he finds so dear. Expect your expectations to be destroyed, with an upcoming release of new remixes of songs from Woof Ticket EP, videos for "Acoustiq" and "Change" and full length in the fall.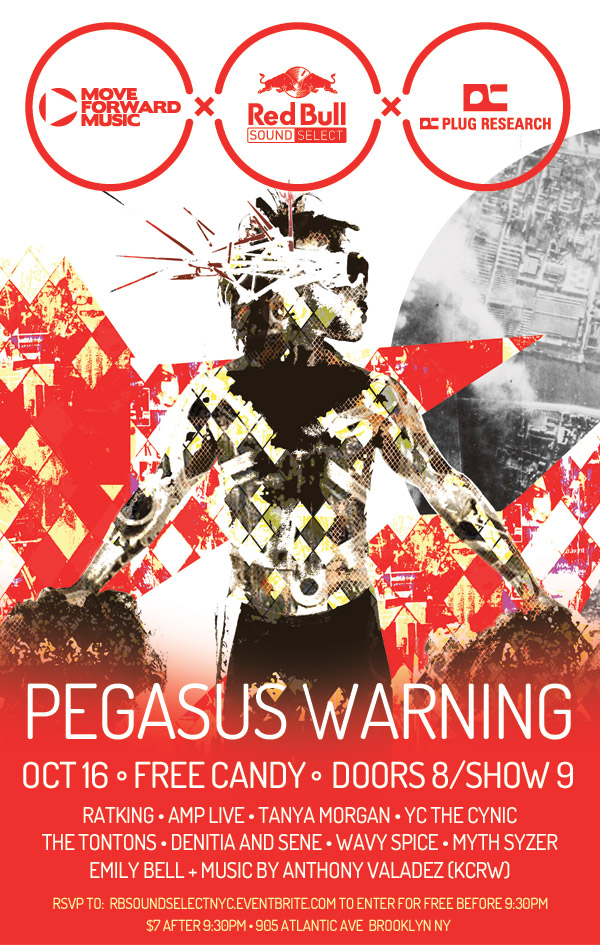 Anthony Valadez:

89.9 FM KCRW.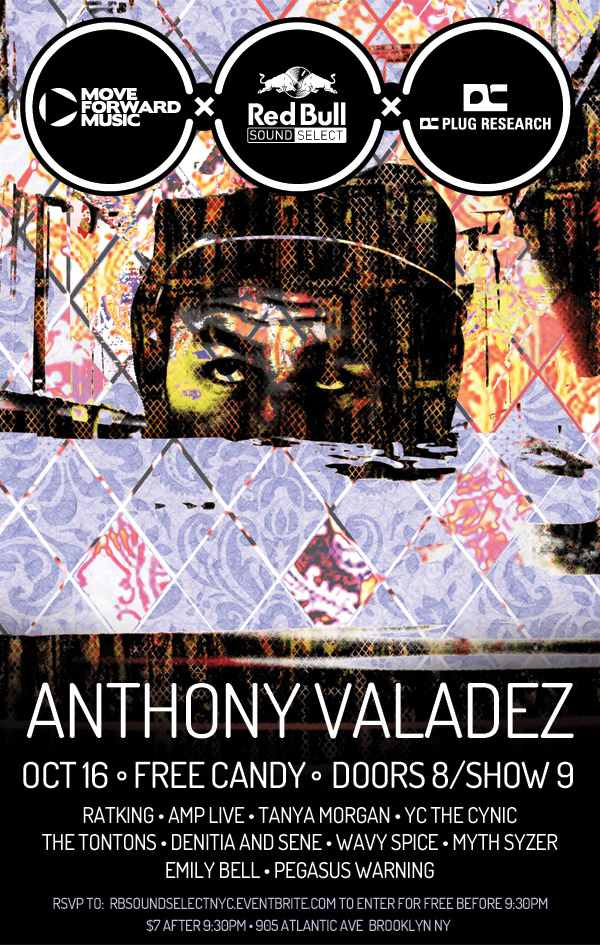 Red Bull Sound Select is an ongoing program that gives love to local music scenes, hardworking bands, and its supporters. It is a long-term music initiative that invests and connects artists and fans with one another to be part of the stories that break music. Every month, a collective of local music curators invite three new artists from each participating city into the program and host a Red Bull Sound Select Presents showcase to introduce them.
Plug Research is a Los Angeles based indie record label fostering up-and-coming independent musical talent to introduce their unique sounds to audiences at large. Plug Research has introduced artists such as Quadron, Bilal, Flying Lotus, Daedelus, Dntel and many more. Since 1994, the company has worked with and represented over hundred artists in the indie music scene.
Move Forward Music is a boutique entertainment company founded in 2008 that specializes in international tour booking and concert promotion. Based in the heart of the thriving artist community in Brooklyn, NY, the agency prides itself on adding unique value to every client they work with, booking tours for a carefully curated roster of quality music talent, and promoting concerts for some of the most prestigious concert properties in the Tri-State area.