About this Event
This Opening Night Event for Mountain Towns 2030 is open-to-the-public.
The first ever Mountain Towns 2030 Net Zero Summit kicks off on Wed Oct 2 at 630p with an Opening Night Event keynote presentation by Dr. Jane Goodall, Ph.D., DBE, founder of the Jane Goodall Institute and UN Messenger of Peace. Introduction by Paul Hawken, Founder of Project Drawdown, a non-profit dedicated to researching when and how global warming can be reversed.
About Dr. Jane Goodall
In July 1960, at the age of 26, Jane Goodall traveled from England to what is today Tanzania's Gombe National Park and bravely entered the little-known world of wild chimpanzees. She was equipped with nothing more than a notebook and a pair of binoculars. But with her unyielding patience and characteristic optimism, she won the trust of these initially shy creatures. She managed to open a window into their sometimes strange and often familiar-seeming lives. The public was fascinated and remains so to this day.
In the last five decades her message has evolved into a personal quest to empower others to make the world a better place for all living things.
In 1977, Dr. Goodall established the Jane Goodall Institute (JGI). Today JGI is a global organization, with 30 offices, supporting the research at Gombe in addition to innovative community-centered conservation and Jane Goodall's Roots & Shoots program.
Dr. Goodall has traveled more than 300 days per year on a perpetual world speaking tour since the 1980s, including to more than twenty-two countries last year alone.
During her keynote address for Mountain Towns 2030, Jane will share with us how each one of us can "make a difference."
About Paul Hawken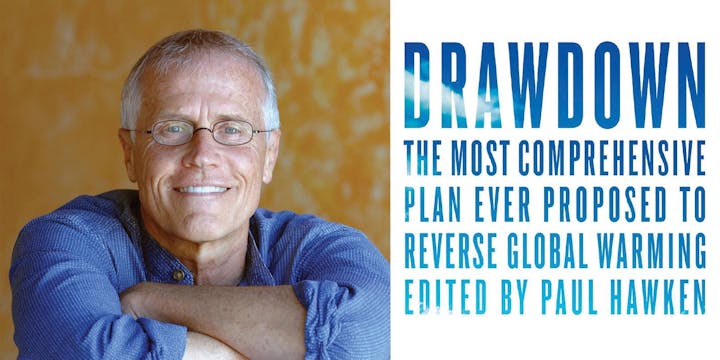 Paul Hawken is an environmentalist, entrepreneur, author and activist who has dedicated his life to environmental sustainability and changing the relationship between business and the environment. He is one of the environmental movement's leading voices, and a pioneering architect of corporate reform with respect to ecological practices.
His work includes founding successful, ecologically conscious businesses, writing about the impacts of commerce on living systems, and consulting with heads of state and CEOs on economic development, industrial ecology, and environmental policy.
Paul is Founder of Project Drawdown, a non-profit dedicated to researching when and how global warming can be reversed. The organization maps and models the scaling of one hundred substantive technological, social, and ecological solutions to global warming.
Ticketing Information
Adult General Admission - $20 per ticket (plus processing fee)
Student General Admission - Free, but requires registration
Please click the green Ticket button above for all ticket options.
Transportation & Parking
About Mountain Towns 2030
The Mountain Towns 2030 Net Zero Summit is a 3-day conference bringing together mountain towns from around the country to create ambitious and achievable net zero goals by 2030.
Invited participants include mayors and officials from over 30 mountain town communities along with leaders from business and NGO's committed to bold climate action.
For more information
Visit www.MT2030.org for program information
About our Partners
Mountain Towns 2030 would not be possible without the passionate support of our partners and supporters.