About this Event
The Mountain Stage 36th Anniversary Celebration is SOLD OUT.
Tyler Childers envisions Country Squire as a "working man's country album" – one that captures a relentless work ethic, a happy marriage, and a sly sense of humor.
"I hope that I'm doing my people justice, and I hope that maybe someone from somewhere else can get a glimpse of the life of a Kentucky boy," he says.
Country Squire comes exactly two years after Purgatory, a breakout album that's kept Childers constantly on the road. For the new project, he reunited with Purgatory producers Sturgill Simpson and David Ferguson, recording nine songs in just two days.
"I don't know how to explain it any other way but I wanted it to feel like an upper," Childers says. "I was listening a lot to Allen Toussaint's Southern Nights and Jim & Jesse's Diesel on My Tail. You listen to that album all the way through and it's driving, it's going, and it's not stopping."
From the start, Childers intended Country Squire as a song cycle with an array of sonic textures linking these narratives together. Like most of the album, the autobiographical title track conveys a personal, yet relatable, point of view. In the lean days, Childers and his new bride Senora May moved in with his parents to save money before buying a used camper with "Country Squire" written on the awning of the front window. The dream? To buy a piece of land, live in the camper while building a house, and start a family. The reality? Working in a sawmill and brewery, playing gigs whenever possible, and stashing away whatever money they could.
"We've both been through a lot of it together," Childers says. "In July 2019, it will make four years we've been married, and we met each other at 23. I'd been gigging since I was 18, getting ready to turn 19. For a good chunk of it, Senora May's put up with me and been there for it. And she stuck with me, so it's really awesome because we told ourselves that if we made these sacrifices, or held off just a little longer and kept at this, maybe one day it might work out."
Childers grew up in Lawrence County, Kentucky, with a father in the coal industry and a mother who worked as a nurse. As a boy, he sang for his Free Will Baptist Church congregation and learned a few chords on a guitar given to him by his grandfather. He absorbed the classic rock his father liked, along with country artists of the '80s, such as Alabama, Ricky Skaggs, and Hank Williams Jr. He started writing songs at 13 and occasionally played them for friends at parties. At 15, when his grandfather died, Childers turned to bluegrass as a way to remember him.
With this kind of musical versatility even as a teenager, Childers started pursuing weekend gigs, enabling him to get into local bars well before he turned 21. In 2011, he released an independent album, followed by a couple of live EPs, but it wasn't until Purgatory in 2017 that he garnered international attention.
Country Squire lets that story unfold in a remarkable way. The second track on the project, "Bus Route," was written after Childers retraced the school bus route he rode as a kid. "Creeker" came to life after a misguided Uber driver dropped off Childers – hungover and exhausted — at the wrong intersection in Chicago with a dying cell phone and five dollars in his pocket. On the other hand, "Gemini" shows just how much fun touring can be when things are going right.
"I've been blessed with an opportunity to make a living doing what I want," he says. "Not everybody gets to say that and I'm extremely grateful for that opportunity. It's satisfying too, seeing these goals that Senora May and I have made for ourselves — understanding the price of an acre, the price of a two by four. I kept beating my head up against a wall to try to get that for us, without really getting anywhere. But because of the reception that I've had with Purgatory — and I hope people will enjoy this next album – we've been able to get closer and closer to the home that we intend to build for the family we hope to have."
Since Purgatory, Childers has performed at Bonnaroo, the Grand Ole Opry, Lollapalooza, Merlefest, Newport Folk Festival, and countless other stages. These experiences stand in stark contrast to the time when he and Senora May endured a brutally cold winter living in an elderly couple's farmhouse in exchange for Childers doing manual labor around the property. That experience inspired Country Squire's lead track, "House Fire."
Meanwhile the time spent away from his wife led him to write "Ever Lovin' Hand." As he explains, "Well… there it is. It's part of the road life, being a happily married man." However, the characters in "Peace of Mind" aren't based on anybody specifically. Instead, it's a family composite loosely based on the kind of people he grew up with, many of whom are struggling with the economic climate.
Late in the album, "All Your'n" is a charming love song about Senora May, while the closing track "Matthew" is about his brother-in-law's experiences serving overseas.
"It's all happening now, and there's nobody that I can imagine sharing that with, other than Senora May," he says. "Not only is she a great partner, but she's an amazing artist as well. She inspires me, and she's grown me up as a person, best she could, because she demands that out of me. And because of that, as I grow as a person, I hope that my songwriting grows as well — what I'm writing about, what I'm talking about, and how I'm living."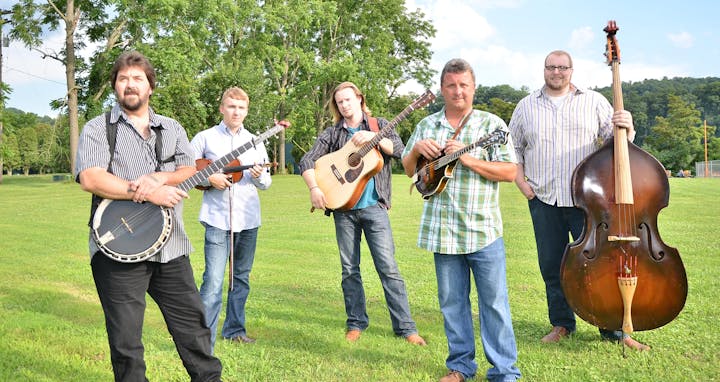 Born and raised in West Virginia, Johnny Staats caught the bluegrass bug right from the start. With his mother playing piano, his father playing on the guitar, and his sister on the banjo, it seemed only natural that Johnny would get his first mandolin at the young age of seven.
"Just as I started to take mandolin lessons, my teacher passed away," Staats stated, "so I took matters in my own hands, and learned to play by ear from listening to records and 8 tracks of Bill Monroe, Country Gentleman, and many more. There were many nights I listened to those guys all night long."
Johnny joined his first band (Bluegrass Heritage) at age 9, and became a regular at competitions from age 13 on. Driven to succeed; Johnny devoted countless hours a day to practice. In fact he never entertained the thought of playing sports in school, because he was fearful he might injure his "hands".
In West Virginia, Staats established dominance at his home turf - Charleston's prestigious Vandalia Gathering-Mandolin championships in 1996, 1997, and 1999. 1997 was particularly notable in that he pulled off the rare feat of also winning the guitar title and placed third in the fiddle competition.
Like many youngsters from West Virginia, Johnny could play any instrument that was put in his hands. "I started hearing Sam Bush and the Newgrass Revival and I liked the way he was playing. It wasn't exactly bluegrass but I wanted to get my own style," and that he did. Then I heard my friend, Robert Shafer play the guitar so I immediately got a guitar and said I'm going to learn how to play like that too."
As noteworthy as all his awards were, they did not go far towards keeping the family fed, so from 1998 to present, Johnny Staats has kept the home fires burning as a full time driver for UPS . A devoted husband, father of two, and grandfather of two, Johnny's musical accomplishments are all the more impressive for having been achieved around family and job responsibilities, not to mention his passion for raccoon hunting with his trusty coonhound.
Bursting with creative energy, Staats finally made his way to Nashville to lay down tracks on his first CD, "Wires and Wood" with Giant Records as his recording label. "Wires and Wood" demonstrates Johnny's dazzlling mandolin and expressive voice with a stellar cast of bluegrass legends including: John Cowan, Sam Bush, Jerry Douglas, Jim Hurst, and Tim O'Brien. Other co-stars on the CD were Sara Evans and Kathy Mattea.
Six of the tracks from "Wires and Wood" are Johnny Staats originals, and each displays a strong lyrical sense shot through with streaks of playful inventiveness. For example, on the opening of "Mandolin Meltdown", Johnny spars with extraordinary mandolin master Sam Bush, and manages to conjure up shades of Django Reinhardt and Stephane Grappelli's seminal Quintet of the Hot Club of France .
Johnny has appeared on:
NBC's Today Show
People Magazine did a full page article on Johnny
CBS Evening News with Dan Rather
Country Music Magazine did an article on Johnny
Grand Ole Opry Stage performing five times
CNN-TV aired a taping of Johnny
Today, along with his rock-solid band, "The Delivery Boys", consisting of Butch Osborne on the banjo, fiddle player Ray Cossin, Dave Vaughn on guitar and vocals and Doug Cossin on the bass, world renowned mandolin player, Johnny Staats entertains a crowd like none other.
"We have many musical influences, from Bach and Mozart to artists in Bluegrass music, and even early rock-and-roll bands. Our main influence however, is undoubtedly our Lord and savior Jesus Christ, who has blessed us with these talents, and allows us to use them for his uplifting and for the uplifting of others."
Staats has no intention of giving up his day job as a UPS driver, which gives a special twist to his story, at least in the eyes of much of the press. Folks all over are sitting up and taking notice of Johnny Staats and his creative energy.
To date, Staats continues to head out every day in his big brown UPS truck, and no matter how busy he gets with his music, folks around Sandyville, West Virginia area can still count on Johnny to deliver right on time.
Performers
Date and Time
Location
Refund Policy