Location
Mountain Justice Spring Break
County Route 50/16
West Union, WV 26456
Sales Have Ended
Ticket sales have ended
You can register and pay at the door - we can accept cash or checks and credit cards or paypal at the door. For directions to the site, please see the Google Map on the registration page. The Doddridge County 4-H building is located just off US 50 about 20 miles west of Clarksburg WV. Take the Snowbird Rd exit and follow the signs. For rides to MJSB, go to www.mjsb.org and check the Rideboard tab. The closest town is West Union WV, the closest medium size town is Clarksburg WV. What to bring: Sleeping Bag - (the bunk beds in the lodge have plastic coated mattresses - a sheet or blanket over the mattress will make you more comfortable) - Pillow - Tent and ground cloth (if camping) - Headlamp or flashlight - Towel - Personal hygiene items - Any medicines you may require - Comfortable clothing - Umbrella or rain gear - Camera - Notebook - Food donations are welcomed!
Description
Mountain Justice Spring Break
Sunday March 9 - Sunday Mar 16, 2014
in Central West Virginia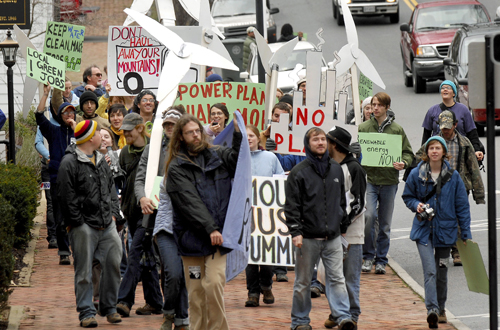 Mountain Justice Spring Break 2014
www.mjsb.org

Mountain Justice Spring Break will confront and challenge dirty extractive industry in Appalachia - fracking for natural gas and mountaintop removal coal mining. Join us for a week on the front lines of the struggle to build a clean, sustainable economy in the Appalachian Mountains!
See Mountaintop Removal, see fracking sites in north-central West Virginia and meet with residents who are fighting to save their homeplaces from these destructive practices. We will also learn about the toxic chemical spill in nearby Charleston, WV that has poisoned the drinking water of over 300,000 people - and take action to confront those responsible!

The 2014 MJSB schedule is here
Over 150 students on their alternative spring breaks will attend - but you do not have to be a student to attend! Cost includes lodging and food and all activities. The main lodge is heated, with bunk beds for approximately 90 people and hot showers. The location (a 4-H Lodge) is easily accessible and easy to find, right off the main highway. It is a beautiful lodge located in a serene hollow in the West Virginia mountains, with a nice creek. There is plenty of space for tent camping for those who wish to camp.
Trainings and workshops will include non-violent civil disobedience, Fracking, Mountaintop Removal, Consent, Direct Action, anti-oppression, Appalachian Awareness and Cultural Sensitivity and more.
Your registration fee covers your lodging, all meals and activities for the week. It does not cover your transportation. There will be several field trips during the week to visit mountaintop removal mine sites and fracking sites - you will need to provide your gas for these trips (car pooling is encouraged). Mountain Justice policy is that no one will be turned away from MJSB for lack of ability to pay.

Evenings will feature mountain and Appalachian music, speakers and films.
We plan to have some children's activities this year at MJSB. Our location is a county park with a kid-friendly playground and lots of outdoor place for kids to play. Although we are not offering childcare specifically, we encourage those with children to consider attending MJSB and bringing their children. Please communicate with Heather Doyle about childrens activities. Heather's email is heathergdoyle@gmail.com
Meet concerned, caring, aware and informed students from across the country - everyone is welcomed! Make some great new friends at Mountain Justice and have an awesome spring break.
Need a ride to MJSB? Have space in your vehicle to take someone to MJSB? The MJSB Rideboard is here
We emphasize healthy, home-cooked food - vegetarian and vegan options are available.

Join us for Mountain Justice Spring Break 2014!