Mountain Justice Fall Summit 2013
Location
Coal River
Southern, WV
Sales Have Ended
Registrations are closed
Please come to the Mountain Justice Fall Summit and you will be able to pay at the gate (cash or check - we cannot accept credit cards at the gate). Call the Coal River Campaign House 304 854 0390 for directions and more information. Please bring the following items to the Fall Summit: Tent Sleeping Bag Sleeping Pad Pillow Sweater, jacket Clothing for cool weather - wool or fleece is best (it will cool on top of the mountain) Flashlight or headlamp Camera Rain Gear Boots will be best footgear Notebook Camping chair (canvas chair) We have chickens, please dont bring your dog ... or plan to keep it leashed all weekend
Description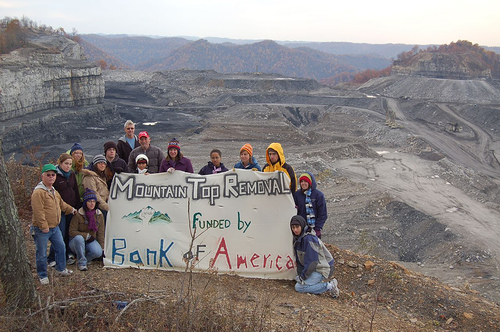 Mountain Justice Fall Summit
Friday - Sunday Oct 25-27, 2013
Southern West Virginia
Join us in West Virginia for an action-packed weekend of workshops, trainings and action in the heart of the Appalachian mountains. You will learn about Appalachian culture and history and the long tradition of resistance to strip mining and mountaintop removal mining. You will see mountaintop removal from the top of Kayford Mountain, the beloved homeplace of the famous "Mountain Keeper," the late Larry Gibson.
Larry died protecting his mountain from mountaintop removal - now it's up to us to keep defending his home. At the Mountain Justice Fall Summit you will meet residents of the Appalachian Mountains and the Coal River Valley who are working to protect them, and the people who are standing alongside them.
We will teach you about non-violent civil disobedience and direct action and how Mountain Justice and allied organizations are using these tools to directly confront the coal companies who are blowing the tops off America's oldest mountains. Mountain Justice is committed to peaceful, non-violent resistance to mountaintop removal.
Everyone is welcome to attend. Students from across America will be there. You do not have to be an expert on coal or energy issues to participate - everyone who agrees to abide by Mountain Justice's non-violence policy and Mission Statement is welcome to attend the Mountain Justice Fall Summit. You will have the option whether to participate in a direct action, or in a support role, or not. There will also be several opportunities to do community service work on Kayford Mountain and in the local West Virginia communities impacted by mountaintop removal.

After the Fall Summit, participants will have the option of remaining in the area for the following week for more in-depth training, listening projects and other activities.
https://www.facebook.com/events/1407707029448939/
Registration fee for Mountain Justice Fall Summit includes all food and activities for the weekend - lodging is tent camping, so bring your own tent, sleeping bag, pillow, water bottle, sleeping pad, camera, camping chair, warm clothes, flashlight or headlamp etc. You will need to provide your own transportation and car-pooling is encouraged.

Please note: The Mountain Justice Fall Summit will be held on the grounds of a happy little chicken farm. Dogs are allowed but if they have a taste for poultry they will need to be restrained throughout the event.

Note: You must pre-register to attend the MJ Fall Summit - directions to the summit will be emailed to those who pre-register a few days before the event. Directions to the event will not be posted on line! So go ahead and pre-register now. If you get lost call (304) 854 0390

The Fall Summit begins with a dinner Friday night around 6:00 - we will have a Youth Panel after dinner, followed by a screening of the great documentary film about the mountaintop removal resistance movement "On Coal River." There will be workshops all day Saturday, with live Appalachian and folk music around the campfire Saturday night. On Sunday we will visit Kayford Mountain.

We hope to see you there!

Mountain Justice Mission Statement
Mountain Justice seeks to add to the growing anti-MTR citizens movement. Specifically Mountain Justice demands an abolition of MTR, steep slope strip mining and all other forms of surface mining for coal. We work to protect the cultural and natural heritage of the Appalachia coal fields. We work to contribute with grassroots organizing, public education, nonviolent civil disobedience and other forms of citizen action.
Historically coal companies have engaged in violence and property destruction when faced with citizen opposition to their activities. Mountain Justice is committed to nonviolence and will not be engaged in property destruction.
We work together to create diverse and sustainable economies in Appalachian regions traditionally dominated by the coal industry by supporting businesses, jobs and ways of living that are not environmentally or culturally destructive and are nourishing to the social and biological fabric of healthy communities.
Though our work is focused in Appalachia, we oppose dirty energy and environmental injustice everywhere and we support clean energy and just economic transition for all. Seeking to eradicate, rather than simply shift, the burden of environmental injustice, MJ works to build solidarity and mutually-supportive relationships with communities where extraction and energy generation take place beyond our region. As coal becomes more politically and commercially volatile, industrial and political power-brokers are attempting to position natural gas, often sourced by hydraulic fracturing, nuclear energy, tar sands, biomass incineration, and other forms of resource extraction as clean and just alternatives.

Mountain Justice rejects this fallacy outright and supports those who resist these dirty, dangerous energy sources and also those who are working to implement truly clean energy solutions. We also recognize the native peoples who are the original inhabitants of this land. Accordingly, we seek to support the struggles of indigenous communities who are facing injustice daily at the hands of extractive industries.