Enjoy one of the best urban parks in the whole world, Griffith Park, look down on Los Angeles from above and visit the famous Observatory.
About this event
One of the best things about Los Angeles are the amazing parks we have here. The most famous is Griffith Park. Over five times the size of New York's Central Park, Griffith Park is a wonderful resource right in the middle of LA. On any given day you'll find Angelenos hiking, walking their dogs and jogging the many trails that criss-cross the park. Now you can enjoy it on our Mount Hollywood Hike.
For the Mount Hollywood Hike we'll meet you at the entrance to the park, by the Greek Theater. You'll then hike up through the Bird Sanctuary and into the Hollywood Hills as we tell you about the early inhabitants of the Los Angeles area, the Tongva. As we climb the hills you'll see Los Angeles spread below you, so it's a great way to get an understanding of how the city developed and how the different areas connect with each other. From the summit of Mount Hollywood you can see almost the whole of LA (depending on visibility) – the San Fernando Valley, Glendale, downtown and the Westside. From there we'll follow the trails down, stopping at some of the best places to get photos of the Hollywood Sign, to the Griffith Observatory. We'll finish your Mount Hollywood Hike by giving you a quick tour of the Observatory, before leaving you to enjoy this fantastic free museum.
Great exercise and unforgettable memories!
Our tours can sell out. If you cannot make a booking email us at info@thereallosangelestours.com, telling us when you want to do the tour and how many guests are in your party, and if we can squeeze you in we'll let you know.
Logistics & Details
*Hiking Distance: 4 miles.
*Difficulty level: moderate (most of the hike is on surfaced roads, but the climb is steep and narrow in parts).
*Hike starts 3.00 pm (Winter) or 4.00 pm (Summer) daily, at Greek Theater box office (photo of meeting point).
*Hike finishes 6.00 pm (Winter) or 7.00 pm (Summer), at Griffith Observatory (closed Mondays).
*Reusable water bottle included in price ($8.50 retail value).
*Children from 7-12 y.o. gain free entry.
*We donate $1 for every guest to Climate Cents, a climate change organization.
Disclaimers
This tour is in English. If your English isn't fluent this may not be the best option for you. We do not offer this tour in any other language at this time.
This a hike and we move at a reasonable pace, it's not suitable for people with mobility issues, a low fitness level or a fear of heights.
This tour is not recommended for children under 7 y.o.
You must wear comfortable shoes and clothing and bring sun block or sun cream.
We never cancel tours in advance due to the weather conditions.
Aim to get to the meeting point 10-15 minutes early. If you're late you may miss the tour.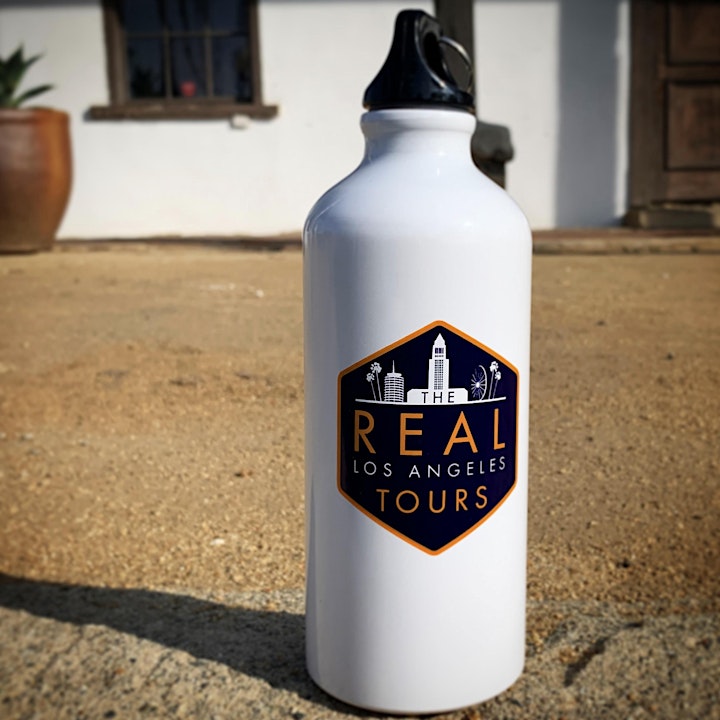 Reusable water bottle provided to every guest booked on the hike.