About this Event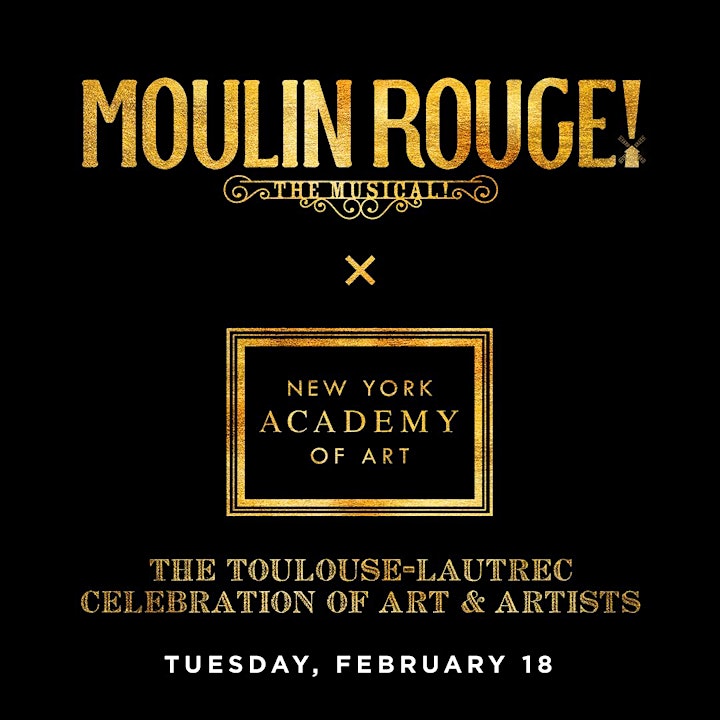 The New York Academy of Art is pleased to announce a partnership with the producers of the critically acclaimed Moulin Rouge! The Musical to benefit the next generation of artists to reach its creative goals and artistic dreams.
Inspired and informed by the life and artwork of the legendary painter Toulouse-Lautrec, this partnership aims to embody the Bohemian values of truth, beauty, freedom, and love by supporting the artists of today.
On Tuesday, February 18, 2020, Moulin Rouge! The Musical will host the Toulouse-Lautrec Celebration of Art & Artists.
Moulin Rouge! The Musical has generously provided a large block of tickets at no cost to the Academy, which we are now, in turn, offering to our patrons. The evening will include pre- and post-show cocktail receptions at the Al Hirschfield Theatre.
Funds raised by this collaboration will go to underwrite scholarships and programming at the New York Academy of Art.
Please join us for a SPECTACULAR celebration benefiting the artists of tomorrow.