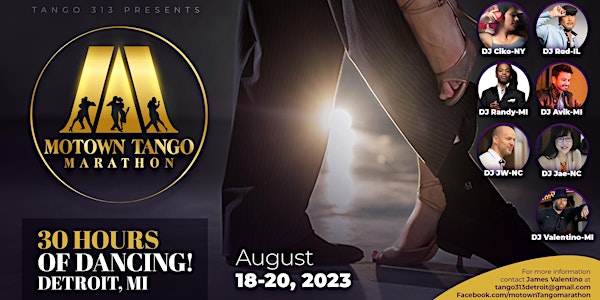 Motown Tango Marathon
EXPERIENCE TANGO @ the 1st Annual Motown Tango Marathon! Dance in Detroit from Aug 18-20, for the non-stop dancing with US top tango DJ's!
By Tango313 - James Valentino
Date and time
Starts on Friday, August 18 · 8pm EDT
Location
Fred Astaire Dance Studios - Bloomfield Hills 2172 Franklin Road Bloomfield Hills, MI 48302
Refund Policy
Contact the organizer to request a refund.
Eventbrite's fee is nonrefundable.
About this event
LIMITED PASSES! INVITE YOUR FRIENDS!
This 3 day event will take place in the suburb of Detroit, MI.
Food and food trucks will be on deck!
Join us for 30 HRS of dancing!
Get ready to dance the night away at the first annual Motown Tango Marathon! Join us in the suburbs of Detroit, MI from August 18-20,2023, for a weekend of non-stop Argentine Tango. Our beautiful and spacious dance floor is the perfect setting to dance tango.
August offers Detroit's best weather! So some may want to go down a couple miles and check out a major annual Detroit event, the Woodward Dream Cruise!
Our 7 DJ line-up are both great at providing your favorite orchestras and magic moments on the dance floor!
Ciko-NY, NY
Rod Relucio-CHI, IL
Avik Basu-AA, MI
JW-DH, NC
Randy Fisher-DET, MI
Jae Youn-RH/DH, NC
JValentino-DET,MI
ONLY 125 PASSES!!
Get your passes NOW!!
Ciko
Ciko has been DJing since 2009. She has experience with both Traditional and Alternative Tango Music since she ran weekly and monthly events in NYC that had both rooms. She has DJ'd at big and small events in the NYC and various communities and festivals around the US over the years.. to name a few; Montreal Nuevo Festival, Chicago Tango Week, Philadelphia Tango Festival, Florida Keys Marathon, Cleveland Tango Bowling Marathon, Miami Sunshine Tango Festival, San Francisco Nora's Tango Week, Tango Abrazo Festival NYC..
She does not discriminate between different eras of Tango Music. She likes a wide range from 1920s to 2023! She loves discovering what moves her audience and dancers in the room so she can work together with them in creating a great event and a flow that works well for what the crowd that night needs. She gives as much importance to her Cortinas as her Tandas because she believes that they are instrumental in creating the vibe for the night.
Rod Relucio
Rod Relucio based in Chicago - better known as a Teacher/Dancer, is gaining recognition as a Djay around the U.S. and abroad (Canada, India, Poland, Italy, Mexico, etc...),. He creates a playlist that causes waves of emotion and energy, keeping the dancers engaged through the night. Rod strives to create a musical atmosphere that inspires dancers and connects with them on the emotional level. This year, he has DJ'd or will be Dj-ing at the 2022 Windy city Tango Festival (Jul), 2022 Cleveland Tango Bowling Marathon (Jul), 2022 Tango on the Rocks (Sept), 2022 Tango Maya Festival (Nov), 2022 4th Holiday Tango Weekend (Dec). You can hear him monthly in Chicago at the 312 monthly milonga, as well as other milongas.
Avik Basu
Avik began his tango journey in Ann Arbor in 2002 and has since become a highly sought after DJ, playing at many of the major tango events in North America. Some of his more interesting adventures include DJing Monday night at Salon Canning, teaching tango to a Bollywood actress in Mumbai, and touring the U.S. with tango band Trio Folias. Avik's musical selections are grounded in the Golden Age classics, but he also enjoys pushing the boundaries of the familiar (in small doses) and offering dancers a chance to explore something new.
JW Lindemans
JW ("Jan Willem" - don't try to pronounce it) DJs traditional, alternative, contemporary, and mixed. He has DJd in Chicago, NY, DC, and Denver, in private and public milongas. To JW, a tanda is a little story, perhaps sad, or happy, or sad with a happy end, etc. Two dancers create a story together, as they connect with each other, and with the emotionality of the music. The DJ provides the soundtrack, not the script. For this soundtrack, JW insists on using only truly great music. He looks for gems in all corners of music: tango and nontango, traditional and contemporary. His broad knowledge is rooted in a deep love for music. He plays piano, flute, and guitar, classical and contemporary, and composes.
Randy Alan Fisher
Randy is from Detroit Michigan. He has been in tango for over 2 decades in many capacities. He has studied the cultural context as well as the history. Music first brought him to tango then the dance sealed the deal. Randy is an attentive djay that loves finding ways to connect to the dancers. With high expectations Randy's sets are created by the what is happening on the dance floor. When Randy is at the helm he gladly accepts the responsibility of taking the dancers on a fabulous journey.
DJ Jae Youn
Jae is the founder of Tango Utopia in the greater Raleigh/Durham area. She is recognized as one of the premier teachers, dancers and DJ's as well as the organizer of the monthly Milonga Utopia and the weekly practicas.
As a DJ, Jae loves the challenge of keeping dancers on the floor to the very last tanda. Her sensitivity to the energy of a milonga influences her music selection. Her music library is focused on the traditional masters and this is also reflected in her musical choices. She has been invited to DJ at festivals, milongas, marathons and encuentro milongueros in Chicago, Atlanta, Augusta, Newport News, Charlotte, Columbia, Charleston, Knoxville, Santa Fe, Ohibo Milonga in Milan, Phoenix, Albuquerque, Washington DC, Louisville, Salida, Asheville, Seattle, Salt Lake City, Nashville, Minneapolis, Tenerife, Tucson tango festival, Calabria Encuentro, Slovenia Encuentro, Tel Aviv Milongas.
James Valentino
James Valentino is a passionate and dedicated tango teacher, DJ and organizer in Detroit, Michigan. He's the creator of the Motown Tango Marathon in Detroit. He has been teaching and DJing for over a decade, and his enthusiasm for the tango is evident when meeting him. James has a unique style that combines his love of music with his love for dance. He always makes sure to connect with his guests, and his energy and enthusiasm on the dance floor is contagious. With his drive and creativity, James is making a lasting impression in the tango DJing world. He is constantly pushing himself to stay ahead of the curve and explore new music genres as well as the many golden age orchestras. James is passionate about connecting with other DJs and teachers and learning from their experiences, making him a true student and master of the craft.