Description
MONDAY SEPTEMBER 23
MOTOWN ON MONDAYS LA

Featuring Special Guest
DJ HYDROE

Alongside The MOM LA Players
SLOE POKE & DJ JEDI

Spinning originals, remixes, re-edits, cover versions, sampled joints and close relatives of your favorite Motown songs & artists

all happening at:
The Short Stop
1455 Sunset Blvd
Echo Park, CA 90026

FREE WITH RSVP

9pm-2am
21 & Over
RSVP for priority entry.


SEE / SHARE / INVITE friends to this event on Facebook at:
https://www.facebook.com/events/958790074460208/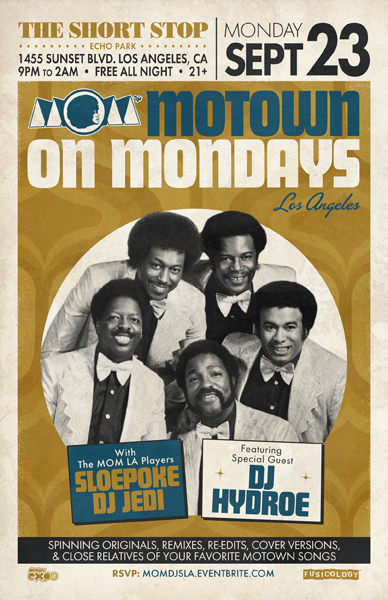 - - - - - - - - - - - - - - - - - - - - - - - - - - -
About MOM (Motown On Mondays):

What began in 2009 as a humble Monday night soul party in San Francisco (Motown On Mondays) has since exploded into a weekly multi-city dance party across the United States. MOM DJs is a family of DJs, producers, musicians and music enthusiasts that all share a passion for the convergence of soul music and dancing. The entire collective performs at and produces weekly, monthly, and special events across North America, currently holding chapters in 17 different cities (San Francisco, Honolulu, Los Angeles, Oakland, San Jose, Sacramento, Phoenix, Seattle, Portland, Denver, St Louis, Chicago, Minneapolis, Philadelphia, Washington DC, New York City, & San Diego).

The Los Angeles Chapter of MOM was created in 2011 and has been running for over 7 years strong at The Short Stop in Echo Park. MOM LA has hosted a long list of some of the best DJs in the business, from local to worldwide favorites, including Questlove, Prince Paul, Peanut Butter Wolf, Z-Trip, Cut Chemist, DJ Spinna, Danny Krivit, Rich Medina, J.Rocc, DJ Rhettmatic, The Reflex, DJ Dez Andres, Skratch Bastid, Lord Finesse, The Beatnuts, Large Professor, J.Period, People Under The Stairs, DJ Spider, Mayer Hawthorne, Cosmo Baker, Stro Elliott, Tall Black Guy, and Jeremy Sole, to give just a short list of names. MOM LA has also received write-ups and reviews from LA Weekly, Timeout LA, Flavor Pill, Urb magazine and more. Their team of resident DJs includes: DJ Expo, DJ Jedi, Phatrick, Monalisa, Sloe Poke, and C-Minus. Each week, along with special guests, they gather under the disco ball to bring you the most classic soul tunes, forgotten gems, remixes and related off-shoots/inspirations from the Motown catalog, attracting a funky and diverse mixture of party goers, dancers, DJs, and music lovers! Once a best-kept secret in LA, Motown On Mondays has become a staple in the city of Los Angeles!


See more about Motown On Mondays LA:
facebook.com/momdjslosangeles
instagram.com/mom_la
twitter.com/mom_la

To see more about MOM in other cities, visit:
motownonmondays.com
soundcloud.com/momdjs