Location
The Short Stop
1455 Sunset Boulevard
Los Angeles, CA 90026
Description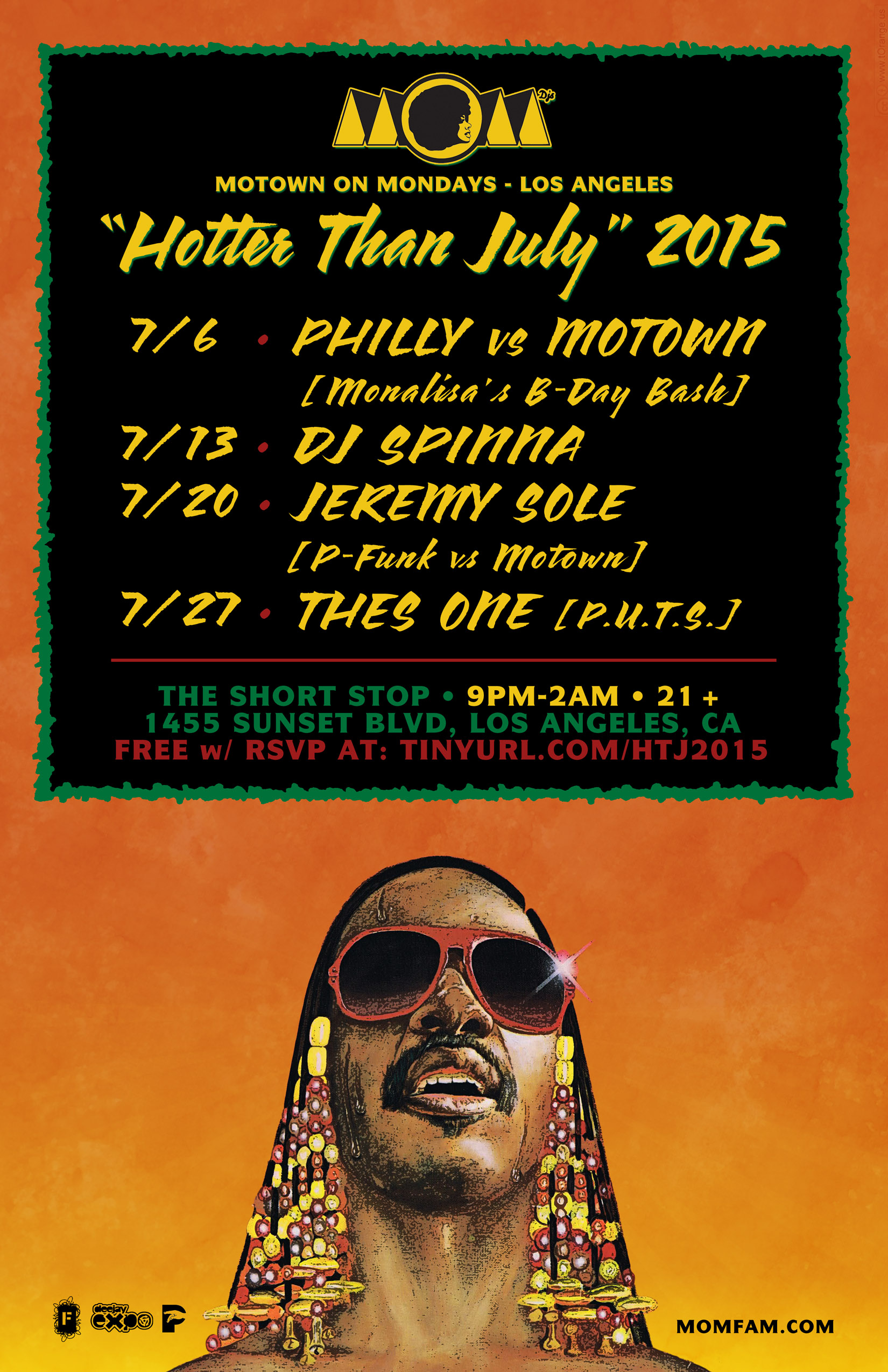 MOTOWN ON MONDAYS (Los Angeles) presents
"HOTTER THAN JULY" 2015 Summer Series

featuring:

July 6th - PHILLY vs MOTOWN (Monalisa's B-Day Bash)
July 13th - DJ SPINNA (Soul Slam / Wonder-Full/ NYC)
July 20th - P-FUNK vs MOTOWN w/ special guest JEREMY SOLE (KCRW)
Celebrating the birthday week of George Clinton (born 7/22)

July 27th - THES ONE (People Under The Stairs / Piecelock 70)

along with The MOM LA Players:
DJ EXPO
DJ JEDI
PHATRICK
SLOE POKE
MONALISA
C-MINUS

Spinning originals, remixes, cover versions, and close relatives of your favorite Motown songs and productions (and more).

located at:
The Short Stop
1455 Sunset Blvd
Los Angeles, CA 90026

FREE WITH RSVP

9pm-2am
21+ w/ ID
Happy Hour 8pm-10pm

Early Arrival is strongly advised.
Limited capacity... first come, first served!

•••••••••••••••••••••••••••••••••••••••••••••••••••••••••••••••••••••••••
We invite you to join us for our 2nd annual "Hotter Than July" Summer series! Last year during the month of July, we did our first special summertime series and had the honor of hosting Rich Medina, hip-hop legend Prince Paul, J.Rocc of The Beat Junkies (for a Stax vs Motown edition), & Mixmaster Wolf (for a P-Funk vs Motown edition), on 4 different evenings during the month. This year we have another excellent lineup of talent in store for you during the month of July, including THES ONE of People Under The Stairs making his MOM debut on July 27th. Be sure not to miss the fun and excitement going on every Monday at The Short Stop!
Check out this video recap of last year's "Hotter Than July" summer series to get a taste of the fun times:
https://www.youtube.com/watch?v=36LZ9kwAIC4

••••••••••••••••••••••••••••••••••••••••••••••••••••••••••••••••••••••••••

About MOM (Motown On Mondays):

What began in 2009 as a humble Monday night soul party in San Francisco (Motown On Mondays) has since exploded into a weekly multi-city dance party across the United States. MOM DJs is a family of DJs, producers, musicians and music enthusiasts that all share a passion for the convergence of soul music and dancing. The entire collective performs at and produces weekly, monthly, and special events across North America, currently holding chapters in 17 different cities (San Francisco, Honolulu, Los Angeles, Oakland, San Jose, Sacramento, Phoenix, Seattle, Portland, Denver, St Louis, Chicago, Minneapolis, Philadelphia, Washington DC, New York City, & San Diego).

The Los Angeles Chapter of MOM was created in 2011 and has been running for over 3 years strong at The Short Stop in Echo Park. MOM LA has hosted a long list of some of the best DJs in the business, from local to worldwide favorites, including DJ Spinna, Rich Medina, J.Rocc, and Jeremy Sole to name a few. MOM LA has also received write-ups and reviews from LA Weekly, Timeout LA, Flavor Pill, Urb magazine and more. Their team of resident DJs includes: DJ Expo, DJ Jedi, Phatrick, Monalisa, Sloe Poke, and C-Minus. Each week, along with special guests, they gather under the disco ball to bring you the most classic soul tunes, forgotten gems, remixes and related off-shoots/inspirations from the Motown catalog, attracting a funky and diverse mixture of party goers, dancers, DJs, and music lovers! Once a best-kept secret in LA, Motown On Mondays has become a staple in the city of Los Angeles!

To see more about MOM in Los Angeles, visit:
facebook.com/momdjslosangeles
instagram.com/mom_la
twitter.com/mom_la

To see more about MOM in other cities, visit:
motownonmondays.com
soundcloud.com/momdjs