Description
Norton Buffalo Hall •WEST•
and



Museum of Northern California Art (MONCA)



-Present-
Great Jazz at MONCA!
MOTOSHI KOSAKO, Harp

"…considered one of the most influential jazz harpists in the world." —East Bay Times

SHIGEMI MINETAKA
Exquisite jazz improvisationalist and Cammie nominee

Saturday, May 11, 2019 - 7PM
Doors open at 6:30PM
Refreshments / Drinks Available
Tickets: $20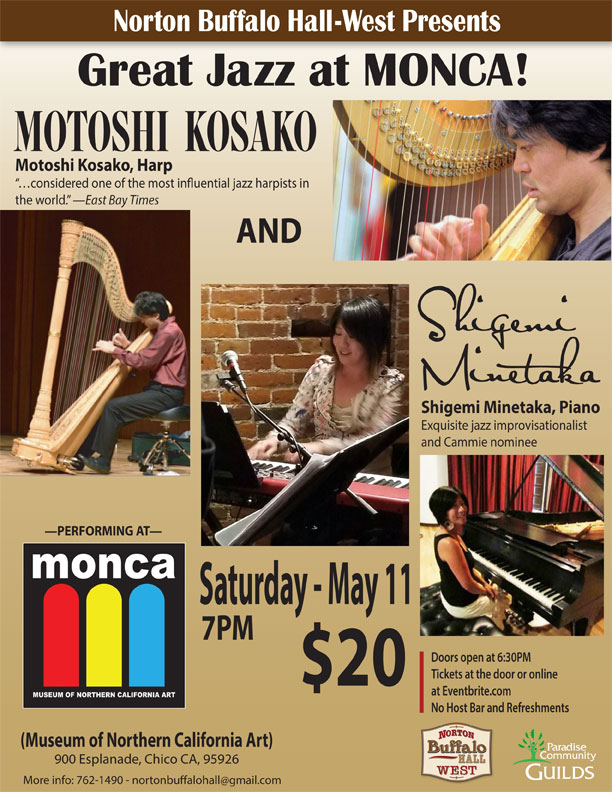 Quotes
"Kosako plays with fluid, modern style that evokes Keith Jarrett and Chick Corea." —Sacramento Magazine
"…considered one of the most influential jazz harpists in the world." —East Bay Times

About Motoshi Kosako
www.harpmusician.com | YouTube
Born in Matsuyama City, Japan, Motoshi started his early musical training on both piano and guitar, and by his late teens was playing guitar in professional jazz bands. The magazine Swing Journal described him as "one of the most remarkable young Jazz musicians." After moving to the U.S. in 1997 Motoshi taught himself harp, and ten years later won the second place in Lyon & Healy International Jazz & Pop Harp Competition, and was named "Best Jazz Hound in Tie and Tail" by Sacramento Magazine.
He has performed with top jazz musicians including Grammy award winning reeds player Paul McCandless, master acoustic bassist Bill Douglass, innovative electric fret-less bassist Michael Manring and eminent jazz guitarist Akio Sasajima. He released 2 classical solo albums in 2002 and 2003, and 8 jazz albums between 2008 and 2015.
In 2008, Motoshi joined Total Health Research Group, a Japanese nonprofit, and began conducting research projects involving sound healing and practical application of music to occupational fields for the promotion of health. In 2012 the Japanese public medicine professional journal, "Science of Public Health," published his research article "Total Health and Music."
About Shigemi Minetaka
www.shigemiminetaka.com | YouTube
Jazz pianist, flautist, and composer/arranger Shigemi Minetaka is among Chico's most beloved and respected musicians. She grew up learning classical piano, and turned to jazz as an adult. Shigemi's keen, adventurous musicianship is at the core of several local/regional bands and recordings. Her 2018 solo project, "Chapter 3," features an A-team of local talent playing in a Latin-flavored vein.
Doors open for seating at 6:30PM. Cookies and a no host bar will be available throughout the night.
---
Coming up:
2019
• Sat, May 11, 7PM | Motoshi Kosako | Shigemi Minetaka @ MONCA
• Sat, May 25, 6PM | Recuerdos de Paradise (L.A. Guitar Quartet, with renowned Flamenco guitarists Adam del Monte, Jack Cima , Berto Boyd) @ Paradise Performing Arts Center
For more info call 762-1490 / nortonbuffalohall@gmail.com