Description
Do you ride a motorcycle? Join Anaheim Police Department motor officers at COPPERS & CHOPPERS to brush up on your skills and learn something new during the hands-on demos and motor instruction.
This FREE motorcycle safety expo is open to riders of ALL skill levels and motorcycle styles. From cruisers to sport bikes and everything in between! Hands-on demos include picking up a downed motorcycle, braking, and Top Gun. Registration to participate begins at 9AM at the event! Limited spaces are available!

EVERYONE, including non-motorcycle riders, is welcome to watch the demos, sit in on Motorheim talks, enjoy food trucks, and music!

This event, in collaboration with Lifestyle Cycles, will be located in the South East parking lot (Orangewood entrance) of the Angel Stadium. Hope to see you there!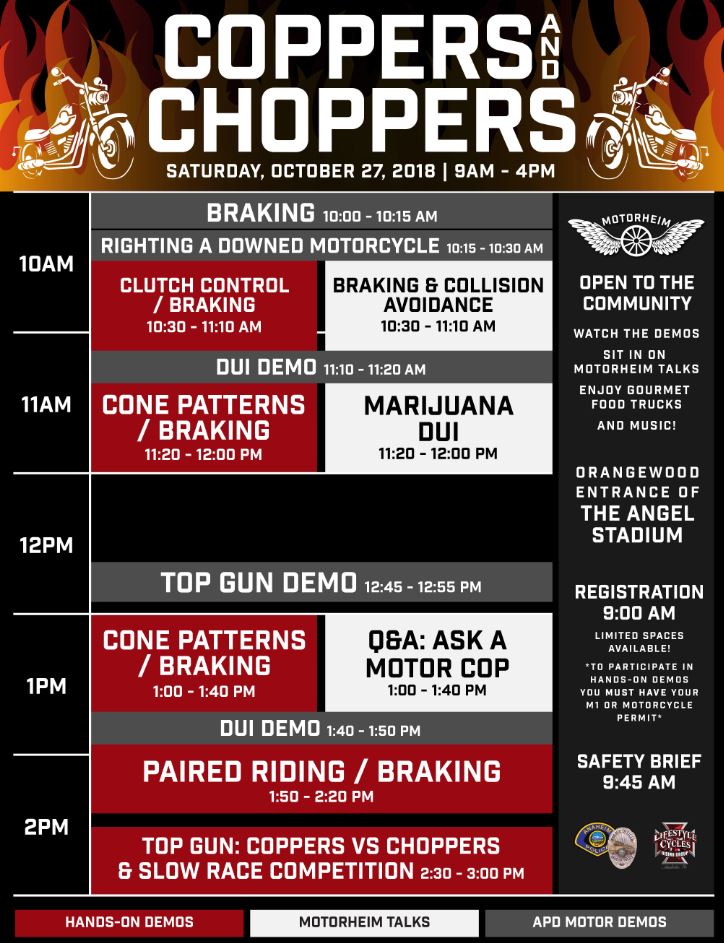 *SCHEDULE SUBJECT TO CHANGE*
*NO 3 PATCH CUTS ALLOWED IN THE EVENT (Including Law Enforcement Clubs)*