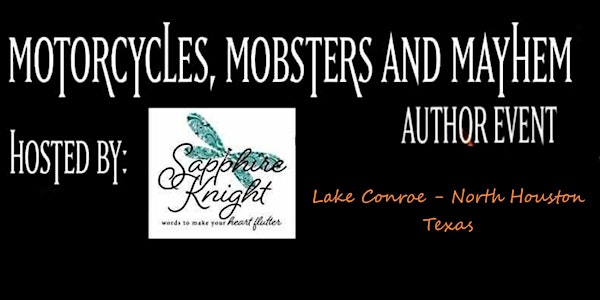 Motorcycles, Mobsters, and Mayhem Author Event 2023
Motorcycles, Mobsters, and Mayhem 2023 Author Event May 20, 2023
Date and time
Saturday, May 20 · 11am - 5pm CDT
About this event
Authors specializing in badass bikers, menacing mobsters, and mayhem take over Lake Conroe - North Houston, Texas! This 3rd-year event is proudly hosted by USA Today and Wall Street Journal bestselling Author Sapphire Knight. Come join 100 of your favorite bestselling authors in the mc and gangland genres of romance that will be bringing the ruckus as you've never seen before at a book signing.
Join our Facebook group and follow our Facebook page to keep up to date with all events and activities planned. Attending Authors are updated regularly within our group. Dressing up is never required, but always encouraged because it's fun! Many of us will be in our biker or mafia outfits, ready to sign and take pictures.
Ticket times may change based on capacity and sales. Please check the group for any change in the signing time limit. General admission tickets will be for sale at the door until we've reached capacity. Mr. Knight is a proud Army Veteran, and we welcome all veterans! Active duty, reserves, their dependents, and police officers with a valid ID may enter the event for FREE. Thank you for supporting your country and us!
Anyone over the age of 14 years old will be required to have a ticket upon entry. Please monitor any children in attendance with you, they are your responsibility. If your children are destructive towards the event or an Author's property you may be asked to leave.
The after party details are still being worked out. At the moment it looks like we will be having a group dinner for 100. Tickets will be sold separately at a later date. Any other events around the book signing will be announced in our Facebook group. Please join us and turn your notifications on so you don't miss anything important.
https://www.facebook.com/MotorcyclesMobstersMayhem/
About the organizer
www.authorsapphireknight.com
authorsapphireknight@yahoo.com
https://www.facebook.com/MotorcyclesMobstersMayhem/