Description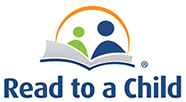 THANK YOU FOR YOUR INTEREST IN THE READ-A-THON, ALL READING SLOTS HAVE BEEN FILLED
The 2017 Motor City Read-A-Thon is an annual initiative hosted by Read to a Child that will bring people from all walks of life together to express the importance of reading aloud to children. The event will consist of an hour long reading session at 3 of our host schools in which participants will read in 5-10 minute increments to a group of students ranging from grades K-4. At the end of the reading session, each student will receive a book to add to their home library.
Research shows that reading aloud to children is the single most important activity for eventual success in reading, a key factor for success in school, work, and life. When an adult reads aloud to a child, both parties have a joyful, rewarding experience that instills a love of reading, improves literacy skills, and enhances a child's self-confidence. We invite community minded individuals to join us as we celebrate the joy of reading while also raising funds to support literacy growth in our schools.
Reading will take place at the following schools during the specified times (SPACE LIMITED):
Southwest Detroit Community School (9am-10am) 4001 29Th St, Detroit, MI 48210

Bow Elementary School (11am-12pm)

19801 Prevost Street, Detroit MI, 48235

Herrington Elementary School (1pm-2pm)

541 Bay Street, Pontiac, MI 48342
Please select a school choice during registration and a member of our staff will contact you within 45 days of the event with additional details.