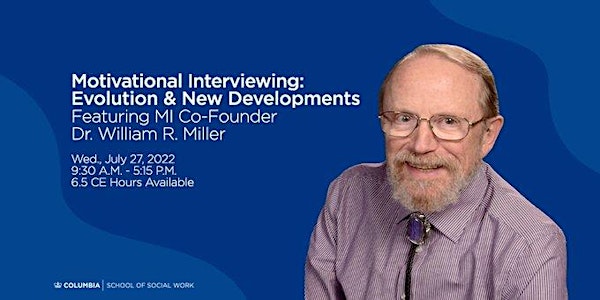 Motivational Interviewing: Evolution & New Developments Webinar Conference
Please join us for a full day webinar conference featuring leading experts presenting the latest developments in motivational interviewing!
About this event
A Full Day Webinar Conference
Keynote address by MI co-founder Dr. William R. Miller
Presentations by Colleen Marshall, Dr. Kamilla Venner, & Dr. Allen Zweben
9:30 am - 5:15pm ET
Open to the public
6.5 CE hours are available for select professions (see below for further details)
*Groups of 5+ Discount: Receive $20 off ticket price when registering for groups of 5 or more.
*CSSW Alumni: Email swope@columbia.edu with your name at the time of graduation and your graduation year to receive your promotional discount code.
*CSSW Field Instructors: If you are currently supervising a CSSW student during the current or upcoming academic year, please email swope@columbia.edu the name and year of the CSSW student you are supervising to receive your promotional discount code.
*Current CSSW Employees: Please email swope@columbia.edu for your free registration code.
Speakers, Presentation Descriptions & Agenda
9:30-9:35am ET: Welcoming Remarks
9:35-11:00am ET: Keynote Address: Evolution and Developments of Motivational Interviewing Over the Years
William R Miller, PhD (Website) Emeritus Distinguished Professor of Psychology and Psychiatry at the University of New Mexico, co-creator of motivational interviewing and co-author of Motivational Interviewing: Preparing People for Change, 3rd edition.
Dr. Miller will trace the growth of motivational interviewing (MI) from its happenstance beginnings and the first description in 1983, to its continuing evolution as a method that is now in widespread practice in many professions, nations, and languages. Some key developments included meeting and collaborating with Steve Rollnick, Project MATCH, resonance with the transtheoretical stages of change, emphasizing the underlying spirit of MI, research on the psycholinguistics of change, a shift from principles to processes, deconstructing resistance, and seeking simplicity beyond complexity. He will also overview the rapid growth of research on the outcomes and processes of MI, and on how people learn it. MI continues to find new applications in fields including public health, education, coaching, sports, and leadership. Finally, he will reflect on parallels between MI core processes and the characteristics found in 70 years of psychotherapy research to distinguish more effective therapists. This suggests that MI can be a clinical style for delivering other evidence-based treatments more effectively. Indeed, the most common use of MI now is in combination with other treatment methods. Q&A to follow presentation.
11:00-11:10am ET: Break
11:10-12:45pm ET: Motivational Interviewing in Workplace Settings
Colleen Marshall, MA, LMFT (Website) is a senior leader in behavioral health and behavior change service delivery and management. She serves as a consultant for startup organizations and health care organizations looking to implement motivational interviewing. She is the Vice President of Clinical Care at Two Chairs and author of Motivational Interviewing for Leaders in the Helping Professions: Facilitating Change in Organizations.
Colleen Marshall's session will focus on a recent adaptation of motivational interviewing (MI), using MI in leadership and organizations. Colleen will overview the application of MI in workplace settings, specifically how MI principles and practices are adapted and employed by leaders and organizations. Colleen will share case examples from her recent book, and will describe how MI can be used to improve the functioning of employees and organizations. Q&A to follow presentation.
12:45 - 1:45pm ET: Lunch Break
1:45pm - 3:20pm ET: Cultural Adaptation of Motivational Interviewing
Kamilla Venner, PhD (Ahtna Athabascan) (Website) Associate Professor of Psychology at University of New Mexico who specializes in culturally effective adaptations of evidence-based treatment for American Indian/Alaska Native populations.
Dr. Venner will share key considerations when culturally tailoring motivational interviewing (MI) for specific populations such as Indigenous and Latinx communities. While MI has been embraced around the world, there are specific ways we can tailor it to more explicitly include culture, community, and spirituality. Her early efforts to culturally tailor MI included partnering with community members from various Tribes leading to a free downloadable manual to weave MI practice with Indigenous frameworks. In addition to providing examples of concrete adaptations from her work and that of other researchers, she will cover potential models for culturally tailoring interventions as well as caveats along the way. These cultural adaptations are meant to increase acceptability, engagement, and outcomes while blending Western and Indigenous science. Q&A to follow presentation.
3:20 - 3:35pm ET: Break
3:35-5:05pm ET: Motivational Interviewing Training in Diverse Settings
Allen Zweben, PhD (Website) Professor Emeritus and Director of the CSSW MI Training Program. Dr. Zweben has a special interest in training diverse practitioners working in human service settings dealing with marginalized client populations.
Dr. Zweben will present his work on training "MI champions" in leadership skills in highly diverse settings and contexts. Such settings deal with high risk, vulnerable populations (severely mentally ill, homeless, and individuals with substance use problems). Focused will be placed on employing culturally sensitive MI training methods to address challenges encountered in these settings such as premature drop-out, client-worker disparities in achieving agency goals, medication nonadherence, and other targets of change (MI inconsistent practices). Other challenges pertain to the feasibility of sustaining MI skills in everyday practice. MI champions are encouraged to develop an internal support system, to obtain a deeper grasp of the MI skillset among staff and to strengthen their commitment to the MI approach. Case illustrations will be provided throughout. Q&A to follow presentation.
5:05-5:15pm ET: Closing Remarks
Learning Objectives
By the end of this conference, participants will better
Understand the development of motivational interviewing (MI) and how the method has progressed into a conversational style that can be implemented across various disciplines, settings and treatment methods.
Describe how MI principles and practices are effectively implemented into workplace and organizational settings.
Learn the model of culturally-tailored MI practices adapted to Indigenous frameworks.
Understand how to employ culturally-sensitive MI training methods to navigate difficult conversations and sustain staff-wide MI training models.
Accessing the Online Webinar
All registered attendees will receive an email from Zoom with the webinar access link Tuesday, July 26 at 6:00pm ET and on Wednesday, July 27 at 8:30am ET. If you do not receive the email by these times, please make sure to check your SPAM folder. If you need further assistance, please email swope@columbia.edu.
You will be required to sign in with your full name and answer a few questions
See Continuing Education Information and Requirements below if attending for CE hours
If you are not familiar with Zoom webinar, please visit here for a guide.
Continuing Education Information & Attendance Requirements:
6.5 live, online CE contact hours will be awarded to NY, NJ, and CT licensed social workers, NYS mental health counselors and NY psychologists who have met the attendance requirements below.
Social workers and mental health counselors from other states, please check with your licensing board. Many states have recognized Columbia University School of Social Work continuing education hours as we are a CSWE accredited institution and approved by the NYS Education Department to provide continuing education.
Social Workers: CSSW is recognized by the New York State Education Department's State Board for Social Work as an approved provider of continuing education for licensed social workers. Provider #SW‐0021
*Social workers from other states, please confirm with your state licensing board. Please note that we do not specify type of credits (general, cultural competence, clinical, etc.)
Mental Health Counselors: CSSW is recognized by the New York State Education Department's State Board for Mental Health Practitioners as an approved provider of continuing education for licensed mental health counselors. Provider #MHC-0137
*Mental health counselors from other states, please confirm with your state licensing board.
Psychologists: CSSW- OPE is recognized by the New York State Education Department's State Board for Psychology as an approved provider of continuing education for licensed psychologists. Provider #PSY-0194.
*Psychologists from other states, please confirm with your state licensing board.
**Please read the following information carefully**
Please note that in order to receive your CE certificate, you must attend the webinar conference in full from start to finish and complete the evaluation in accordance to NYSED regulations.
The conference will open promptly at 9:30am, please plan accordingly to log into the webinar on time.
The webinar will be closed for a lunch break between 12:45-1:45pm ET. Please plan to be logged back in by 1:45pm.
Attendees receive a 10 minute grace period at the start or end of the conference.
Attendance is tracked by Zoom reported log in and out times. Attendees cannot be logged out for more than 20 minutes during the live webinar (with exception of the lunch break).
If you experience issues logging into the webinar, you must email swope@columbia.edu right away so we can assist you and keep track for attendance.
Evaluation and certificate forms will be emailed to the email address you used to register within 1 week following the event date to those meeting the attendance requirements as stated above.
Special Accommodations and Grievance Policy
Special Accommodations: If you require disability accommodations to attend/participate in an event at Columbia University School of Social Work, please contact the Office of Professional Excellence at swope@columbia.edu at least two weeks in advance of the event.
Grievance Policy: For information on our grievance policy, click here.
Refund Policy
Ticket price will be refunded minus a $5 processing fee, if email notification is received by the Office of Professional Excellence (swope@columbia.edu) at least 2 weeks prior to the event date. Refunds will not be provided to those not meeting the CE attendance requirements.