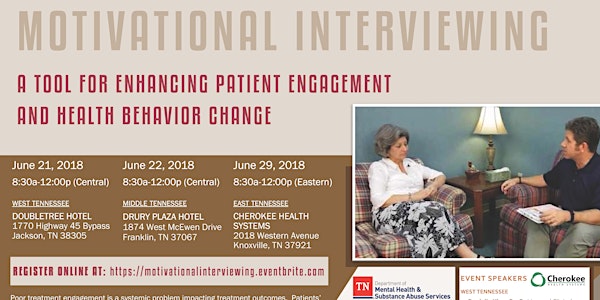 MOTIVATIONAL INTERVIEWING | A Tool for Enhancing Patient Engagement and Health Behavior Change
Date and time
June 21, 2018 · 8:30am - June 29, 2018 · 12pm CDT
Location
3 Dates & 3 Locations -- Select your preference during registration West TN - Jackson, Middle TN - Franklin, or East TN - Knoxville
Description
Poor treatment engagement is a systemic problem impacting treatment outcomes. Patients' ability to actively engage in treatment and initiate behavioral change directly impacts treatment efficacy. Because patients present with varying levels of motivation to modify their behaviors, addressing ambivalence is often the initial step when working to prevent and treat chronic diseases.
This program will provide an overview of the concepts and "spirit" of motivational interviewing, teach key MI skills and techniques, describe how to address ambivalence, "roll with" resistance, and elicit change talk. Case examples, role-plays, and skill rehearsals will be used.
After attending this introductory program in full, participants will be able to: 1) Describe the conceptual model behind motivational interviewing (MI) and describe the rationale for MI as an engagement strategy; 2) Describe and utilize two basic motivational interviewing techniques to improve treatment outcomes.; and, 3) Identify common pitfalls and traps in the use of motivational interviewing and effectively avoid these.
WEST TENNESSEE EVENT: June 21, 2018; 8:30am - 12pm; Doubletree Hotel, 1770 Highway 45 Bypass, Jackson, TN 38305 Registration, Networking, Refreshments: 8:00am-8:30am
MIDDLE TENNESSEE EVENT: June 22, 2018 8:30am - 12pm; Drury Plaza Hotel, 1874 West McEwen Drive, Franklin, TN 37067 Registration, Networking, Refreshments: 8:00am-8:30am
EAST TENNESSEE EVENT: June 29, 2018 8:30am - 12pm; Cherokee Health Systems, 2018 Western Avenue, Knoxville, TN 37921 Registration, Networking, Refreshments: 8:00am-8:30am
More information about this event can be found at: www.tamho.org/motivational-interviewing

About the organizer
615-244-2220, ext. 14
800-568-2642 toll free in Tennessee
www.tamho.org