Motivational Experience - Life Success Academy March 2013

Saturday, March 16, 2013 from 10:00 AM to 4:30 PM (PDT)
Who's Going

Loading your connections...
3 of your friends are going.
Share it to get more people on board!
Share

Sara Haughty
San Francisco, California

Luke Picard
London, United Kingdom

Rick Vespucio
Florence, Italy
Event Details
CO-SPONSORED BY EFactEnergy.com, DJoystick.com and Olicity.com
Ignite your Purpose, Passion and Productivity.
Before noon.
"Tiger, watching you in action was the highlight of my weekend. Month. Year. All of the above. Something magical happened that I can't quite put a description on yet... at its core, a much-needed reinforcement that I'm living my purpose in the world and to keep my focus on the behaviors necessary to sustain who I want to be and the work I want to do.  Thank you!!!" – Author, Professor and Executive Coach/Trainer

In every movie, a relatable CHARACTER endures inner CONFLICT - while confronted with seemingly insurmountable OBSTACLES - all on the journey to accomplish an impossible GOAL or DREAM...and they somehow WIN...in about 2 HOURS. 
Sound familiar?

IN Hero School, you'll LEARN:
Hero School's unique educational formula, which empowers Real-Life Characters to do the same...in about 2 hours, not 2 decades. 

It's time to AUTHOR your own unique LIFE MOVIE, where YOU are the DIRECTOR and the HERO, in the same day.
This Accelerated Program is perfect for
Entrepreneurs needing a breakthrough. Yesterday.
Parents and teachers with an underperforming teen. Or 3.
Employers with disengaged employees.
High School and College Students afraid for their future.
Professionals needing a competitive advantage.
Unemployed Nevadans stalled by charity "jobs" programs.
Community members desiring to change neighborhoods.

ACADEMY includes accelerated lessons in:

Social Awareness, Emotional IQ and Communication

Video, Non-Verbal and Group Interviewing Dynamics

Family Wealth and Teen Leadership Strategies

Networking and "Relationshipping" Mastery

Barcharts® QuickStudy Guides

Lunch

Books

Clothing

AND...
The Character Change® Work-Book™ ($199 value)
Hero School Suit Center Clothing ($1500 ave. Suit/Shoes)
Connections to Employers and Resources
Reserve your seats now. 
Send your teens. 
Send your managers.
Send your team.
Send yourself.
BE A HERO? Sponsor a Struggling Nevadan @ 702.795.7000
OR @: http://www.eventbrite.com/event/5664647112/eofblike
CO-SPONSORED BY EFactEnergy.com, DJoystick.com, Olicity.com and YOU.

"I was only able to be a part of the 1st 2 hours of Hero School... And let me tell you, Tiger Todd was an amazing speaker and motivator. I'm a teacher at a public K-12 school...I've already approached my principal about somehow getting Mr. Todd to come speak to our Seniors...By the way, I was soooo impressed, even for that short time, my son and a few friends will be back!" – High School Teacher
"This guy was amazing. He has a true talent. He could really speak to kids about their life…the group was large.  Great, great, great. Best I ever had." – Middle School Teacher
Reserve your seats now. Send your teen. Sponsor a Struggling Nevadan.
"I think your Hero Class should be mandatory in every school class for young men so they can stop the repeat life I lived for 36 years..." - Adult Hero School attendee
GOGO Bonus (Give One, Get One.)
Our Sponsors, EFactEnergy.com, DJoystick.com and Olicity.com want CHANGE, TOO.
They'll match each paid ticket with a scholarship to the Hero School Employability Academy for a struggling Nevadan.
Bring a colleague. Send your staff. Sign up your Team. And you'll Change your Neighborhood.
* Ages 14 through adult - Spanish translation provided - To volunteer, call 702.795.7000
For more information, please call Hero School at 702.795.7000 or email Social@HeroSchool.us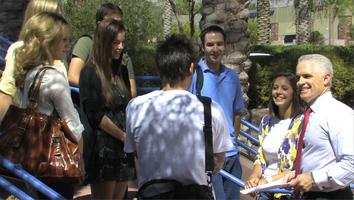 HOW CAN CHANGE HAPPEN THIS FAST?
Hero School® leverages techniques and strategies from screenwriting and Blockbuster movies to help attendees quickly overcome career and life obstacles, create integrated characters and rapidly accelerate real-world success in about the same amount of time.
For nearly two decades, master educator Tiger Todd has used the Hero School® Model to empower tens of thousands of professionals and managers, entrepreneurs and executives, and career "repeaters" and disconnected, disengaged and unemployable teens and adults, to discover purpose, ignite passion and accelerate change...on their terms and in real-time.
Experienced, Diverse, Transformation Team
Tiger Todd, Founder, Author
Curricula, Motivation, Education and Character Change
Realizing that the lives of thousands of homeless people were being wasted on the streets, Tiger Todd took it upon himself to do something about it. He retired from the electronics company he founded and discovered his true calling by motivating people toward the lives they were meant to live. Since developing an antidote for American homelessness through his volunteer work on the streets of Las Vegas in the 1990's, Tiger has continued to work with community heroes, helping to transform over 30,000 homeless men and women into responsible, motivated, contributing members of society.
Today, whether motivating homeless people, college students, or executives, Tiger Todd has tapped into something real – the ability to produce change.
As a speaker, Tiger Todd's gift for sparking self-actualization and character change has birthed meaning and purpose among the broadest spectrum of individuals, including teenagers, college students, educators, athletes, entrepreneurs, professionals, executives - even the homeless. His revolutionary keynote addresses connect with everyone by integrating social and behavioral science with brain research, quantum mechanics, philosophy, mythology, faith, literature, pop culture, motion pictures, and humor. Tiger's energy and "uncommon sense" leave profound and lasting impressions on audience members. The "stickiness" of his keynote presentations, for example, continue to motivate and inspire attendees to take responsibility, take control, and take action in their own lives for months and years afterward.
Paula Lawrence
Effective Communication, Professional Etiquette and Social Awareness
Paula Lawrence's unique blend of wit and wisdom has audiences across the country sitting up straight and taking note that Manners Matter.
An internationally recognized Master Protocol and Etiquette Consultant, Paula earned her Bachelor of Arts in Communications from California State University Fullerton and attended the MBA Program at Pepperdine University. Throughout her successful life and career, Paula has interviewed thousands of applicants, trained hundreds of employees and collaborated with a collection of the world's most elite retailers, corporations, dignitaries and celebrities. 
Paula and her family have called Southern Nevada home for the past 15 years. Her commitment to bettering her community is evident as a member of the Program Advisory Committee for The International Culinary School at The Art Institute of Las Vegas, leader of the Professional Woman's Group for the amazing non-profit organization Dress for Success™ and Keynote Speaker and Program Teacher for Hero School Character Change Initiatives.
Dr. Arlie Stops
Diversity Empowerment,  Anger Management and Emotional Intelligence
With over 30 years of experience in management and leadership, Dr. Stops has not only been an executive in academia, but also an entrepreneur who empowers individuals and groups to overcome the barriers to successful living. His firm, Stops and Associates, helps executives and employees alike chart a course through rough waters by teaching positive response to anger, strategies for resolving conflict and Emotional Intelligence coaching and development. When obstacles arise, he believes in overcoming them and not giving up. "Losing against the challenges of life is not an option."

Dr. Stops was born in Fort Worth, Texas and attended elementary school in Dallas, Texas. As a teen he lived on the Crow Reservation in Montana. He received his BA in English from the University of Montana, a MA in Education at New Mexico State University and his Doctorate in Education from the University of Nevada, Las Vegas. He has four successful children. (well, the fourth is 12, but she is on the honor roll each year). As an accomplished speaker and motivator, he has presented to groups, both small and large, across the nation. Throughout his career in higher education he has held strongly to the belief that people can overcome adversity to lead successful lives.
Tony Winsor
Entrepreneurship, Savings and Financial Transformation
Tony Winsor is a third generation Las Vegan with expertise and professional experience in business and personal finance.  Tony has held a FRINA license as a representative in the securities industry for the past 17 years.  He has used his knowledge and understanding of finances to help over 2,000 clients in their pursuits for financial security.  As an entrepreneur, Tony owns and manages residential and commercial rental properties, established his own professional billing company, and is a partner in a local virtual assistance and business management company known as TheOfficeSquad®. 
Who better to teach financial literacy and growth than Tony Winsor? Tony's education includes a P.H.D. (Public High School Diploma) in business through the School of Hard Knocks, and yet his daughters entered college with their own 6-fugure savings accounts! His true passion in business is to help other companies grow and expand. He finds great satisfaction in helping individuals understand the true psychology of how to accumulate, save and build wealth. 
Douglas Terry
Regional Education, Employability and Leadership
Kymm "Possible" Buckner
Fashion Consultant, Graduate Liaison, Faith and Family Director 
Steve Tornabene
Organizational Management, Television and Film Production
Dirk Thomas
Business Relationshipping, Operational Leadership, Family and Gang ReEducation
Hero School's non-profit, for-purpose Academies are produced by LVFC dba Hero School Initiatives ©2013
When & Where

Robert Taylor Auditorium
144 Westminster Way
Henderson, NV 89015


Saturday, March 16, 2013 from 10:00 AM to 4:30 PM (PDT)
Add to my calendar
Organizer
Heroes for Hero School
Hero School is a cutting-edge educational model, engagement curriculum and motivational delivery system that uses entreprenurial strategies, movies and mathematical formulas to produce rapid and lasting Character Change® for students, educators and leaders. 
As a 501C3 organization, Hero School Initiatives combines the model and curriculum with leading entrepreneurs and strategic resource partners to ignite passion, purpose and prosperity for hundreds of thousands of students in Southern Nevada.

Helping people become free to live the lives they were meant for since 1995, more than 40,000 youth and adults have broken free from cycles of homelessness and dependency in Southern Nevada alone.
Hero School®: Real. Life. Change. At the Speed of Movies.™ www.HeroSchool.us
Motivational Experience - Life Success Academy March 2013