Event Information
Location
ROOSTERTAIL RIVERFRONT COMPLEX
100 Marquette Drive
Detroit, MI 48214
Description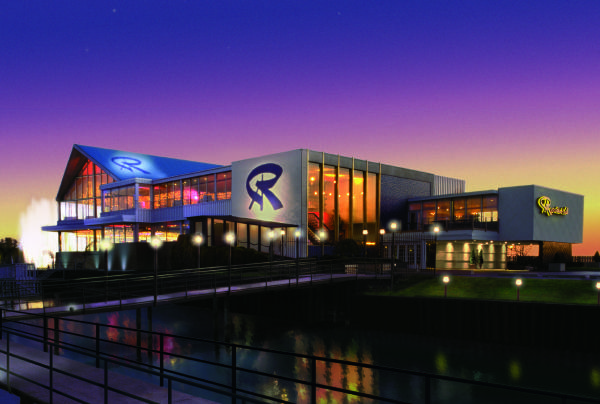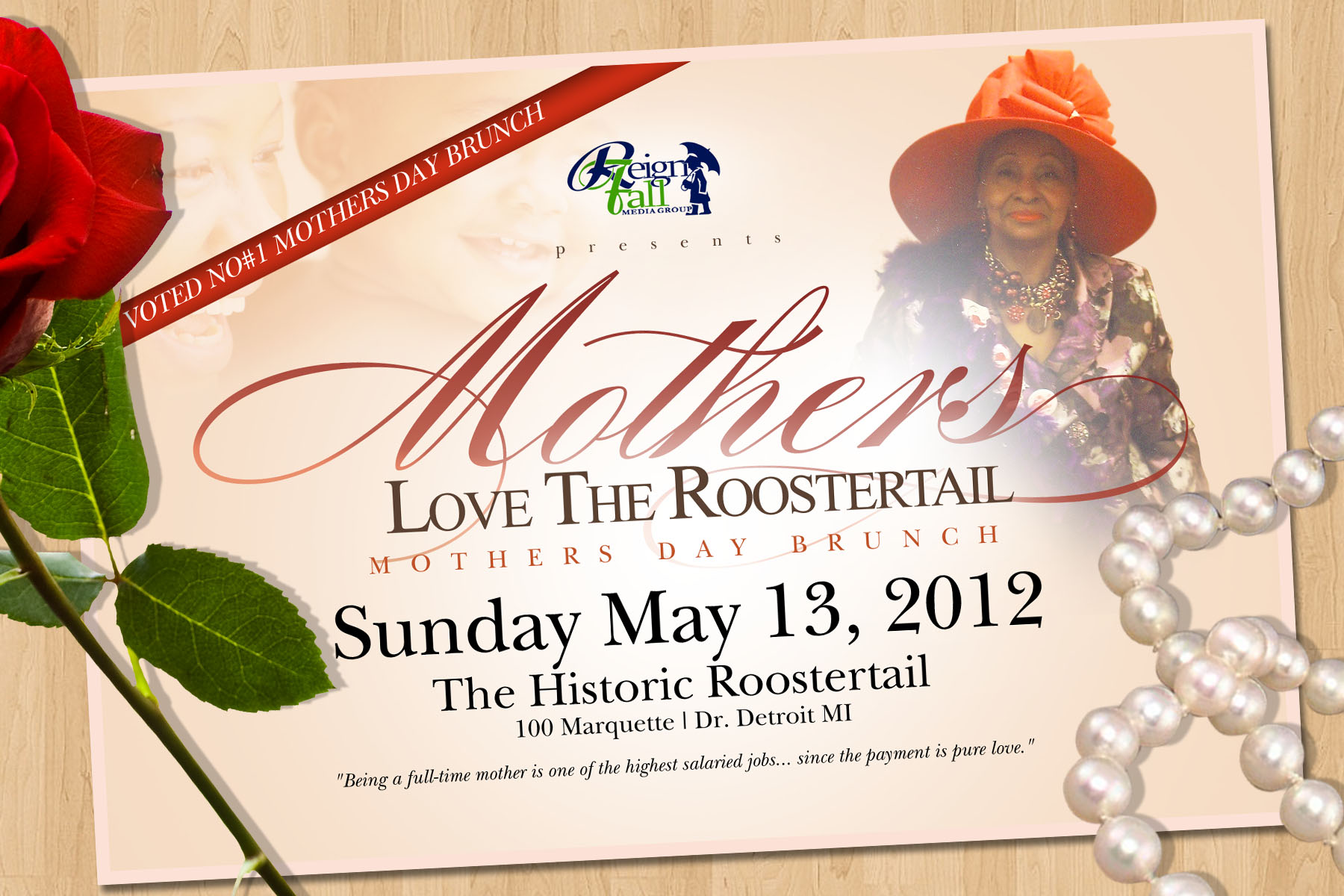 The Roostertail has been creating unforgettable life-moments for people for over 50 years. Could there be a more picturesque place to express appreciation for mom on Mother's Day than enjoying a leisurely Sunday brunch at the Historic Roostertail?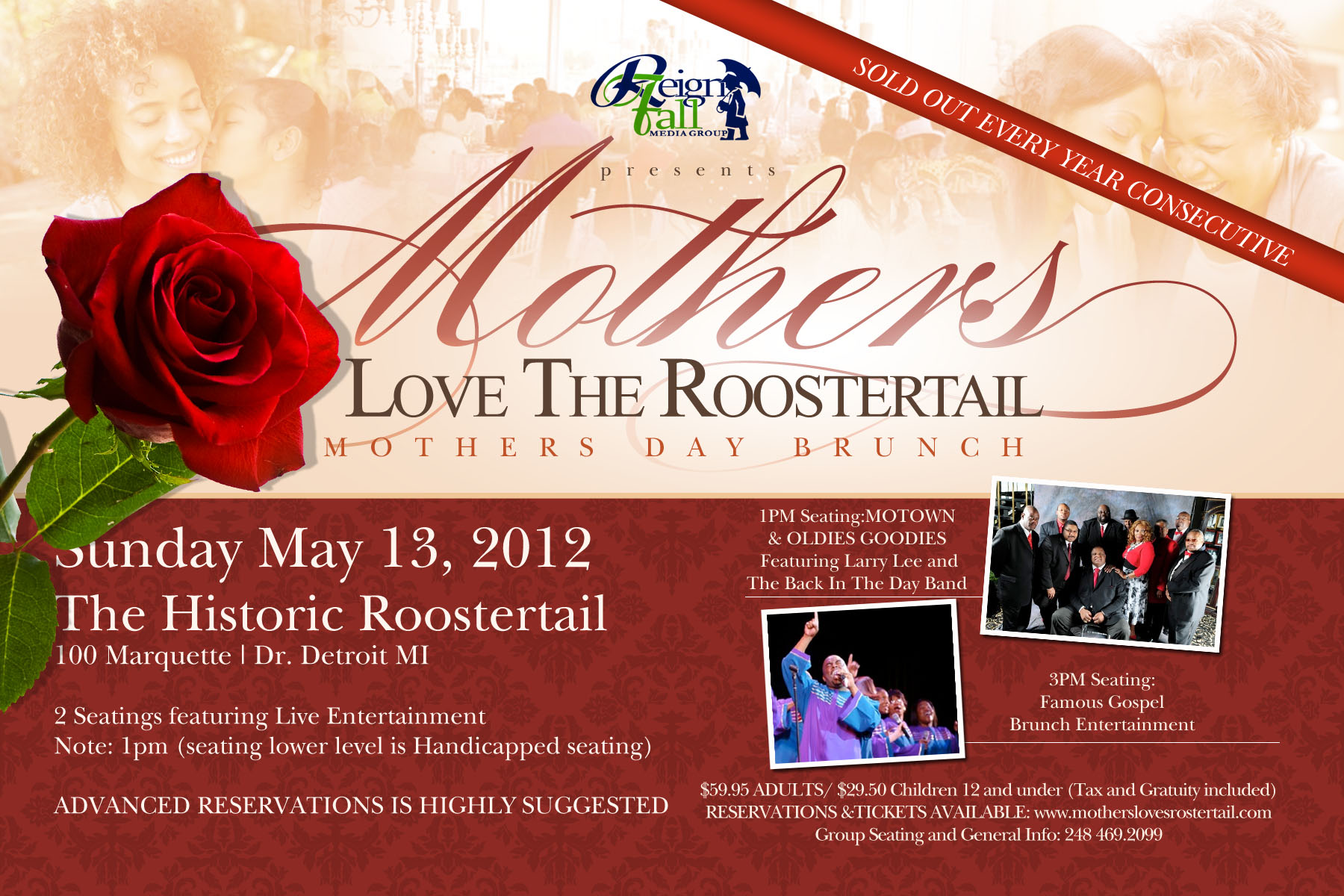 We have hosted this ultra-popular, sellout event every May for years; it's an ideal way to treat mom to a finely prepared and presented meal by Award Winning Certified Chef Brian DeMeyer and staff. This family event, accented by the posh, décor' and pleasantry of the Roostertail, is a perfect way for mom to relax in the company of those she most wants to share her special day with.
We offer an enticing buffet with graceful décor with all the right touches to create a pampered day for mothers. In addition to our delicious brunch, we feature live entertainment, complimentary parking and complimentary coat check for our unique Mother's Day event.
Make this the year your family shares a memorable day, acknowledging mom. Create a cherished memory for her to enjoy with those she holds close to her heart
NEW MOTHER'S DAY 2012 MENU
Roostertail House Salad with Ranch & Italian Dressing

Classic Ceaser Salad with Ceasar Dressing

Exotic Mixed Field Greens with strawberry slices,mandarin oranges, and red onion with raspberry vinaigrette dressing

Homemade Pasta Salad

PEEL & EAT Shrimp with cocktail sauce

Baked COD with Tarter Sauce, Lemon Moons and Hot Sauce

Bowtie Pasta with Broccoli and Lemon infused Alfredo Sauce

Chicken Picattta with artichokes & capers

Garden Vegetable Medley

Garlic Smashed Mashed Potatoes

Warm Rolls and Whipped Butter

TOP ROUNDS of Beef CARVED AT THE END OF THE BUFFET

ROAST TOM TURKEY CARVED AT THE END OF THE BUFFET

SLICE OF LIFE SWEET TABLE: Carrot Cake, Chocolate Cake, Cheesecake, Mini Pastries and Homemade Cookies
Coffee Service to Tables

Cash Bar
We offer two seating times: 1:00pm 3:00pm. In the beautiful waterfront view Marine and Palm River Rooms featuring the amazing Roostertail water fountain show.
PRICES: Adults are $59.95 and Children (12 and under) are $29.50

Your Price Includes: Reserved Seating, Parking, Live Entertainment, and Cruise Ship Style Buffet with 3 Entrees,Coat Check, 6% tax and 22% gratuity.
DETROIT'S NO#1 MOTHERS DAY BRUNCH
Advanced Tickets HIGHLY SUGGESTED.
THIS EVENT WILL SELL OUT
Note: Parties of 2 may be seated with other parties of 2 to accommodate guests.
REIGNFALL MEDIA GROUP WELCOMES ANNUAL MOTHERS DAY BRUNCH AT HISTORIC ROOSTERTAIL
Reignfall Media Group has orchestrated yet another soon-to-be sold-out event. RMG will host a Mother's Day soiree on the picturesque Detroit riverfront.
The staff at the legendary Roostertail will treat guests to an afternoon of luxury and refined service. A meal prepared by Award Winning Chef Brian DeMeyer is the perfect compliment to a springtime Sunday with loved ones.
"Mother's Love The Roostertail" will feature a four-course Cruise Ship style buffet that includes a Slice of Life dessert collection and salad array. The Chef's diverse menu is a fine mix of gourmet soul, done impressively with a touch of class.
The event, designed to accommodate every kind of Mom, has 2 seating times and 2 live entertainment choices: 1 PM "Motown Sound" by Larry Lee and the Back in the Day band to perform a set of Motown favorites; 3 PM "Gospel Praises".
"Of all the days we celebrate, Mother's Day for me, is most important," says Dave Bishop, CEO of Reignfall Media. "This afternoon with Mom is our way of saying thank you, in style, to all the special women in our lives and yours," he adds.
Each guest will enjoy a spectacular waterfront view while dining in the Marine and Palm River
rooms.Tickets are on sale now and are going quickly!
Advanced ticket purchase is HIGHLY suggested de to the extreme popularity of this event
and can be purchasedonline at or by calling 248.469.2099
1pm SEATING MOTOWN SOUND BY LARRY LEE
AND BACK IN THE
DAY BAND
Date and Time
Location
ROOSTERTAIL RIVERFRONT COMPLEX
100 Marquette Drive
Detroit, MI 48214