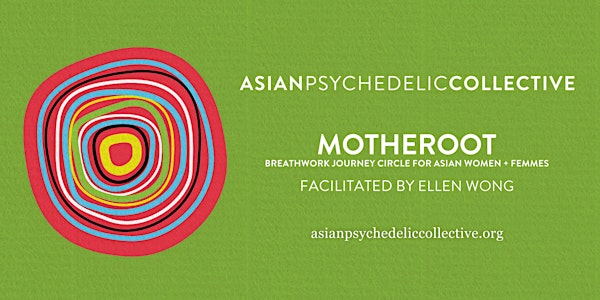 MOTHEROOT
MOTHEROOT is a breathwork journey circle intended for Asian women + femmes facilitated by Ellen Wong.
Refund Policy
Contact the organizer to request a refund.
Eventbrite's fee is nonrefundable.
About this event
Root (n): the basic cause, source, or origin of something.
Root (v): establish deeply and firmly.
Many of us who have grown up straddling two divergent cultural lands have had a complex relationship with the idea of HOME and often feel disconnected from our ancestral roots.
𝘞𝘩𝘢𝘵 𝘥𝘰𝘦𝘴 𝘤𝘰𝘯𝘯𝘦𝘤𝘵𝘪𝘰𝘯 𝘵𝘰 𝘮𝘺 𝘔𝘖𝘛𝘏𝘌𝘙𝘓𝘈𝘕𝘋 𝘧𝘦𝘦𝘭 + 𝘭𝘰𝘰𝘬 𝘭𝘪𝘬𝘦?
𝘞𝘩𝘦𝘳𝘦 𝘥𝘰 𝘮𝘺 𝘳𝘰𝘰𝘵𝘴 𝘢𝘤𝘵𝘶𝘢𝘭𝘭𝘺 𝘦𝘹𝘪𝘴𝘵?
𝘏𝘰𝘸 𝘥𝘰 𝘐 𝘩𝘦𝘢𝘭 𝘮𝘺 𝘪𝘯𝘵𝘦𝘳𝘨𝘦𝘯𝘦𝘳𝘢𝘵𝘪𝘰𝘯𝘢𝘭 𝘵𝘳𝘢𝘶𝘮𝘢 𝘸𝘪𝘵𝘩 𝘢 𝘴𝘦𝘷𝘦𝘳𝘦𝘥 𝘤𝘰𝘯𝘯𝘦𝘤𝘵𝘪𝘰𝘯 𝘵𝘰 𝘵𝘩𝘦 𝘩𝘰𝘮𝘦 𝘰𝘧 𝘮𝘺 𝘱𝘢𝘳𝘦𝘯𝘵𝘴 𝘢𝘯𝘥 𝘨𝘳𝘢𝘯𝘥𝘱𝘢𝘳𝘦𝘯𝘵𝘴, 𝘮𝘺 𝘢𝘯𝘤𝘦𝘴𝘵𝘰𝘳𝘴?
MOTHEROOT is a journey circle intended for Asian women + femmes. We will journey to explore our relationships to our ancestors, to the lands of our lineage and lives, the wounds that has been passed down for generations through the matrilineal lines.
Supportive plant and fungi medicines are welcome in this safe space. If you are already in relationship with an ally and want to bring them into the circle, please call them in prior to gathering.