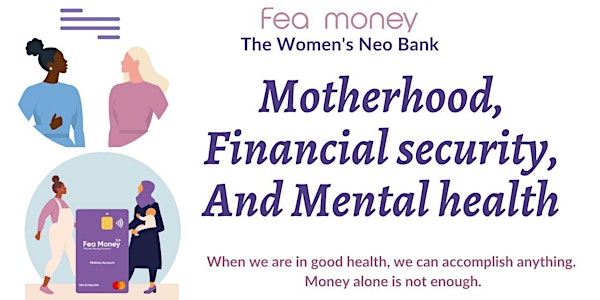 Motherhood, Financial Security, and Mental Health
When we are in good health, we can accomplish anything. Money alone is not enough.
When and where
Location
The - Lady Boss Coworking Förrlibuckstrasse 10 8005 Zürich Switzerland
About this event
From financial challenges and limitations to postpartum depression are some of the challenges that most parents and soon-to-be parents must deal with on top of the already high demands of family life.
However, having a healthy mindset and a positive outlook can enable us achieve anything.
Connecting with other mothers, forming friendships with them, and engaging in social activities with others who may be able to relate to your challenges can make them easier to handle.
Join us for an open discussion, a networking opportunity, and guidance on navigating parenting challenges from a certified therapist.
Agenda
18.00 PM - Networking and Apero
18.30 PM - Open talk and tips from our invited therapist
19.30 PM - Event Ends
About Fea Money
Fea Money is an Impact Driven Neo-Bank Designed For Women & Their Families.
We combine our holistic approach with customised financial products.
Our mothers account, which is devoted to all expectant mothers, stay-at-home mothers, and working mothers provides women with useful tools that are transforming the way mothers spend, buy, invest, and save money.
To assist you navigate motherhood and make a smooth transition from a stay-at-home mother to a working mother.
Learn more here www.feamoney.com