About this Event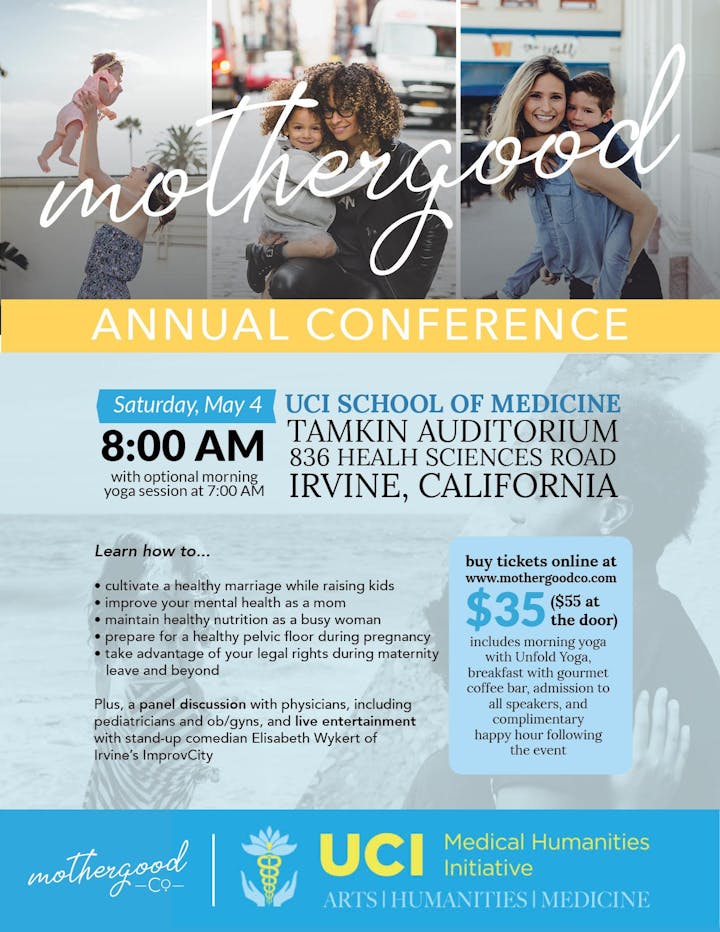 The Mothergood Conference will feature a full day's worth of speakers and panel discussions. Speakers include marriage therapists, pediatricians, psychotherapist, nutritionist, physical floor therapist, and inspirational speakers. Topics including how to keep your marriage thriving while raising children, how to eat healthy during pregnancy and motherhood in general, pre and post natal mental health, working and stay-at-home mom guilt, motherhood during and after divorce, how to deal with pelvic floor issues during pregnancy/sex and beyond, and more.
CONFERENCE SCHEDULE
7am: Yoga on lawn with Unfold Yoga (optional)
7:45am-8:15am: Registration, Bagel/Coffee Breakfast and shopping vendors
8:15am: Welcome and introduction
8:30am-9:15am: Dr. Francie Brogrammer, Psychotherapist: Mental Health During all Stages of Motherhood
9:30-10:15: Panel Discussion with Marriage Therapists Tammy Shelton and Morgan Cutlip: How to Have a Healthy Marriage While Having Children
10:15-10:45: Shopping Break
10:45-11:15: Lauren McKinley, Author: On Motherhood During Trials
11:30-12:00: Cara Clark, Certified Sports and Clinical Nutritionist: Nutrition for the Busy Mom
12:00-1:00: Lunch/Shop Vendors
1:00-1:30: Marie Kosnik, Pelvic Floor Physical Therapist: On Pelvic Floor Health
1:45-2:15: Elisabeth Wykert, Comedian: On Keeping Motherhood Real
2:30-3:15: Hot Topic Panel Discussion with Dr. Kathleen Lytal, Pediatrician, and Dr. Kristen Bueno, Urogynecologist
3:15-3:45: Shopping break
3:45-4:30: Emily Kearney, Attorney: Pregnancy and Postpartum Rights in Workplace
5:00: Happy Hour: Vanessa Gilia: To Inspire You During Your Motherhood Journey
The conference begins with a complementary early morning yoga, and ends with a happy hour to give all moms a chance to meet each other. Yoga, breakfast, and admission to all speakers and happy hour is included in ticket price.
Vendors will be present during the day for a fun and unique small shop retail experience.
NOTE: Tickets will go up to $55 at the door, so get your ticket today!