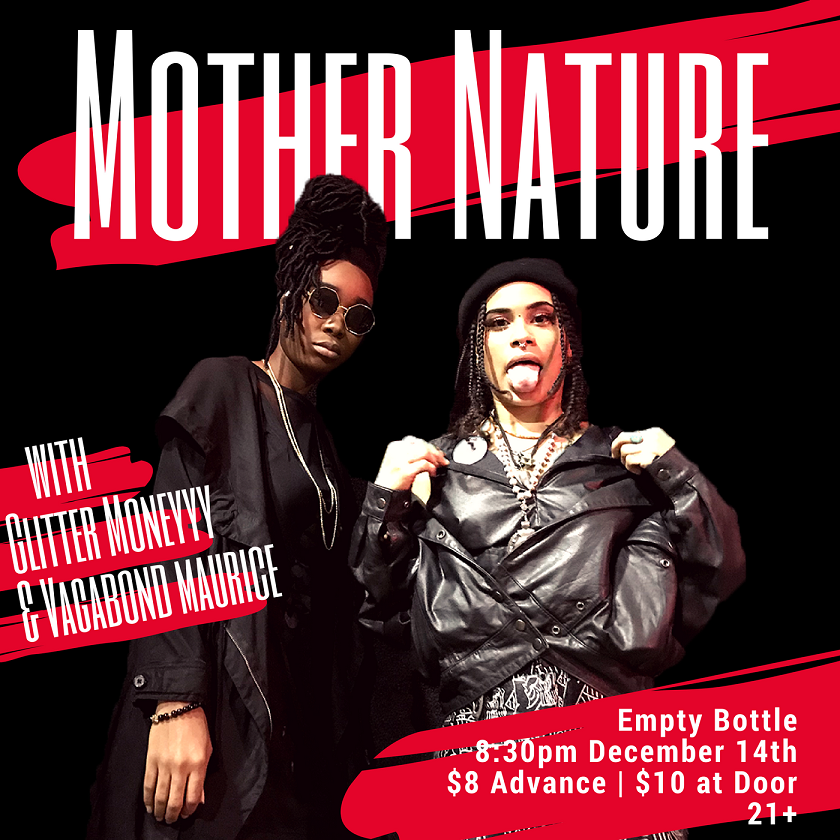 About this Event
MOTHER NATURE is a powerful and undeniable energy. Never afraid to speak on societal ills, these creatives masterfully weave political rhetoric into music you can party to. The Chicago-based emcees use hard-hitting HipHop, melodic rhythms and boundless lyricism to raise the frequency of our collective conscience. Well on their way, MOTHER NATURE is a dynamic force of Black Womanhood. Their mission is to be a fearless force in HipHop through peace and love. 
Loud, sexy, equality demanding, champagne guzzling, politically pissed Chicago based rap duo, GLITTER MONEYYY defies social norms. Queen TrAshley and TayyySlayyy are femme rap powerhouses that cover issues ranging from dildos to punching Nazis in the face over bumping hip hop and trap beats. Sweet, rude, crass and outspoken, Glitter Moneyyy charges it's audiences to go out there and do something.
A native of Minneapolis whose work contextualizes nerd mythology over break beats and jazz atmospheric tracks, VAGABOND MAURICE is an emcee and teaching artist prone to blues inspired narratives. He's toured with Bop Alloy (Substantial & Marcus D), Ruby Ibarra, opened for Saul Williams, Astronautalis at Schubas, played at The Shrine and at the 33rd & 34th Annual Chicago Jazz Festival.
--------
This is the third show booked and produced by the most-excellent Empty Bottle Intern Crew.